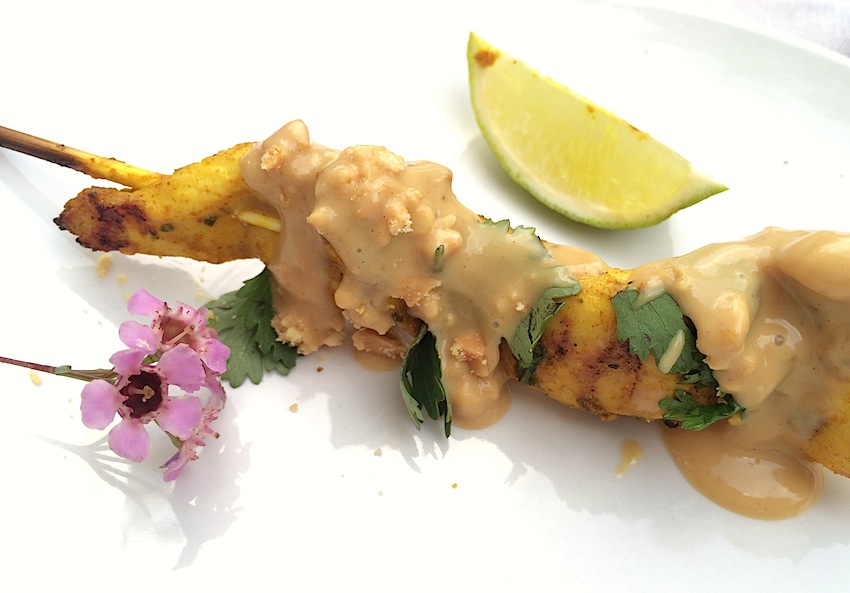 Satay is a dish from South East Asia which consists of meat marinated (ideally overnight) in coconut milk and spices then threaded on skewers, grilled and served with a succulent sauce. Here we have a recipe for chicken satay served with a spicy peanut sauce dipping sauce.  Turmeric is one of the key spices used in this recipe ingredient as it gives the dish its characteristic yellow color. I found this recipe in one of my cookbooks:
Fresh Thai
an excellent cookbook by Oi Cheepchaiissara, and the peanut sauce was inspired by a few recipes I found online that I altered to the recipe below. This dish pairs well with Thai beer or white wine.
Chicken Satay with Spicy Peanut Sauce
Chicken Ingredients:
2 pounds of boneless, skinless chicken breasts
2 shallots, roughly chopped
3 garlic cloves, roughly chopped
4 cilantro roots, finely chopped (I used cilantro leaves/stems)
1 inch fresh ginger root, peeled and sliced
1 tablespoon ground coriander
1 tablespoon ground cumin
1 tablespoon ground tumeric
1 teaspoon curry powder
1 1/2 tablespoon light soy sauce
2 tablespoons sunflower oil
3/4 cup canned unsweetened coconut milk, well stirred
2/3 cup chicken stock or water
1 tablespoon palm or coconut sugar
Directions
Presoak 10 bamboo skewers in a long shallow dish for about an hour to prevent burning while cooking
Cut chicken into 1 1/2 x 4 inches long and 1/4 inch thick and place in a bowl

Make the Marinade

: Use a mortar and pestle or food processor to blend the shallots, garlic, cilantro and ginger into a paste. Add the mixture and and the remaining marinade ingredients to the chicken. Mix thoroughly with a spoon or your fingers. Cover with plastic wrap and refrigerate for at least 5 hours or overnight, turning the chicken occasionally.

Skewer the Chicken

: Thread a piece or two of the marinated chicken onto each presoaked bamboo skewer as if you were sewing a piece of material
Preheat the grill (or broiler) to high heat and cook the satay sticks for 5 – 7 minutes on each side or until they are cooked through and slightly charred. Turn frequently and brush the marinade sauce over the meat during cooking.
Peanut Sauce
Ingredients
1/2 cup of smooth peanut butter
1/8 cup low-sodium soy sauce
2 teaspoons sambal red chili paste
1/4 cup of coconut milk, unsweetened
1 1/2 tablespoons of brown sugar
1 lime, juiced
1/8 – 1/4 cup of hot water
1/4 cup of peanuts, chopped
Directions
Using a food processor or blender, combine the peanut butter, soy sauce, red chili paste, brown sugar, lime juice and coconut milk–pure to combine all ingredients.
Pour the hot water slowly into the blender or processor, starting with 1/4 cup and adding more to thin-out the sauce as needed.
Pour the peanut sauce into a small serving bowl, reserving some on the side to drizzle over the chicken
Garnish with some of the peanuts
Plating the Dish
Place the cup of peanut sauce on a large serving dish
Add the skewered chicken to the plate and drizzle with some of the peanut sauce over the chicken and garnish with a sprinkling of chopped peanuts
Serve immediately