Seafood is always a good choice for a romantic meal for two. You want to enjoy your time with each others instead of crawling to the couch so full you can't do anything but hold hands and watch a show. I found this recipe for Roasted Cod with Olives and Lemon on RealSimple.com and really loved it! You should give it a try and let us know what you think.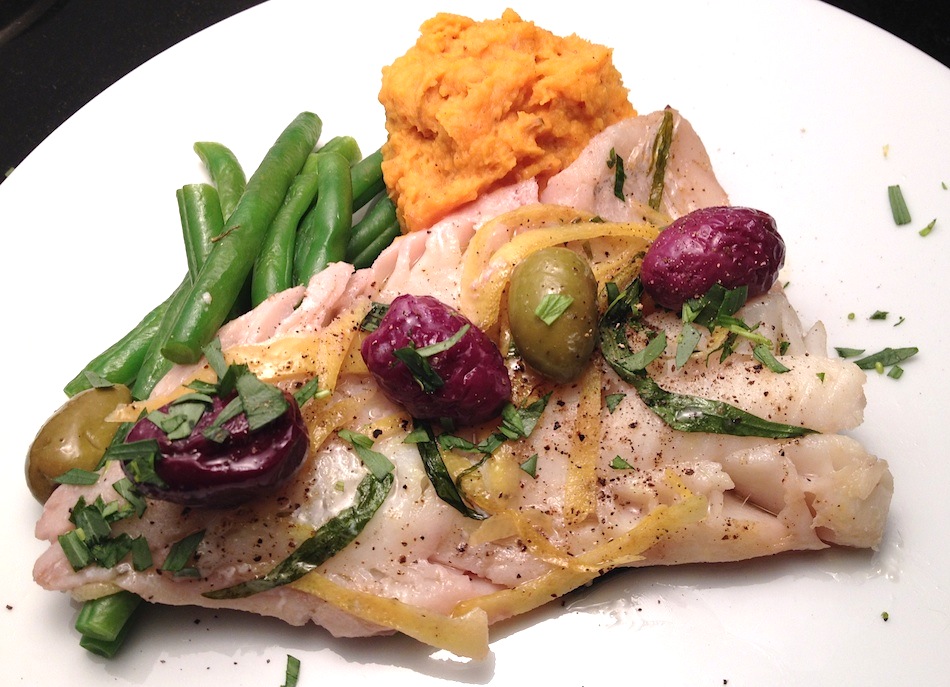 Roasted Cod With Olives and Lemon
Serves 4
Hands-On Time: 10m| Total Time: 30m
Ingredients
2 pounds Pacific cod or some other white fish fillets (such as halibut)
3/4 cup dry white wine (such as Sauvignon Blanc)
1/2 cup mixed olives
zest from 1 lemon, cut into strips
1 tablespoon olive oil
kosher salt and pepper
1/4 teaspoon red pepper flakes
1/4 cup fresh flat-leaf parsley, chopped
Directions
Heat oven to 400° F.
Place the fish in a small roasting pan. Add enough wine (about 3/4 cup) to reach halfway up the sides of the fish. Scatter the olives and lemon zest around the fish.
Drizzle with the oil and season with 1/2 teaspoon salt, 1/4 teaspoon pepper, and the red pepper.
Roast until the fish is cooked through and flakes easily with a fork, about 20 minutes.
Remove from oven and sprinkle with the parsley.
Divide the fish among individual plates and spoon the olives and wine sauce over the top.