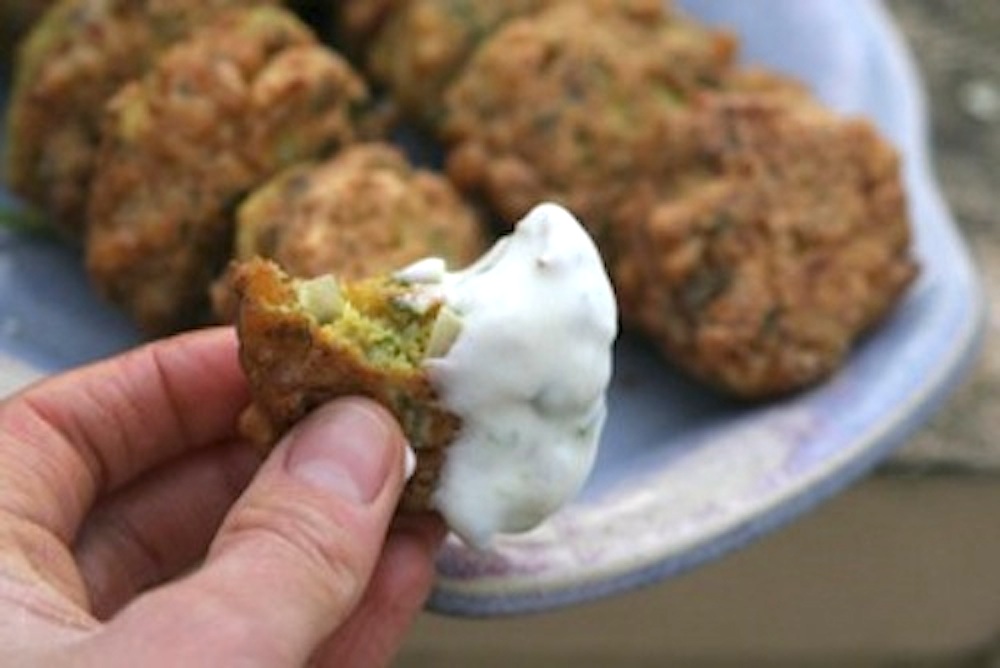 Here is a tasty recipe from Moshe Aelyon of Room Temp by Moshe. Served as a starter for your romantic meal for two, or a snack for your next cocktail soiree. Mmmm – we love sharing finger foods.
Cauliflower Fritters with Lime-Yogurt Sauce
(Adapted from Ottolenghi: The Cookbook by Yotam Ottolenghi and Sami Tamimi)
Cauliflower Fritter Ingredients:
1 cup (320 grams) Cauliflower (small one or half a large one), chopped into tiny florets (cube the stems to about the same size)
3/4 cup (120 grams) of flour
2 shallots, minced
1 garlic clove, crushed
1 teaspoons cinnamon
1/2 teaspoon turmeric
1 1/2 teaspoon toasted and ground cumin
3 tablespoons minced parsley
4 eggs
1 1/2 teaspoon salt
1 teaspoon pepper
Yogurt Lime Sauce Ingredients:
3/4 cup (150 grams) Plain Yogurt
1 tablespoon olive oil
Zest of one small lime
1 tablespoon fresh squeezed lime juice
1 tablespoon chopped cilantro
1 tiny clove of garlic crushed
salt to taste
Directions
Make the Yogurt-Lime Sauce. Whisk all the sauce ingredients together.
Boil salted water and add cauliflower. Cook about 8 minutes or until it is very soft. Drain and set aside to cool a little bit.
Heat frying oil of choice in a high-heat frying pan (I use cast iron for this) to medium or medium low. I fill it up about 1/2 inch to 3/4 inch up the sides of the pan.
Mix everything except the eggs and cauliflower. Whisk in the eggs and then whisk in the cauliflower.
With a tablespoon or a small cookie scooper, gently drop balls of the batter into the hot oil, taking care not to overcrowd them.
After about 3 or 4 minutes, flip them carefully with a fork to cook on the other side. They should be cooked through with no raw ingredients.
Serve immediately with the yogurt sauce or, as Sami suggests, on a picnic in pita with hummus and tomato.