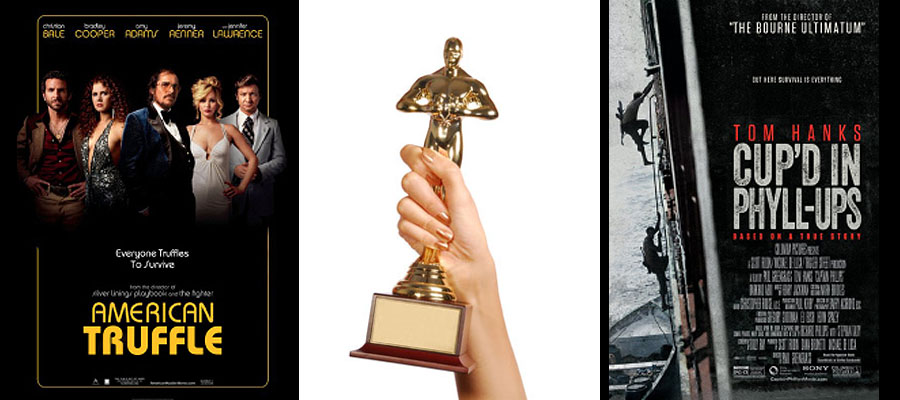 Who doesn't love an Oscar Party? Dressing up, toasting celebratory glasses of champagne and other creatively themed cocktails, sharing great food and laughing with good friends – not to mention the fun of placing your votes to guess the lucky winners.
Here is a creative take on rolling out the red carpet for your next Oscar Party by Annette Zito of KitchAnnette.com. For the past twenty years she has been hosting an annual party filled with creative menus worthy of an academy award nomination for BEST Oscar Host. Annette just launched her first book showcasing 20 years of "Cool Cool Oscar Pool" parties; check this out:
The year was 1995, David Letterman was scheduled to host the Academy Awards. Being a long-time fan of Dave and his late-night talk show, my good friend and playwright Joe Guilla and I thought we should commemorate the event by having a viewing party. Joe created a contest dubbed the "Cool Cool Oscar Pool", and I created a menu using the Best Picture nominations as inspiration. – Annette Zito
The format for Best Oscar Party was born:
Best Menu: Create a unique menu that honors the Academy Awards Best Picture Nominations in a full course extravaganza – Appetizer, Main Course, Side Dish, and Dessert – with one floating selection.
Best Visual Display: Set the state by creating parodies of the movie posters for Best Picture Nominated contenders to showcase the menu.
Be The Academy: Prior to the show, have attendees fill out ballots. The person who gets the most right is the "BIG WINNER", while the one who gets the most wrong is the BIG LOSER" – award each prize accordingly.
Since then the Oscar Party has become KitchenAnnette's signature event. Take a look at the newly released book Red Carpet Menus: Delicious Dishes Inspired by Twenty Years of Oscar Best Picture Nominations.
So start planning for your very own "Cool Cool Oscar Pool" Party by planning an award-winning Menu. Be sure to send Evites to your best friends, find a knock-out outfit and roll out the red carpet for this years celebrity studded bash. And to make things easy here is a link from Movie Phone – a Printable Oscar Line-up Sheet. May your stars shine bright!
Terry Dagrosa, founder and publisher of SeductionMeals.com. As President of Digital Marketing Collective and Tara del Mar Productions, she has extensive experience in sales, design, digital marketing and social media. "Truly great friends are hard to find, difficult to leave, and impossible to forget, so we're thrilled to introduce our very special and highly-talented contributors and friends.  They'll share their mouth-watering recipes, cheeky anecdotes and delightfully creative perspectives with all of us. Be sure to check out their websites and follow them, too – we promise you'll learn to love and cherish them as much as we do!" xoxo
About Seduction Meals
Seduction Meals is about Food + Romance, and everything in-between. . . a sumptuous menu, alluring presentation, sensuous music, luscious cocktails and the right ambiance. Like a precious gift, preparing a romantic meal for two is about making that certain someone feel extra special. With just the right combination of ambience and culinary delights, you too can create a memorable, delicious experience for your loved one. Seduction Meals. Everyone has one - what's YOURS?
FEATURED VIDEO
Archives