Let's face it – even if you're not usually a flowers-and-chocolates kind of couple, it's lovely to make each other feel special on Valentine's Day. There's nothing like pulling out all the stops to WOW your partner with a grand, romantic gesture! But since it's still a little too snowy to comfortably stand outside their window with a boombox, we recommend going with a bottle of wine and a fabulous, knock-your-socks-off gift. We've compiled our favorite, fiery red Valentine's picks to get the sparks flying!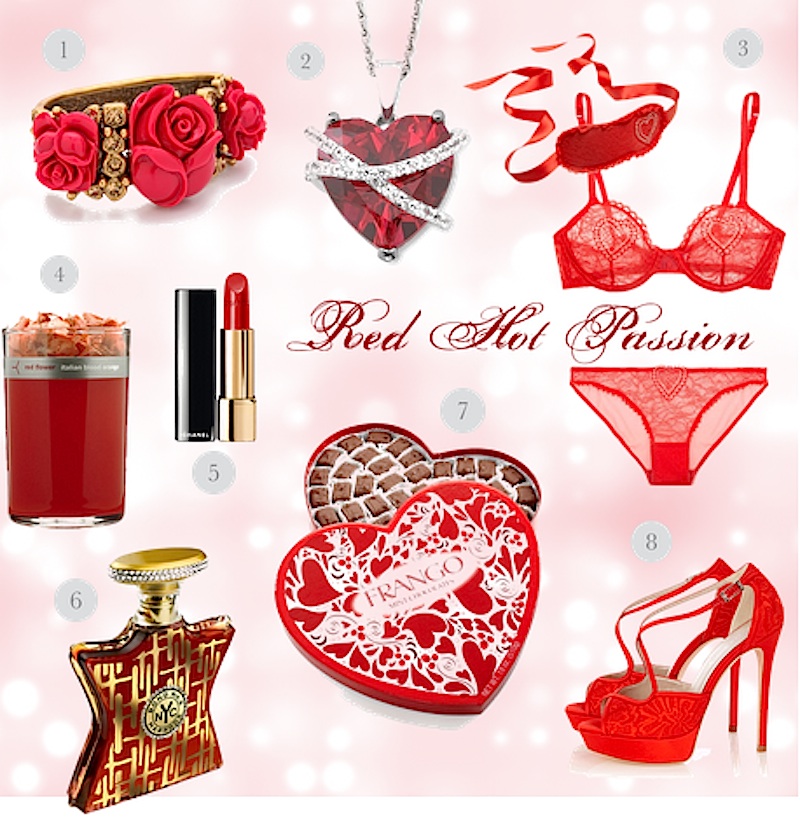 1. Oscar de la Renta Resin Rose Cuff
A bouquet of roses will last for a week or two, tops' but designer jewelry is forever.
2. Ruby, Sapphire and Sterling Silver Heart Pendant
She will think of you with each glance of this beauty
3. Agent Provocateur Lingerie
Sweet, sexy and sure to get you all fired up!
4. Red Flower Italian Blood Orange Candle
Floral citrus seduction at its finest
5. Chanel Rouge Allure Lip Color
A timeless classic!
6. Bond No.9 Harrods Agarwood Swarovski Parfum
With notes of nutmeg, violet and black tea, you'll smell as delicious as you look.
7. Frango Mint Chocolates
Need we say more?
8. Karen Millen Lace Sandal
Every siren needs a killer pair of heels.
Happy shopping, lovers!