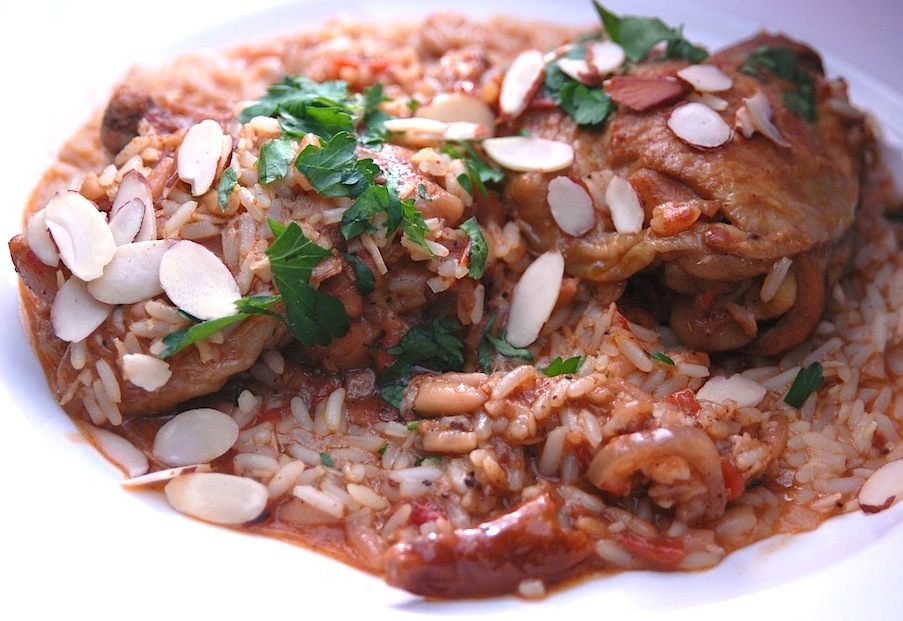 If you love curry like I do – then this recipe is for you. Adapted from "50 Great Curries of India," by Camellia Panjabi (a must-have for your cookbook collection) this recipe will heat things up in the kitchen and beyond. To make things easier I substituted the home-made coconut milk with a store bought can of coconut milk, and truth be told, I did not have cardamon pods – and it turned out fab! I would do it the same exact way next time just to be able to recreate this dish which was a hit with all!
Parsee Red Curry Chicken
Ingredients:
5 to 10 red chili peppers, seeded and coarsely chopped
1/2 teaspoon cumin seeds
1 teaspoon coriander seeds
1 teaspoon sesame seeds
3 whole cloves
6 black peppercorns
1-inch cinnamon stick, broken into pieces (may substitute 1/4 teaspoon ground cinnamon)
3 cardamom pods
3/4-by-1/2-inch piece ginger root, peeled with a spoon and coarsely chopped
4 large cloves garlic, coarsely chopped
3/4 cup onion, coarsely chopped
1/3 cup vegetable oil
6 (28 ounces) skinless, bone-in chicken thighs
2 medium tomatoes, seeded and finely chopped
Salt
1 can (13 ounces) unsweetened coconut milk
1 teaspoon cider vinegar
1/2 teaspoon garam masala
Directions:
Place the cumin, coriander, sesame seeds, cloves, peppercorns, cinnamon and cardamom in a dry grinder and grind to powder
Place ginger, garlic and onions in a food processor. Pulse, scraping down the sides as necessary, to form a smooth paste (you can add 1 to 2 tbsp of water if needed)
Rinse out the food processor and place tomatoes. Blend to a smooth consistency.
Heat the oil over medium to medium-high heat. Add the onion paste, kashmiri chili powder and the spice mixture and cook, stirring, for about 5 minutes.
Add the chicken and fry for 5 minutes until slightly brown.
Add the tomatoes and 1 tsp salt and cook for 5 minutes.
Add the coconut milk and reduce the heat to medium-low so that bubbles just break the surface. Cook, stirring occasionally, for 10 to 15 minutes or until the chicken is cooked through. (If color is not red enough, add a little bit of paprika right after the coconut milk is added)
Add the vinegar and garam masala. Taste and adjust salt. Serve immediately.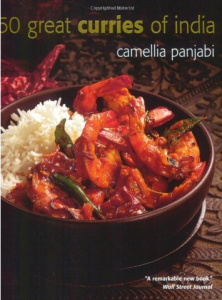 50 Great Curries of India by Camellia Panjabi
This is the ultimate celebration of the authentic Indian curry, encompassing both the classic and the unusual dishes from every region of India. The introduction not only weaves history, geography, and the philosophy of Indian cuisine together, but also includes an illustrated guide to ingredients and curry-making techniques, including how to combine taste, aroma, and heat. Fifty recipes for authentic Indian curries follow, from the classic Goa Lamb Vindaloo to the more exotic Gujarat Mango and Yogurt Curry, each accompanied by a detailed head note on the recipe's origin, regional background, and a full-color picture to show color and texture. An additional 50 recipes, from rice, lentils, and potatoes to breads, chutneys, and desserts, round out this thorough book.