The 8th annual Ultimate Blog Party (UBP), hosted by 5 Minutes for Mom, is about to begin!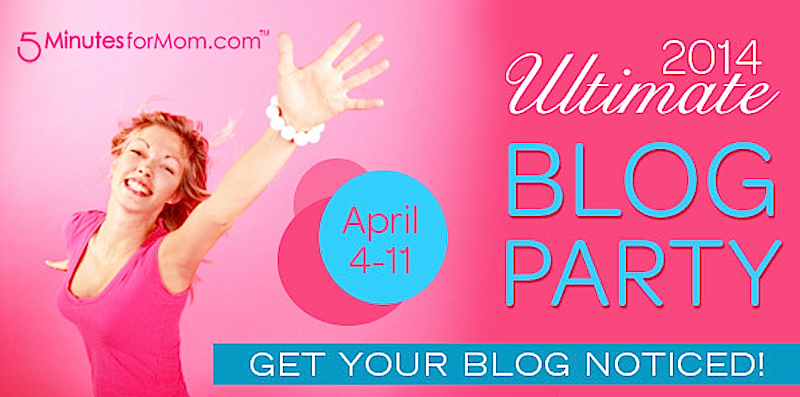 The party kicks off on Friday April 4th and runs through April 11th. During this time thousands of bloggers from around the world join together in a huge, blog-hopping, social media engaging, girl-to-girl get-together to share inspiring stories, lifestyle tips, and their wonderful blogs. Its time to make some new friends and do a bit of networking with a jam-packed directory of awesome bloggers ready to par-tay!
This annual party is for bloggers by bloggers. Follow a phenomenal group of women bloggers who open up and let you in on their secrets on what it takes to run a successful blog. Learn what their days, lives and businesses really look like – the good, the bad, and the sacrifices made in the name of self publishing a blog and building a brand. Like all passionate entrepreneurs will tell you, the rewards outweigh the negatives – and with that we have a world of amazing bloggers sharing their lovely insights on daily life.
SeductionMeals.com / Because Mom's Need Romance Too
During the UBP event, SeductionMeals.com, the go-to destination for Food & Romance, will share an array of posts about mom's carving out a bit of time from their hectic schedules to enjoy a romantic meal and a bit of romance with their loved ones. We'll share recipe ideas, luscious cocktails, romantic date ideas, music playlists, time saving tips in the kitchen and more.
Win Great Prizes!
A group of bloggers have contributed an array of wonderful prizes such as a Gift Certificate to Stella & Dot (from yours truly!), a Ninja Ultima Blender BL830, an Angelcare AC1200 video movement and sound monitor for your smartphone, a Nook Reader, Fine Handcrafted Wooden Kitchen & Serving Utensils, a Custom FaceBook Business Page Design, and many more!
All you have to do to enter for you chance to win is to go to this PRIZE PAGE  on April 4th, to access the prize entry form. To win a prize, you must fill out that prize entry form and click on the confirmation link that is emailed to you. Winners will be drawn randomly from entrants who complete the form and click on the confirmation link that is emailed to them. On April 12th names will be drawn and winners will be notified and their Twitter Handles will be included on the Prize pages. Good Luck!
Be sure to enter for your chance to win the Seduction Meals Prize: A $200 Gift Certificate from Stella & Dot for some gorgeous bling to make you feel extra special on your date night, while cooking a romantic meal, or vacuuming! After all, feeling fabulous has no boundaries.
So, if this is your kind of Party – Be sure to RSVP for emails and announcements about all the great things going on between April 4th and the 11th.  Can't wait to see you there! xoxo