Need inspiration on what sweet treat will steal your honey's heart? Here's a bit of culinary alchemy to make them swoon with delight. Jennifer Angel, astrologer, and Terry Dagrosa from SeductionMeals.com put their heads together to come up with the best Cosmic Cupcakes for each star sign. These sweet temptations are sure to dazzle and delight – just click on the Cupcake Title for the RECIPE.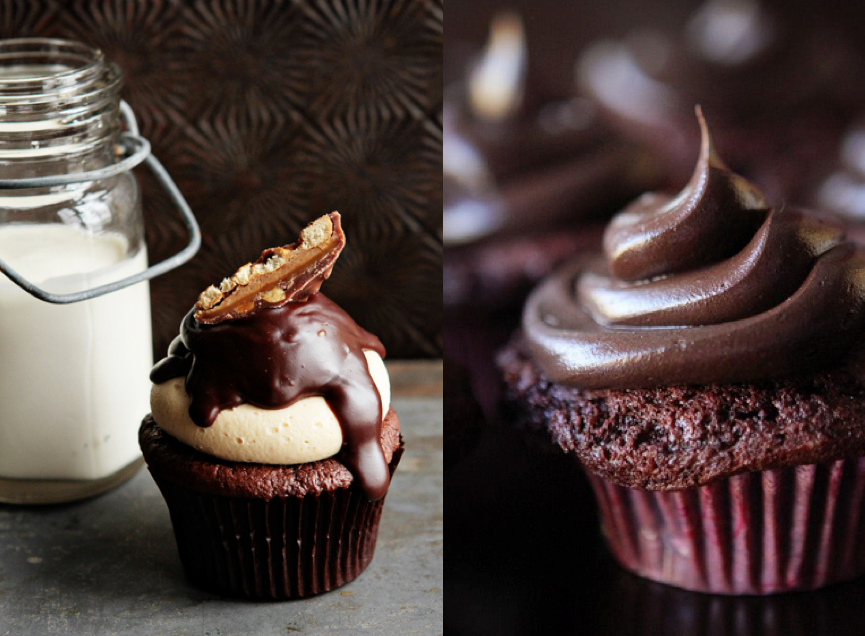 ARIES: Take Five Cupcakes – My Baking Addiction (LEFT)
Aries is passionate and fiery, but as the first sign of the year, you're also the kid of the zodiac. Lightweight confections may suit some, but you likely won't bother unless they pack a punch – and even the most sophisticated Aries is still a child at heart. These exquisite treats of rich, smooth devil's food cake with peanut butter and chocolate glaze frosting, topped with a chunk of a Take 5 candy bar will satisfy your need for intensity, and at the same time adds a sweet touch of childhood whimsy. A bold, sensual yet playful indulgence to share with your amour thanks to My Baking Addiction!
TAURUS: Brownie Batter Chocolate Fudge Brownies by Kevin and Amanda (RIGHT)
Earthy, Venus-ruled Taurus can revel in the sensuous joy of quality chocolate more than any other sign. You're built for pleasure and seek peace in simplicity. Why mess with success when you know what you like?  Sure to strike a deep, melodious chord of pleasure with the natural lover that lives in the heart of every Taurus, these outrageously rich, mega chocolate cupcakes have a chewy, brownie batter shell over a gooey soft chocolate cake. Get your choc on with the object of your affection and seal the deal with this ecstatic confection.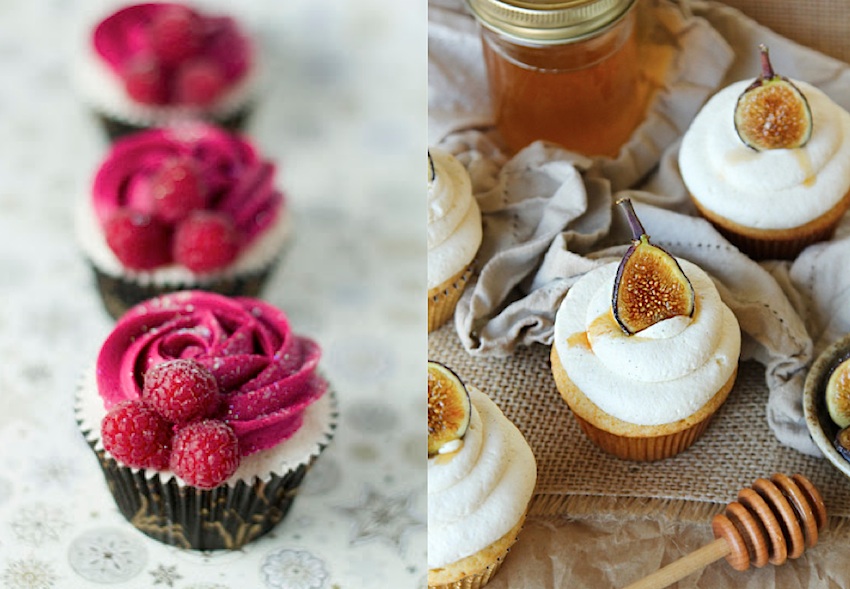 GEMINI:  Cava Cupcakes with Raspberry by Objetivo Cupcake  (LEFT)
Sparkling, colorful and worldly…cupcakes?  If anyone offers you such a delicacy, it's likely to be a Gemini. Made with cava, the Champaign of Spain, filled with raspberry puree and topped with buttercream, cava and raspberry liqueur frosting, these amazing cupcakes will inspire both romance and scintillating conversation. How better to surprise and impress a paramour than with a sweet that shows off your cosmopolitan tastes and gourmet sophistication?
VIRGO – Honey Cupcakes with Mascarpone Frosting & Caramelized Figs by Style Me Pretty (RIGHT)
Distinctive and refined, yet earthy and open hearted; this is how you like to be seen, Virgo. And you'll be in your element serving these light, sweet cupcakes with seasonal ingredients and more than a touch of class.  The purity of the ingredients and subtlety of flavors appeals to the Virgo sensibility, and the caramelized figs are both sexy and impressive. Who could resist such a perfect combination?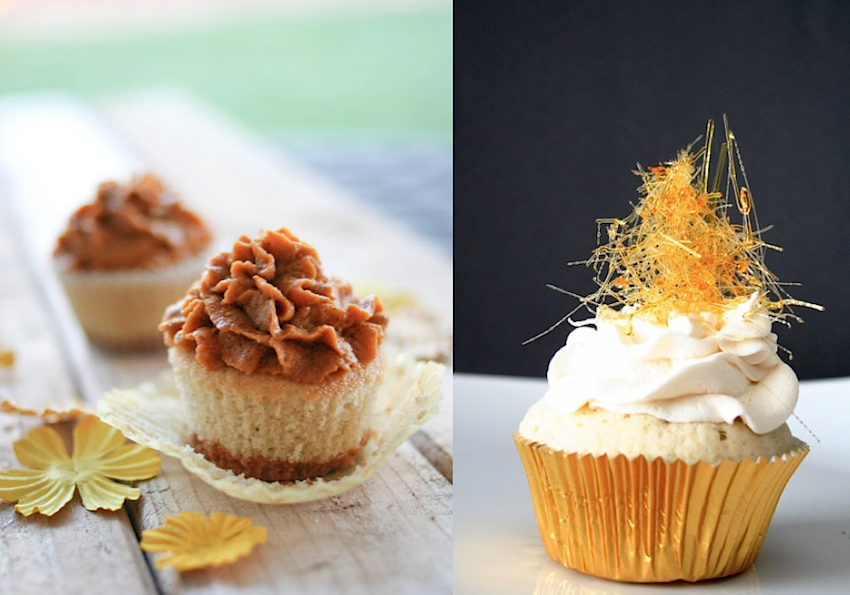 CANCER – Pumpkin Pie Cupcakes by Une-deux by Une Deuxsenses (LEFT)
Family, hearth, home and food are woven into Cancer's DNA. The aromatic, cozy atmosphere of a sumptuous Thanksgiving holiday and the cherished memories associated with pumpkin pie make these exquisite cupcakes a perfect fit for the gentle Moon Child. Graham cracker crust and vanilla cake frosted with honest-to-goodness pumpkin pie filling is a sure way to win a Cancer's heart. The many bakers in the crab family can offer these to both show off their skills and subtly sneak up on the affections of their intended.
LEO – Champagne Cupcakes with Champagne Buttercream the Curry Carrot  (RIGHT)
Posh and party are Leo words; the monarch of the zodiac demands the best and loves to celebrate, so if you're serving cupcakes, make them Champagne. Light, sweet cake with a hint of Champagne flavor, and an over-the-top buttercream frosting (also with Champagne, of course) topped with exquisite spun sugar artistry. First class and irresistible, which pretty much describes you, Leo. When you proffer these delicacies to your beloved, rest assured you'll be the queen or king of their heart.
LIBRA– Rose Cupcakes with White Chocolate Swiss Meringue Buttercream by Whisk Kid  (RIGHT)
Beautiful, charming and deliciously seductive – that's you, Libra. Vanilla with a hint of rosewater cake, topped with pistachios and handmade gumpaste roses, these works of art suit your Venusian style and will appeal to your creative instincts. The Swiss Meringue frosting calls for your impeccable sense of balance and poise to get it just right, and the subtle rose scent makes this a knockout confection that will stun your partner and tip the scales in your favor.
SAGITTARIUS – Cheesecake Cupcakes with Salted Caramel by Cooking Classy  (LEFT)
Your planet Jupiter governs riches in all forms, including gastronomical. You like to play hard and eat hearty, so these not too sweet and sinfully rich delights are sure to please. Creamy and velvety smooth cakes with either salted caramel or strawberry topping. Your mutable nature may not be able to decide which, so make some with each, and you and your lucky guest can share the love.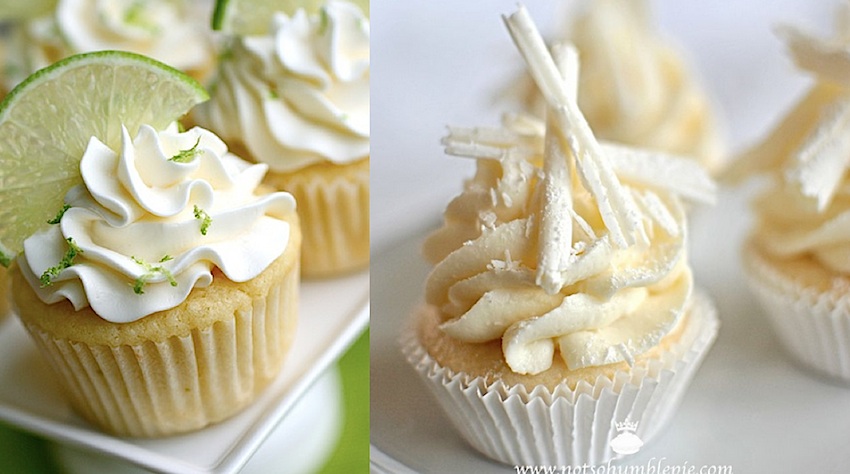 SCORPIO – Margarita Cupcake by Annie Eats (LEFT)
You're known for your intensity and passion, Scorpio, so if you're going to serve cupcakes, they better have a sexy edge. This should do it: a basic lime cake topped with tequila-lime buttercream frosting. A little wild and a little sweet, just like you. If tequila syrup is not strong enough for your tastes, you may want to brush the cake with straight tequila. A bold desert with a fiery touch!
CAPRICORN – White Cream Cupcakes by Not So Humble  (RIGHT)
The holidays are your time of year, Capricorn, but don't wait for the festive season to beguile your beloved with these impeccable and beautiful confections. Simple white cake with white chocolate cream cheese frosting, topped with classy white chocolate curls is an understated power statement that no lover could resist. With refined tastes and a strong sense of time management, you'll appreciate the short-cuts incorporated into this recipe.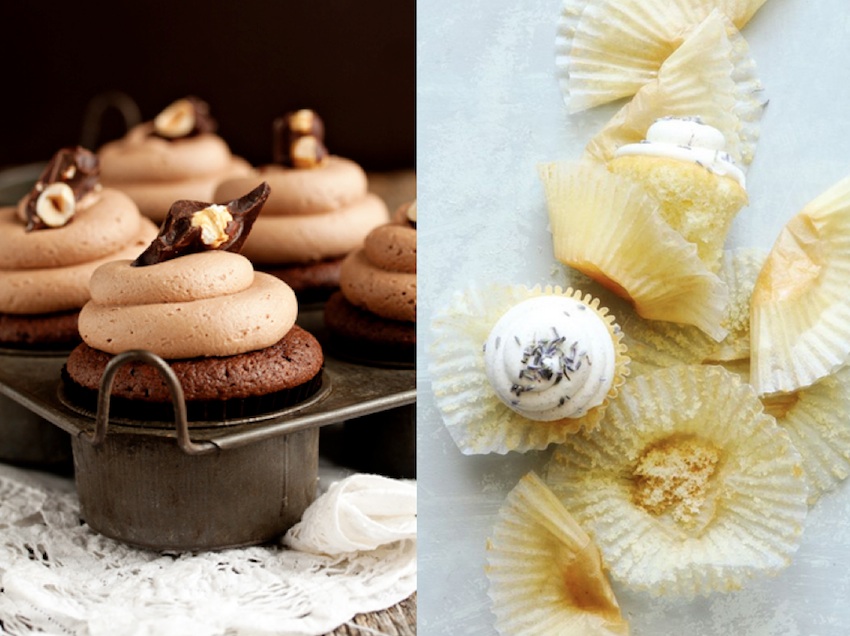 AQUARIUS – Nutella Cupcakes by My Baking Addiction (LEFT side)
Put your unique, individual spin on this basic recipe and wow your partner with a sinfully rich, nutty treat. Simple chocolate cake filled with the popular hazelnut spread that no one can resist, and topped with Nutella buttercream frosting; these babies are a sure crowd pleaser.  Aquarians dance to the beat of their own drummer, but that doesn't make you nutty – more like a genius. Just like the idea of pairing cupcakes with Nutella.
PISCES – Lavender Honey Cupcakes by Better Homes & Gardens  (RIGHT side)
Honey and vanilla cake baked with lavender, topped with Mascarpone & honey frosting. These evocative delicacies are positively dreamy and cosmically aligned with your sensitive, romantic sensuality, Pisces. Lavender soothes the nerves, delights the senses and adds a note of poetry to these scrumptious treats.  A touch of lavender sprinkled over the fluffy frosting adds an exotic flourish.