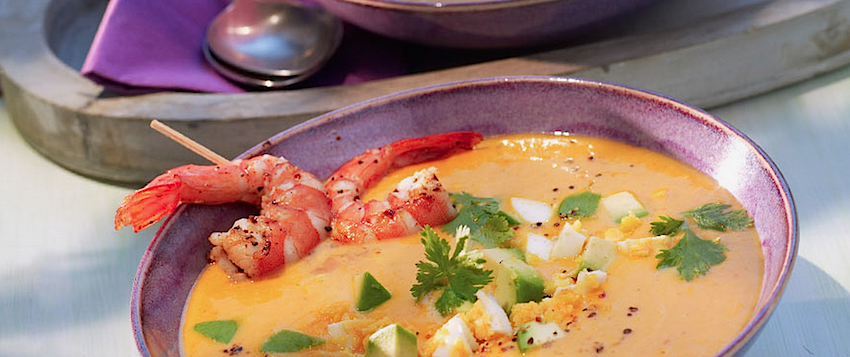 Sometimes an elegant soup and a glass of champagne are all it takes for a special, satisfying and yes, seductive romantic meal for two and this recipe for Peruvian Shrimp Chowder would certainly entice me!
Peruvian Shrimp Chowder (Chupe de Camarones)
Recipe by Avocados from Peru
INGREDIENTS
1 pound Hokkaido pumpkin
3/4 pound potatoes, peeled
1 onion
1 clove garlic
4 tablespoons olive oil
1 tablespoon crab or lobster paste
2/3 cup corn
3 ¾ cups vegetable stock
1 ½ cups coconut milk
Salt
Pepper
Wooden skewers
1 Peruvian avocado
2 hard-boiled eggs
Fresh cilantro
1/2 pound prawns
INSTRUCTIONS
Roughly dice pumpkin and potatoes. Cut the onion into quarters and mince the garlic.
Lightly sauté in 3 tablespoons olive oil. Add crab paste and corn, briefly sauté and pour in vegetable stock and coconut milk. Simmer over medium heat for about 20 minutes and puree with a hand blender.
Fry prawns in remaining 1 tablespoon hot oil for 2-3 minutes. Season with salt and pepper and arrange on wooden skewers.
Cut avocado in half, remove pit, and peel. Cut avocado flesh into cubes. Roughly chop up the eggs.
Divide soup into 4 bowls and sprinkle with avocado and egg crumbles. Add a prawn-skewer to each soup bowl.