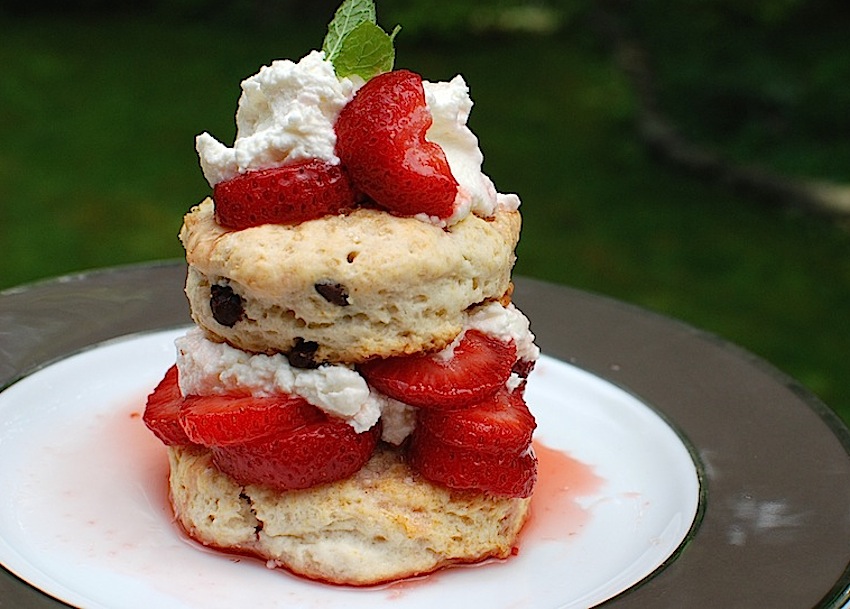 I just love Strawberry Shortcake and whipping up different variations of this simply delicious dessert. So when I was invited to participate in a Strawberry Shortcake Contest hosted by Driscolls, I happily stepped into my kitchen ready to experiment once again. I recently posted a Rosé Spiked Strawberry Shortcake recipe whereby adding a little "kiss" of wine adds that little special touch.  Here is another twist on my favorite American classic – Strawberry Shortcake with Chocolate Chips.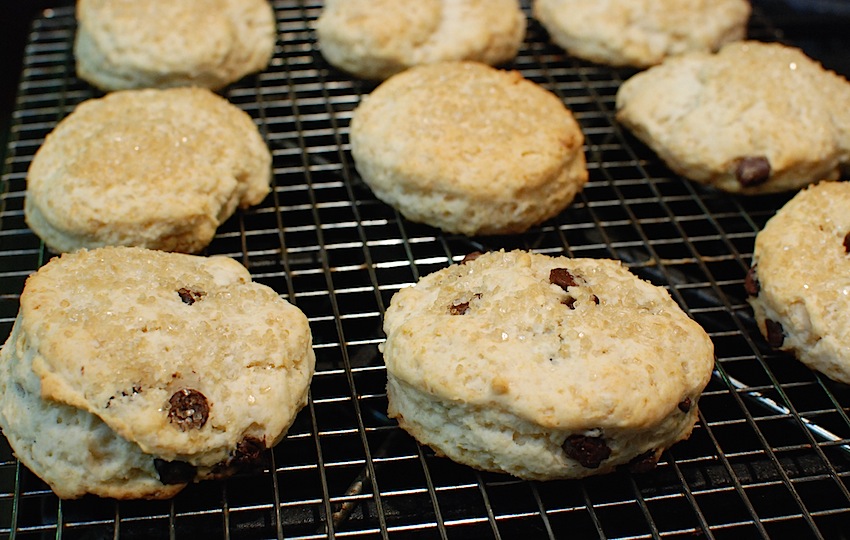 This variation adds the always enticing flavor of chocolate morsels to compliment the sweetness of the strawberry mixture, not to mention the enchanting combo of chocolate and cream which is always a hit. For this recipe I used a cookie cutter to ensure the biscuits were all the same size making it easier to stack them and I like to add a dash of large sugar crystals (like Turninado sugar) on top of each dessert biscuit.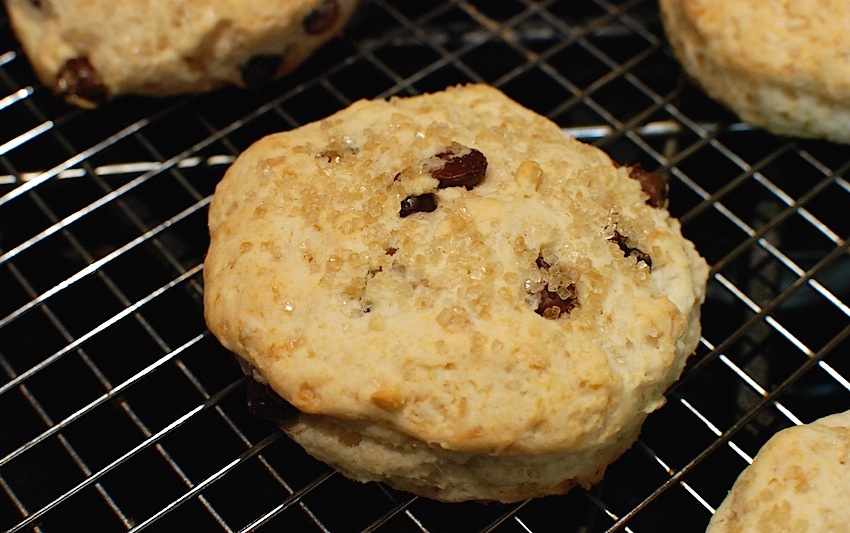 You can also experiment by adding flavors to your homemade whipped cream. In this case I added a teaspoon of vanilla extract, however you can add almond or mint extract or a tablespoon of liqueur such as amaretto (for an almond flavor) or St. Germain or Pavan.  And you could add finely chopped almonds, hazelnuts or pecans to the biscuits as well. I hope you enjoy this recipe as much as we did!
Chocolate Chip Strawberry Shortcakes
Yields 5-6 Individual shortcakes
Ingredients:
4 cups of sliced strawberries
1/8 cup of Turbinado sugar
2 1/3 cups Original Bisquick mix
1/2 cup mini chocolate chips
2/3 cup milk
3 Tbsp Turbinado sugar
3 Tbsp butter, melted
1 Pint whipping cream
1 teaspoon of vanilla extract
(option) garnish 2-3 mint leaves
Directions: 
Mix strawberries, sugar. Set Aside.
Preheat oven to 425 degrees F.
Stir together Bisquick mix, milk, 3 Tbsp sugar and butter until soft dough forms.
Take half of the mixture, place on a cutting board with a bit of flour, or waxed paper with flour, and using a 2″ cookie cutter, cut 5-6 biscuits
Add the chocolate chips to the remaining batter and repeat step above cutting out 5-6 more biscuits.
Place the biscuits on an ungreased cookie sheet. Add a pinch of turbinado sugar to the top of each biscuit. Bake for 10 – 12 minutes until golden brown
Whip up a batch of whipped cream as per the directions on the container, set aside
Mix together strawberries and slightly macerate, you want to have some strawberry liquid and strawberries to spoon over each biscuit.
Place a plain biscuit on a plate, top with strawberries and whipped cream. Place a chocolate chip biscuit on top. Add a dollop of whipped cream, some of the strawberry juice garnish with strawberries and mint leaves and DIG IN!