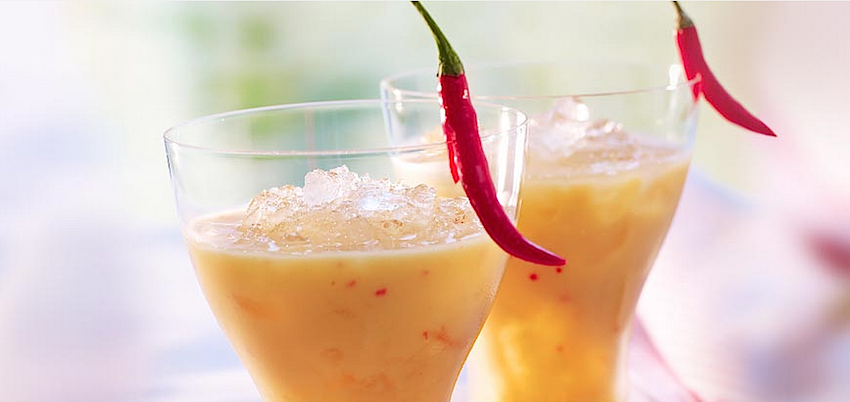 Let's get healthy and heat things up at the same time. I love the idea of this fruit smoothie with the added fire of chili pepper for that extra "zing"! A perfect drink to kick-start a weekend brunch (in bed or course!).
Peruvian Avocado Chili Flip
Recipe by Avocados from Peru, 4 Servings
INGREDIENTS
1 Peruvian avocado
½ (3/4 pound) papaya
1 ripe banana
5 chili peppers
Juice from 2 limes
1 ½ cups multi-vitamin, orange, or passion fruit juice
Crushed ice
INSTRUCTIONS
Cut avocado in half, remove pit, and peel. Roughly chop up the avocado flesh.
Peel the papaya and remove the pit. Roughly chop up the papaya flesh.
Peel the banana and cut into pieces.
Cut chili peppers into halves. Remove the seeds and cut into fine slices.
Combine chili peppers with avocado, papaya, and banana in a mixer. Add lime and multi-vitamin juices, and blend the mixture.
Fill glasses halfway with crushed ice and pour in the juice mixture. Garnish the glasses with chili peppers.