If you are looking for a simple, yet very tasty dish to serve up for late lunch (or dinner) romantic rendezvous, this steak salad will do the trick. Served on a bed of baby arugula with nuts, add the deliciously sweet taste of blistered grape tomatoes that pairs so well with a creamy, high-end blue cheese. Yum!

The steak is marinated for one – two hours in a homemade chimichurri dressing. Just before getting ready to grill the steak, start preparing the salad base. Toss together baby arugula, 2 tablespoons of a light dressing (Olive oil, mustard, lemon or vinegar whisked together), salt and pepper to taste, and a handful of coarsely chopped walnuts. I used a 1/8 cup of curry cashews which were delicious. Place mixed greens on a serving platter. Grill the streak to medium rare, place over the salad and add blistered grape tomatoes and crumbled blue cheese. Serve with your favorite wine or a glass of champagne.  Love is in the air…..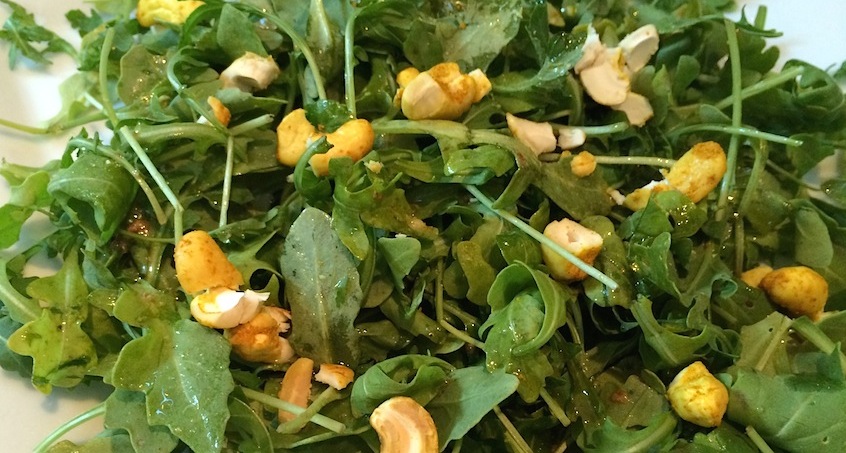 Grilled Steak Blistered Grape Tomatoes and Blue Cheese Salad
Ingredients
1 lb skirt steak
1 cup of Chimichurri Sauce /Dressing
1 bag of baby arugula
1/8 cup of walnuts, pecans or cashews
1 cup of grape tomatoes
1 tablespoon olive oil
a pinch of salt
1/4 cup crumbled blue cheese
garnish: Fresh basil leaves
Directions
Marinate Steak in chimichurri dressing for 1-2 hours. Do not let sit more than two hours.
In a large skillet over medium heat, add a tablespoon of olive oil and when it is hot, add grape tomatoes. Cook for about ten minutes until grape tomatoes are shriveled and begin to pop. Set aside.
Prepare salad: Clean and dry the baby arugula. Add a light salad dressing and nuts. Place on serving platter. Set aside.
Grill Steak to your liking – we prefer medium rare
Place thinly sliced steak cut against the grain over the baby arugula. Top with tomatoes, crumbled blue cheese and garnish with a few fresh basil leaves.