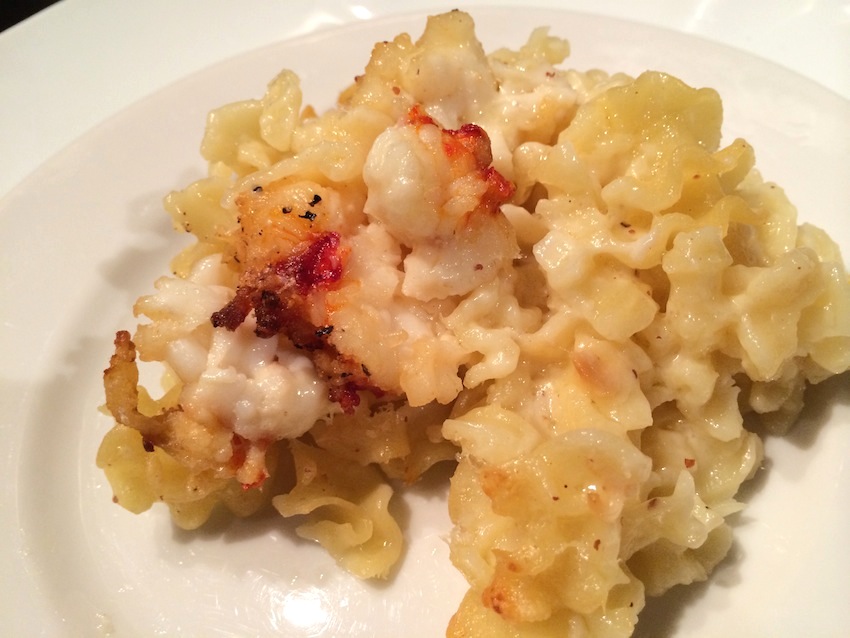 Decadent? Yes. Fattening? Of course. Want some? Oh yea! This mac and cheese dish is downright rich; dotted with tasty morsels of lobster and a subtle kiss of truffle flavor.  Imagine a midnight rendezvous after hours of clubbing, dancing and having fun. You come home with a few friends – or just your lover. You heat up a small bowl of this luscious dish and serve it piping hot with a glass of bubbly champagne.  Life is good!
Truffle Lobster Mac & Cheese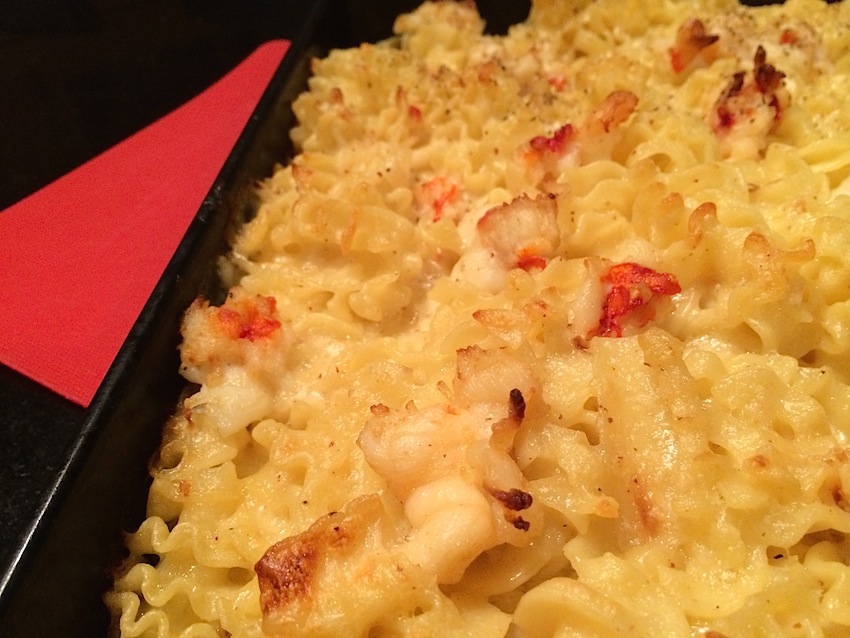 Ingredients
1 lb of pasta (elbow, ziti or rotini)
2 tablespoons of truffle oil
3 tablespoons butter
1 shallot, finely chopped
3 tablespoons all purpose flour
2 cups of milk
1/2 cup heavy cream
1/2 teaspoon of nutmeg
4 oz Gruyere or Gouda cheese, grated
2 cups of sharp Cheddar cheese, grated
salt & pepper to taste
the meat of 2 cooked lobsters, coarsely chopped
1 tablespoon of chives, finely chopped
Directions:
Preheat oven to 350 degrees F
Cook pasta as per directions, al dente (important not to overcook as it will cook more while baking). Drain and transfer to a large bowl. While the pasta is still warm, drizzle with the truffle oil and stir well. Set aside in cover bowl.
Melt butter over medium heat in large saucepan. Add shallots and saute until translucent and soft.
Add flour and stir together until combined.
Whisk in milk, heavy cream, nutmeg and mustard. Simmer, whisking frequently to smooth out any lumps, for 4 to 5 minutes
Remove from heat. Add both cheeses, salt and pepper to taste. Stir until smooth
Pour cheese sauce over pasta, add lobster – mix until pasta evenly covered in cheese
Transfer to a large baking dish – bake until top is bubbly and slightly browned about 20 – 25 minutes.  Let stand for about five minutes before serving. Top with chives.