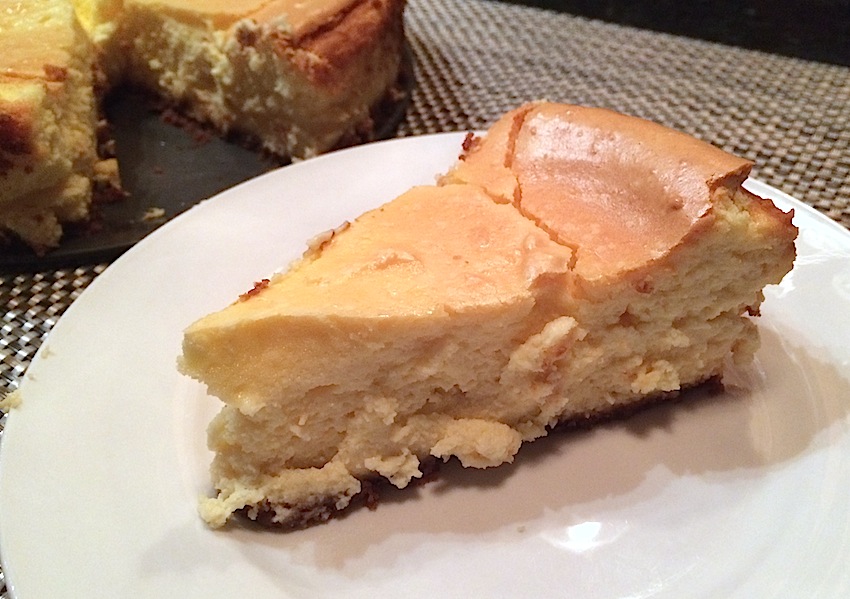 Would you like a slice of cheese cake? Seldom has the response been "No thanks". Cheesecake is a favorite in our household and the creamier the better. I must confess, I am not much of a baker because we all know when a sweet treat is in the house -it must be eaten, so I spare myself the temptation. That's not to say I don't love creme brûlée, cheesecake, or profiteroles – it just means I like to indulge my occasional sweet tooth at a restaurant with a portioned slice. But I do LOVE cheesecake!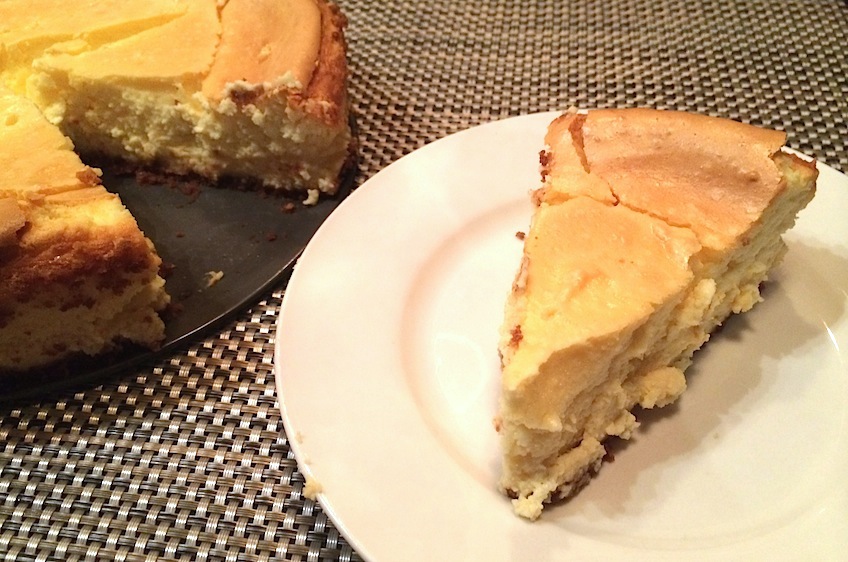 So which do you prefer: Creamy, dense New York-style cheesecake made with cream cheese and cream or the lighter Italian variation made with ricotta cheese? Me, I go for NY Style cheesecake any day – simply irresistible! Here is one of our favorite recipes – a hand-me-down-recipe from my mom. But first…
Speak to a cheesecake aficionado and your will find one of the golden rules when baking a cheesecake is that it should be smooth and creamy with no cracks. Damn! My first homemade cheesecake and I failed. Perhaps I should have researched a bit beforehand – baking is so much more scientific than cooking. I had no idea cracking was an issue. With a bit of research I learned in order to avoid cracks you have to pay attention to the temperature and the rate in which the cake heats up and cools down. A good rule of thumb: cook slowly – cool gradually.
Got cracks? No problem – here's a fix-quick tip from one of my favorite sites – TheKitchn.com "My instant (and tasty) trick is to spread a layer of sour cream over the cooled cheesecake. It will give it a clean finish and add a little extra creaminess to each bite. Sounds good to me!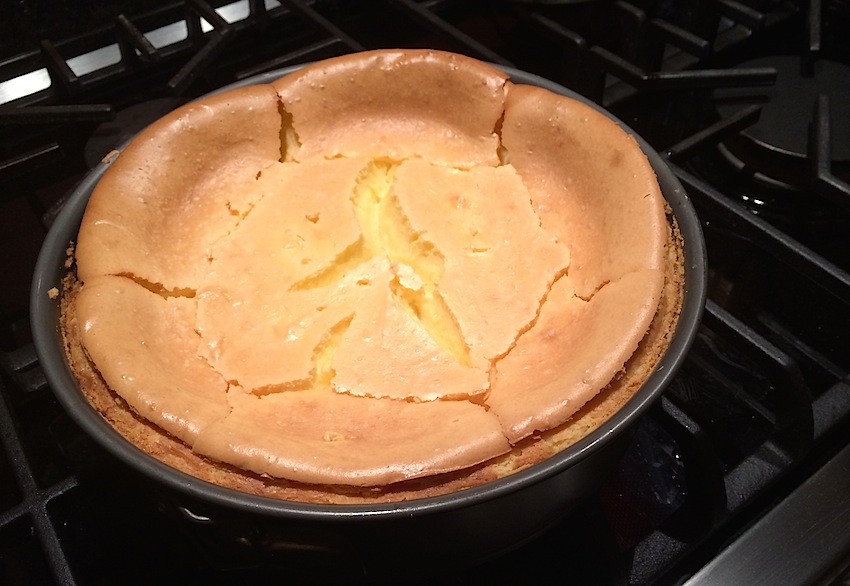 Creamy NY Style Cheesecake 
Ingredients:
CRUST
1/4 cup unsalted butter, melted
1 1/2 cups graham cracker crumbs
FILLING
1 3/4 cups granulated sugar
5 eight ounce packages cream cheese, soften at room-temperature
4 eggs
1/4 cup fresh squeezed lemon juice
1/4 cup all-purpose flour
1 cup sour cream
1 tsp vanilla
 DIRECTIONS
For best results, have all the ingredients at room temperature before blending.
Preheat oven to 350 degrees F.
Lightly coat a 9-inch springform pan set aside
Mix together graham cracker crumbs and butter and press firmly into bottom of springform pan
Place springform pan in freezer until ready to pour in cheesecake batter.
In a large mixing bowl, beat cream cheese, sugar, lemon juice and vanilla until well blended – about 3 minutes
Blend in cream, mix well. Add the eggs, one egg at a time mixing well after each egg.
Remove the springform from the freezer. Slowly pour the batter over the crust.
Bake for one hour in pre-heated oven. The cake will be slightly golden brown and the outer sides of the cake will be done but the center will not.  Turn oven off and let cool for 1-2 hours in the oven, during this time the center will set.
Refrigerate for at least 3 hours before serving (overnight is ideal) .