Friday, October 31st is New York City's 41st annual Village Halloween Parade.  Each year Artistic Director, Jeanne Fleming comes up with a theme to inspire delightfully mesmerizing large-scale puppets and fellow parader's costumes and floats.  This year's theme – The Garden of Earthly Delights! Parade puppeteers will sow the seeds of a verdant Garden, turning Sixth Avenue into a greenway of surging shoots, unfurling blossoms, and tempting fruits dangling low from the animated boughs of a giant Tree of Life. All are invited to help bring this world-famous "garden" to life and to celebrate the oasis of wildness that in the end (as Olmsted said) is what truly civilizes us.  The parade starts at 7pm but get there earlier to get a good spot!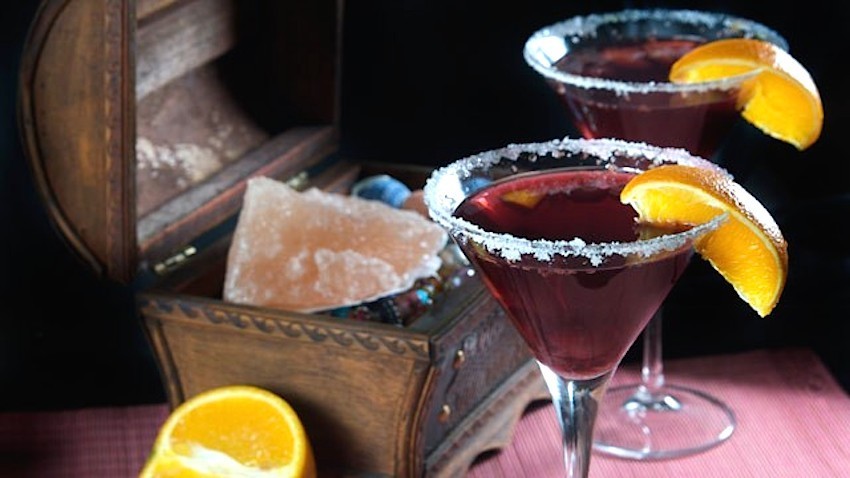 Before heading why not share a wickedly delicious bowl of HobNob's Wicked Red Punch to get into the spirit!
HOBNOB'S WICKED RED PUNCH / 15 servings
Ingredients:
1 750-ml bottle of HobNob Wicked Red
1½ cups spiced rum
3 cups freshly squeezed orange juice
2 oranges, zested
1 teaspoon ground ginger
1 cinnamon stick
2 tablespoons simple syrup
1 lime, zested
Combine all ingredients in a large bowl and let sit, refrigerated for at least an hour before. Coat glass rims with sugar and garnish with an orange slice. If available, add one large block of ice to the bowl. Stir well before serving.
Information from HobNob Press Release:
HobNob Wicked Red Blend (SRP $10.99) is an opulent red wine blend that's casting a spell on revelers everywhere for Halloween and Day of the Dead.  Already dressed for the occasion and outfitted with a decorative sugar skull on its' label, Wicked Red is a fruit-forward blend of Grenache, bold Cabernet Sauvignon, spicy Shiraz and delicate Pinot Noir. Devilishly good, Wicked Red reveals aromas of roasted coffee, mocha, toasted hazelnut, and spicy notes embellished with hints of orange zest and flower.