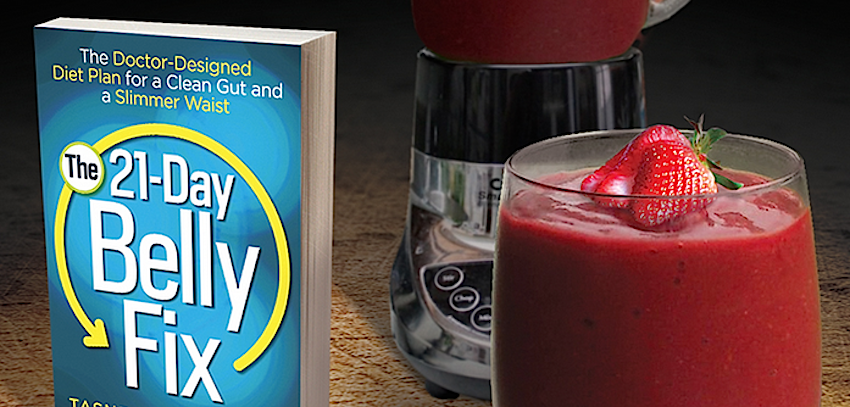 Although I love what I do (sales, development and food blogger), my career has me chained to a desk. I spend way to much time in front of a computer. So when I decided it was time change this situation, I crossed the line of laziness and excuses and decided enough is enough! I need to add exercise and activity back into my life and to reduce the portion size of all the fabulous food around me.  I am an "all or nothing" kind of person so when I decide to do something I am going to get it done.
As luck would have it, a dear friend asked if I wanted to join a small group of woman who where doing a 21-day belly fix. What a great way to jump start my goal – so I enthusiastically agreed. A motivation for doing a program like this without ever having done a cleanse before, is the fact that 4 women will be taking this journey at the same time and female support is just one of the best things ever! I was also intrigued to learn the last time the girls followed this program most of them lost 10 lbs. An additional perk? I'll say! Now what exactly does one have to do for 21-days? I really didn't know.
I am not a diet person but in the past have done both Atkins and Weight Watchers, and with a dedicated routine at the gym, both were quite successful having lost over 15 lbs each time, with a revved up metabolism and a great boost of energy – mission accomplished! My problem is, when I feel and look great, thanks to the effort and hard work, I stop doing the very things that got me there. Instead I "enjoy life" without the pressure of going to the gym and dieting. This usually lasts a couple of years and then I'm right back to where I started. Surely I'm not the only one that does this am I? I know I need to make a life change to maintain the best weight for my body type and find an exercise routine that I can fit into my busy life. I think we all know what to do – its just a matter of doing it!
So begins my journey on the The 21-Day Belly Fix: The Doctor-Designed Diet Plan for a Clean Gut and a Slimmer Waist. I was told: No dairy, no carbs, no sweets, no alcohol for 21 days! Intimidating? Yes. Can I do it? I don't know but I'll give it my best.
I will give you a weekly update on my challenges and progress. I know I will miss the luscious foods I get to cook and eat.  So for dinner, I celebrated my last big meal – chicken parmesan with a small side of spaghetti with garlic, olive oil and fresh parsley and two lovely glasses of white wine. Good by flavorful food. What am I about to do?!!