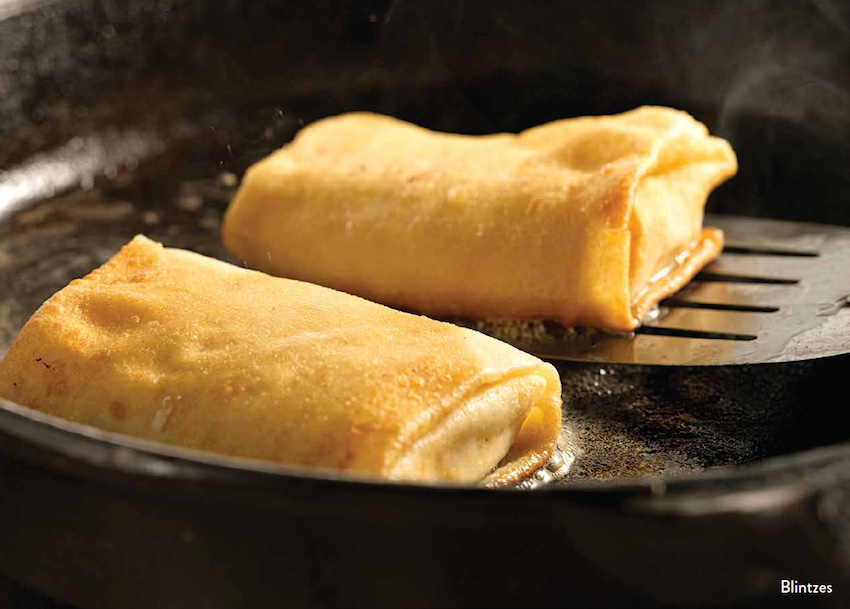 We recently shared our exclusive interview with the authors of Eating Delancey: A Celebration of Jewish Food by Aaron Rezny and Jordan Schaps.  Today we get to share another of their amazing recipes – perfect for a romantic breakfast in bed: Ratner's Cheese Blintzes. Just add a steaming hot cup of coffee and a glass of fresh squeezed OJ. Perfect!
Ratner's Cheese Blintzes / Makes 24
Recipe courtsey of Eating Delancey: A Celebration of Jewish Food
INGREDIENTS:
PANCAKE
4 eggs
2 cups sifted all-purpose flour
2 cups water
1/2 cup clarified butter (1 lb clarified butter or parve margarine)
1/2 teaspoon salt
CHEESE FILLING: Makes 1 2/3 cups
2 (8-oz) packages of farmer cheese
2 egg yolks
1/4 cup sugar
1 teaspoon vanilla
sour cream
DIRECTIONS
To make filling, combine all ingredients in a bowl and mix thoroughly
To make clarified butter, melt butter in a saucepan over low heat. Remove from heat and let stand for 2 minutes. Skim foam from butter, if any, and then pour off clear, oily looking butter in to a container. Stop pouring when you reach the milky residue in bottom of pan. Refrigerate until needed.
To make pancakes:
In a bowl combine eggs and water and blend thoroughly. Beat in flour and salt. Mixture will be runny.
Pour 2 tablespoons of batter into a hot, greased 7-inch omelet pan. Rotate skillet so bottom of pan is covered evenly.
Cook for 3-4 minutes on one side, or until golden. Remove from pan and repeat process using all the blintz batter. Pile one on top of the other, uncooked side down. At this point the blintz pancake is ready to be filled.
Place two heaping tablespoons of filling on one half of the unbranded side of the pancake. Fold pancake over once to cover filling. Fold in sides of pancake. Continue rolling.
Heat butter in a skillet until hot. Place blintzes, seam side down, in skillet and sauté until golden on all sides.
Serve hot with sour cream.
CLICK This Link To Get your Copy of this Fab Cookbook!