Staying home on Valentine's Day – smart! Who wants to deal with the craziness of eating out. Enjoy a gourmet home-cooked meal together with a bottle of bubbly, gorgeous flowers, Vosages dark chocolates and a nice sexy something if you exchange gifts,  Here is an inspiration board to get your creative juices flowing with the star of the night – a delicious recipe for a pan cooked duck breast with a sour cherry sauce, string beans and smashed new potatoes.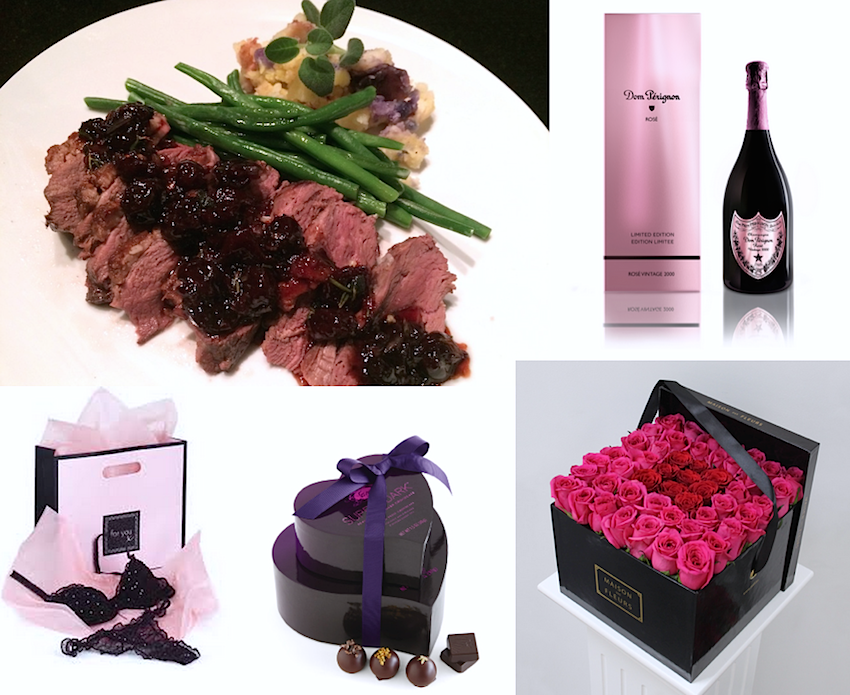 This dish was inspired by a recipe I discovered last year on Simply Savory (which by the way is AMAZING!), Duck Breast with Seared Foie Gras and Balsamic Cherries. The recipe below is a simplified, quicker version (without the foie gras). Both are delicious and a great choice for a romantic meal for two.
Duck Breast with Sour Cherry Sauce Recipe
Ingredients
1 magret duck breast
salt and pepper
1 tablespoon coconut oil
1 shallot finely minced
1/2 cup sour cherry preserve
1/2 teaspoon rosemary, finely chopped
Directions:
Score the fat on top of the duck breast diagonally in two directions. Cut all the way through the fat without cutting into the meat. Season generously with salt and pepper.
Heat a sauté pan over medium-­low heat and then place the duck in the pan, fat­-side down.
Allow the fat to render until it's dark brown and crisp, approximately 15 minutes. Drain some of the duck fat from the pan periodically to avoid splatter.
Flip the breast and allow it to cook on the opposite side for a few minutes, until an instant read thermometer reaches 125 degrees F in the center of the breast. Be sure not to overcook – like a steak – the duck will get tough.
Allow the meat to rest for at least 5 minutes. While the duck is resting, prepare the cherry sauce.
In a small skillet heat up the coconut oil in a non­-stick pan on medium/­low heat with a pinch of salt and add the minced shallot. Cook for a few minutes until the shallots turn transparent and then add the cherries and rosemary. Simmer on low heat, approximately 10 minutes, stirring from time to time.
Plating the Dish
Slice duck on the bias into thin strips and fan it over your serving plate.
Serve with string beans (with a squeeze of lemon) and smashed new potatoes with tab of sweet butter.