Holly Clegg, author of best selling trim&Terrific cookbook series, has launched a new book that promises to show woman "how to sizzle in the kitchen". In the mood for a night of romance? Chapter 4, Table for Two, is for you. Entertaining for a small crowd? You'll find easy make-ahead recipes in Chapter 6, Effortless Entertaining. Need some "me" time? Chapter 11, Diva Dermatology, shows you how to a make facial masks and body buffers with everyday ingredients.
Too Hot in the Kitchen features a healthy twist on everyday recipes with Holly's perspective "that any recipe can be trimmed down while staying terrific and full of flavor". Known as the "Queen of Quick," her recipes are time, user and pantry-friendly. This book helps busy, multi-tasking women who want to shine in the kitchen with easy, no-fuss recipes. Yes, ladies – you CAN have it all!
Of course the team at SeductionMeals.com gravitated right to chapter 5, Food for the Mood! As we all know, food is a great way to boost one's libido and chapter 5 is filled with recipes for romance like Chocolate Truffles; Fig, Caramelized Onion, Prosciutto and Goat Cheese Pizza, and Stuffed Crab Poblano Peppers.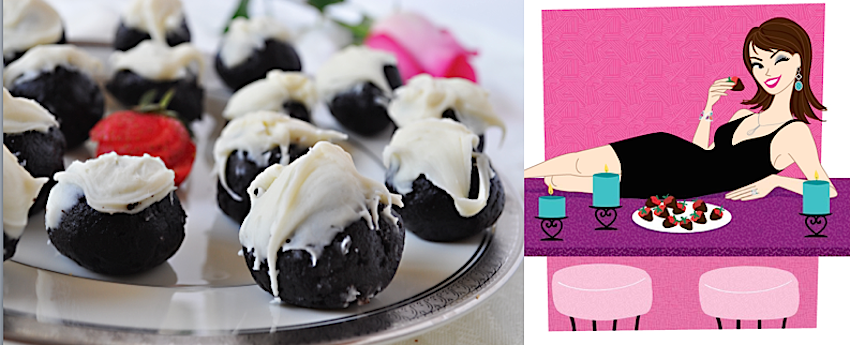 Some of our favorites recipes throughout the book include: Shrimp with Remoulade Sauce, Chicken with Olives, Tomatoes and Basil, Ahi Tuna Tacos with Wasabi Cream and Mango Avocado Salad, and Sweet Potato Wedges Wrap in Prosciutto.
Oh, and Holly, we have your number! With all the sweet treats found in this book I'd bet my last dollar you have quite the sweet tooth! I can't wait to try the German Chocolate Cake Squares and the Blueberry Muffin Streusel Cake.
Just click on the link to order your copy of Too Hot In The Kitchen – Secrets to Sizzle at Any Age.  We end this review with an enticing recipe for your next Seduction Meal – we hope you'll give it a try!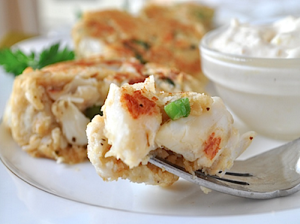 Wasabi Crab Cakes with Ginger Sauce
Makes 8 servings
Recipe Courtesy of Holly Clegg
Too Hot In the Kitchen: Secret To Sizzle At Any Age with 200 Simple and Sassy Recipes
Wasabi, a spicy 'SinSation', and soy sauce turn crab cakes into an Asian paradise and the Ginger Sauce knocks it out of the park. Make ahead, refrigerate and cook when ready to serve.
Ingredients
1/2 cup chopped green onion
3 tablespoons light mayonnaise
1 egg
1 1/2 tablespoons wasabi paste (according to taste)
2 teaspoons seasoned rice vinegar
2 teaspoons low sodium soy sauce
1 teaspoon lemon juice
1 1/2 cups panko bread crumbs, divided
1 pound white or lump crabmeat, picked through for shells
Ginger Sauce (see below)
Instructions
In bowl, combine green onion, mayonnaise, egg, wasabi, rice vinegar, soy sauce, and lemon juice. Fold in 1/2 cup panko crumbs and crabmeat.
Form crab mixture into 8 patties, pat remaining 1 cup panko crumbs onto both sides of patties. For best results, refrigerate at least 1 hour or up to 24 hours before cooking.
Heat nonstick skillet coated with nonstick cooking spray over medium heat and cook crab cakes 3–5 minutes on each side or until golden brown. Serve with Ginger Sauce (see recipe).
Ginger Sauce / Makes 1/2 cup
Fresh ginger is a must for this remarkable sauce. The ginger scent stimulates circulation.
3 tablespoons light mayonnaise
3 tablespoons nonfat yogurt or sour cream
2 tablespoons grated fresh ginger
1 teaspoon seasoned rice vinegar
In small bowl, combine all ingredients.
Food Facts
Calories 153, Calories from fat 26%
Fat 4g, Saturated Fat 0g, Cholesterol 73mg
Sodium 470mg, Carbohydrate 13g, Dietary Fiber 1g, Sugars 1g, Protein 15g
Dietary Exchanges: 1 starch, 2 lean meat
Disclosure: This is a "sponsored post." The company who sponsored it compensated me via a cash payment and a free copy of the book for reviewing purposes. Regardless, the opinions expressed are my own and I only recommend products or services I believe are a good fit for my readers.