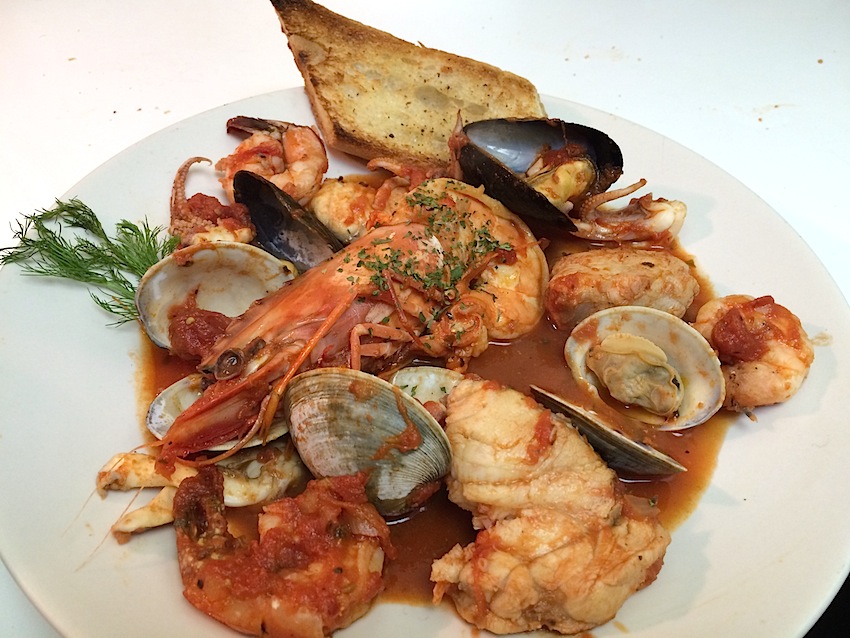 Want to wow! your loved one this Valentine's Day? Try this easy-to-prepare San Francisco fisherman's stew. This is the BEST Cioppino I've ever had. My brother, who is an amazing cook – treated my family and me to this wonderful dish. We went to Eataly in NYC to buy the seafood and cans of San Marzano plum tomatoes. If you can find San Marzano's this will make all the difference to the quality of your tomato sauce. Grown in a rich volcanic soil, San Marzano tomatoes have a low seed count, are plump and boast a sweet flavor with low acidity. This is why so many chef's prefer to use this as the base for their tomato sauce or broth.
SEAFOOD SEDUCTION VALENTINE'S DAY MENU
For starters, serve slices of canteloupe or honey dew melon draped with Proscuitto. Serve with a glass of Prosecco or Champagne. Next, the star of the meal – Seafood Lover's Cioppino, served with a bottle of red wine.  While you may be used to having pasta or spaghetti with your tomato sauce – this dish is robust yet light without it. For dessert you can serve a slice of luscious cheese cake that can be shared, or to keep it light – a refreshing mango or strawberry sorbet.
LANGOSTINOS
Seafood Lover's Cioppino Recipe
Ingredients
2 tablespoons olive oil
1/2 red onion, finely chopped
2 cloves of garlic, finely chopped
1 small, fresh fennel bulb, finely chopped, reserve fennel sprigs for garnish
2 28-oz San Marzano plum tomatoes, whole
1 8-oz can clam juice
1 teaspoon each of dried oregano, basil, parsley
1 teaspoon fennel seeds, toasted and pulverized in blender
salt and pepper to taste
1/2 teaspoon crushed red pepper
1 cup dry white wine
1 lb each of mussels and clams
1/2 lb small squid, cut in strips or rings
1 lb monk fish, cod or any white meaty fish – cut into 2″ pieces
Option: 1 Lobster tail cut in half lengthwise (when you serve it) or 1-2 langostinos
1/2 lb large shrimp, peeled deveined
1 Baguette, sour dough or Italian bread, sliced on the diagonal to net larger slices.
 Directions:
In large pot, over medium heat, add olive oil and saute onion, fresh fennel, and garlic until translucent, stirring to be sure not to burn garlic.
In a large bowl, crush tomatoes with your hands, to break apart – creating small chunks of tomatoes. Add tomatoes and clam juice to pot and bring to a boil.
When boiling, add spices, salt and pepper and crushed red pepper. Toast fennel seeds in a dry skillet, shaking pan to toast and release aroma (2 minutes). Add fennel seeds to grinder to pulverize. Add to sauce, along with white wine.
Simmer on low heating stirring occasional – 45 minutes to an hour. Taste for salt and pepper (the can tomato will not have salt so you will need to taste and salt as you go along).
Add clams and mussels until shells open.
Next add fish and squid (also if using larger langostino shrimp as we did, or lobster tails add now) – cook until fish and shellfish is cooked through (no longer opaque) 4 – 5 minutes, gently stirring all in sauce.
Lastly; add shrimp and cook
Before serving – remove a langostino and/or lobster tail and cut in half lengthwise to be sure no longer opaque and cooked through. Turn off heat and cover.
Prepare bread just before serving: brush bread with olive oil and broil in oven until toasted on each side.
Plating the Dish
Place 1 1/2 cups of tomato sauce/broth on each serving bowl.
Arrange fish on plate.
Garnish with fennel sprigs or fresh parsley. Serve with a slice of toasted bread and a glass of red wine – viola!