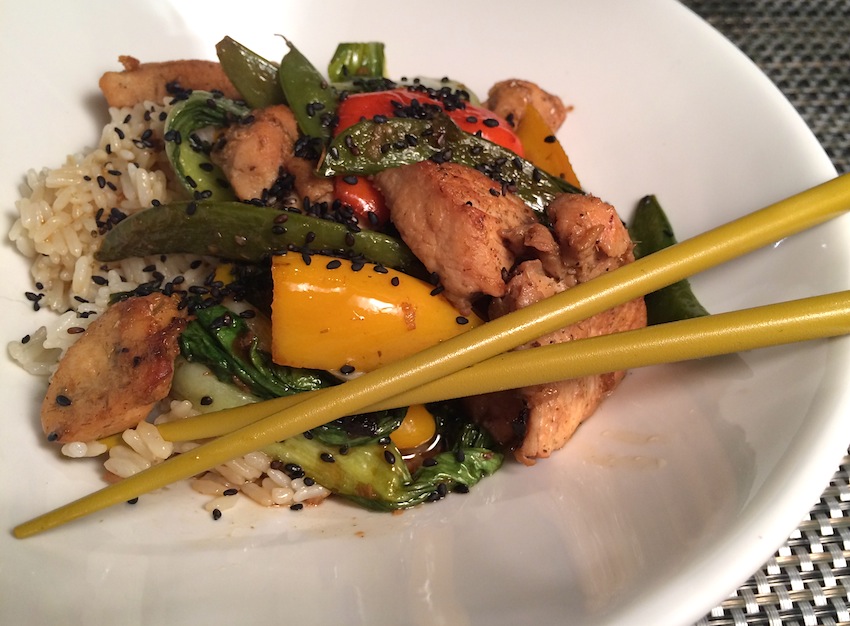 I love a good quickie and this dish not only taste great, its done in 30 – 45 minutes. Chicken stir fry sautéed with bok choy, sugar snap peas, peppers and a slightly spicy ginger, garlic soy sauce served over rice. This is a healthy, satisfying meal that pairs well with beer or hot sake.
Chicken and Bok Choy Stir Fry

1 large skinless chicken breast, cut into 1.5 inch strips
1/4 cup low sodium Tamari soy sauce
1 tablespoon rice vinegar
1 tablespoon brown sugar
1 teaspoon Asian fish sauce
1 teaspoon jalapeño, seeded, finely diced
1 large garlic clove, crushed
1 teaspoon, fresh grated ginger
1 tablespoon dried lemon grass
1 tablespoon olive oil
1/2 teaspoon fresh cracked black pepper
2-3 tablespoons peanut oil
2 bell peppers, sliced – can be mixed of red, yellow or orange peppers
3 baby bok choy, washed, trimmed and cut in half lengthwise
1 cup of sugar snap peas
Optional 1 tablespoon black sesame seeds
Directions
Cut chicken slices, add salt and pepper and set aside
In a medium sized bowl, mix together the soy sauce, rice vinegar, brown sugar, fish sauce, jalapeño, garlic, lemon grass, ginger and olive oil. Add chicken and coat evenly. Set aside for 10 minutes while preparing the rest of the dish.
Wash, dry and prepare vegetables: Remove seeds from peppers and cut into long strips. Place on a plate. Add sugar snap peas to plate. Cut bottoms of baby bock choy. Remove any damaged outer leaves, and gently separate stems from each other, set aside.
In a wok or a large heavy skillet pot (I used my Le Crueset), heat peanut oil over medium-high heat until hot. Add 1/2 of the chicken leaving space between slices. Cook about 3 minutes until chicken is golden brown; turn over for another minute or two. Check that chicken is cooked. Remove first batch and place on a plate. Add 2nd batch of chicken cooking until browned.
Add first batch of chicken back into the wok or pot. Next place sugar snap peas and peppers over the chicken, cover the pot and cook for 5 minutes. Stir after 3 minutes and again at 5 minutes, stirring to mix  chicken and vegetables.
Add the bok choy over the vegetables, stir and cook for 3 minutes until bok choy just starts to wilt.
Add the soy sauce mixture and cook for 3 minutes, stirring to coat vegetables and chicken.
Serve over rice. Garnish with black sesame seeds.