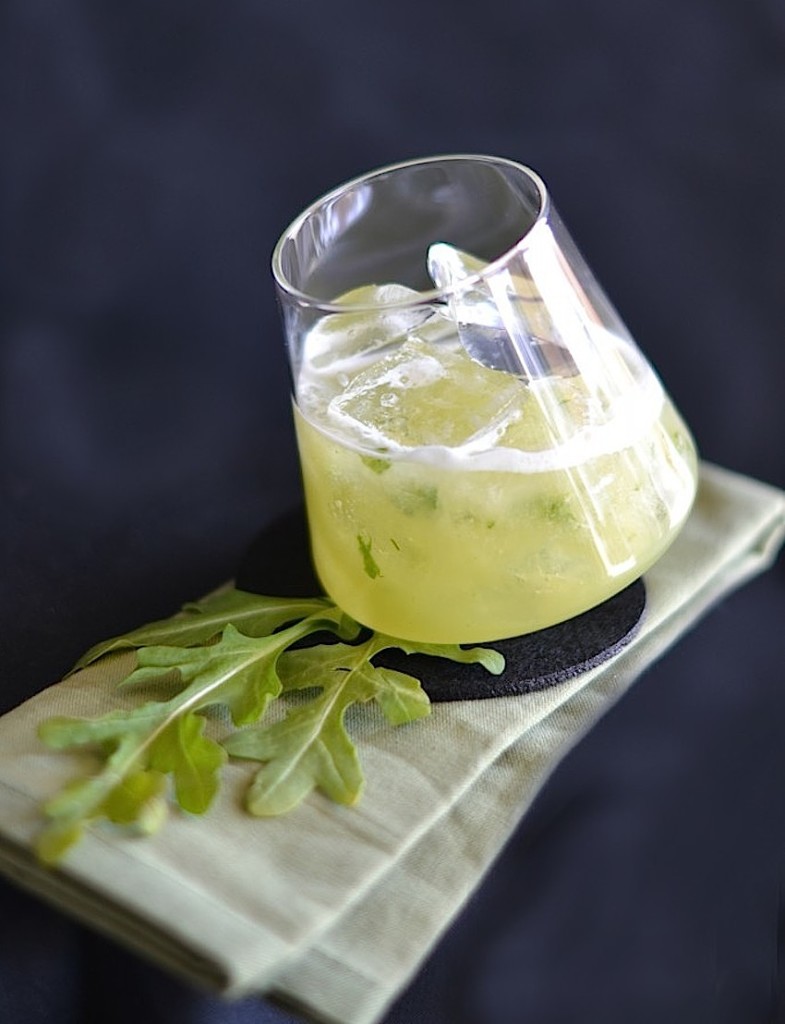 Thinking about my St. Patrick's Day Menu I found myself searching online for an inspiring cocktail that could be part of my (Green themed) Irish Seduction Meal. And that is how I stumbled upon the web site of Jacopo Falleni – and found this luscious drink – The Dublin Salad. I cannot wait to try this!  Follow us on Pinterest for more Seductive Cocktails!
INGREDIENTS:
Handful of fresh Arugula
2 Lemon wedges
1/2 oz. Simple Syrup
1/2 oz. Pear Nectar
1 1/2 oz. Jameson Irish Whiskey
PREPARATION:
In a mixing glass add the arugula, lemon wedges, simple syrup & pear nectar… now muddle like a maniac!
Add the Irish Whiskey and shake like a nutcase… for 5 fast seconds.
Pour over ice into a short tumbler or stemless wine glass as shown in photo.
Now drink up and feel good about it…you just got your daily portion of veggies!
The color is light apple green, the nose is a mix of citrus and earthy notes. Taste is refreshing!
More about Jacopo: 
Jacopo Falleni is the resident mixologist on the podcast 'Drinking Made Easy,' with Zane Lamprey. Jacopo creates weekly cocktail recipes and pictures for his website www.jacopofalleni.com and is a contributor to websites such as liquor.com, foodchannel.com and more. More recently, Jacopo has been working on new restaurant concepts and has bottled his passion of creative specialty cocktails, soon to be on shelves near you. I'll be waiting for this news….