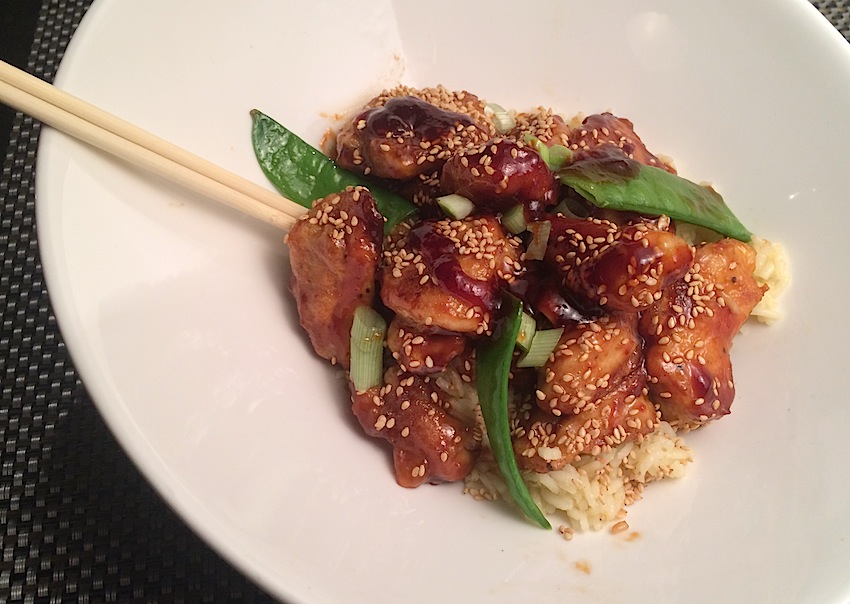 I was in the mood for Chinese food and for some reason sesame chicken and snow peas rose to the top. If you are looking for a tasty, easy-to-follow recipe this is worth a try. Dinner will take about an hour to prepare leaving you plenty of time to spend with your date. I chose to serve this dish with snow peas and rice, but bok choy, string beans or broccoli would work just as well; be sure to time it so that everything is done at the same time.  This dish pairs well with sake, wine or beer. Enjoy!
Sesame Chicken
Serves 4
INGREDIENTS
3/4 cups honey
3/4 cup Tamari low-sodium soy sauce
1/2 cup ketcup
1/4 cup brown sugar
1/2 rice wine vinegar
1 tbsp. sesame oil
1/2 tsp. red chili paste
1 tsp minced garlic
1/2 tsp ground ginger
1 Tablespoon cornstarch
2 chicken breasts, cut into 1" pieces
1 cup cornstarch
2 large eggs, lightly beaten
1/2 cup melted coconut oil
1 tbsp toasted black or white sesame seeds
2 green onions, thinly sliced
DIRECTIONS
Preheat oven to 325 degrees, lightly coat a 9×13 inch glass pan with some coconut oil, set aside.
In a medium size mixing bowl whisk together the honey, soy sauce, Ketchup, brown sugar, rice wine vinegar, sesame oil, chili paste, garlic and ground ginger, set aside.
In separate bowls, place cornstarch and beaten eggs. Dip chicken into cornstarch then coat in egg mixture. You can also place chicken in large ziplock bags for this two step process, however, I prefer to do this by hand rolling / pressing each piece of chicken with cornstarch to evenly coat and then dip in egg and shaking off excess.
Heat 1/2 of the coconut oil (1/8 cup) in a dutch oven or large saucepan, over medium high heat.
Working in batches (don't over fill the pan, try to keep pieces from touching), add the chicken and fry until golden brown and cooked through, about 1-2 minutes per side, then transfer to plate. Add remaining coconut oil as needed.
Place the fried chicken on the 9 x 13 greased baking dish.
Whisk together 1 tbsp. of cornstarch and 1 tbsp. of water; add the cornstarch to the sauce and pour sauce over the chicken.
Place in the oven and bake uncovered for 30 minutes, stirring every 15 minutes or so.
Prepare rice according to directions
Remove and sprinkle with sesame seeds and scallion slices, serve immediately.
NOTE: Depending on how sweet you like things, you can opt to pour 1/2 or 3/4 of the sauce to the chicken to bake, and heat up the rest on the stove and add to the chicken if you prefer more more sauce.