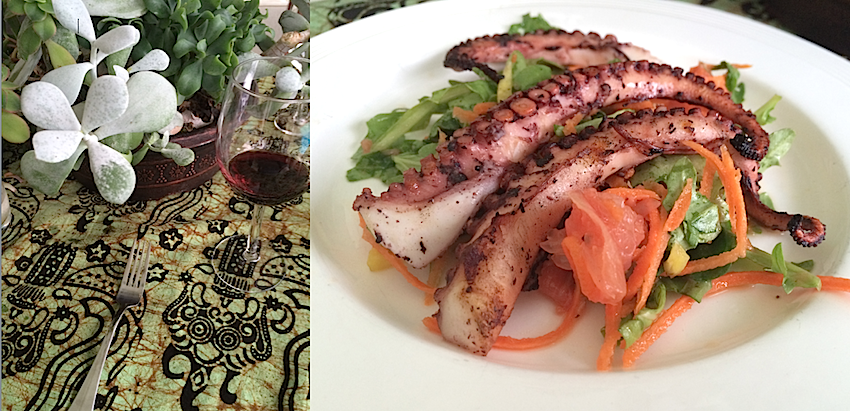 Thank you Tony and Allan for a wonderfully seductive Dallas dinner which started with this delicious summer salad. While there were threats of tornadoes all around us (well really in the next towns over) – we were so consumed with this tasty meal, nothing else mattered (except  our bottle of wine).
This will be part recipe (grilled octopus) and part no-recipe (the salad) but I am happy to share the ingredients which shouldn't be too difficult to figure out.
Tony made the octopus with a great recipe he found on SeriousEats.com: Italian-Style Grilled Octopus (Click HERE for Recipe). Allan made the salad by tossing together baby arugula, shaved rainbow carrots, diced grapefruit, thinly diced golden beets, salt and pepper to taste, and "anything else you want to add." Jicama and/or avocado would work nicely. Drizzle a little olive oil and citrus champagne vinegar, and toss.
The combination of the beautifully grilled and charred octopus, arugula and diced grapefruit makes this dish a true winner – perfect starter for a romantic meal.