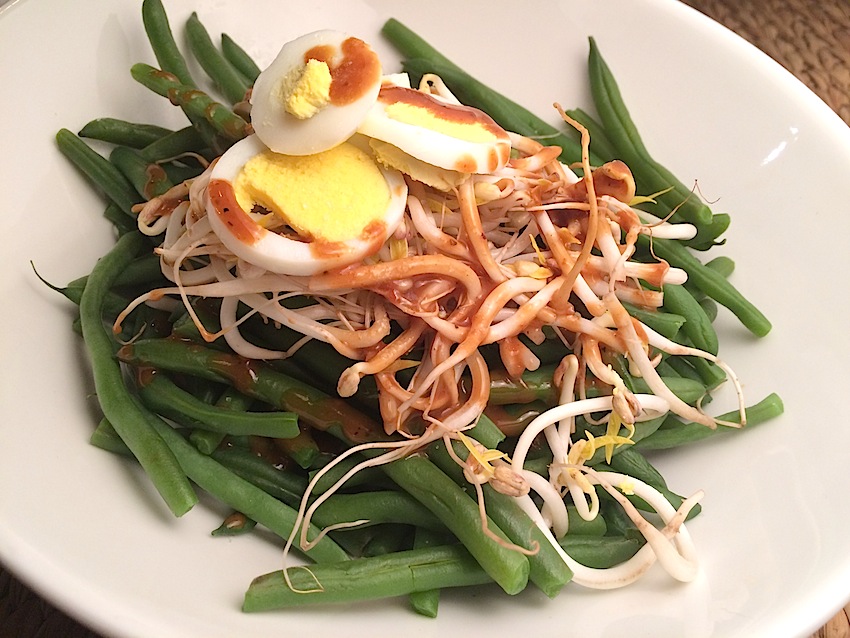 A good friend of mine, George, and an exceptional foodie (you aren't living until you surround yourself with foodies and chefs – they bring magic to every affair!)… anyway, my foodie friend came over with goods in  hand and introduced me to Gado Gado, which I've never heard of before.
Translated Gado Gado means "mixture food" or "mix-mix"; with such a fun name you know it has to be good! Simply put Gado Gado is an Indonesian dish of vegetables and boiled eggs served with a luscious peanut sauce. You can serve this with rice or fried tofu for a more robust dish.  From now on when I see a bowl of string beans they will never look the same – Gado Gado anyone?
Recipe: Gado Gado (String Beans with Peanut Sauce)
Ingredients
1 lb string beans
3 hard boiled eggs
1/2 cup bean sprouts
(Option) 1/4 cup chopped peanuts
Directions
Boil eggs and prepare the sauce (see recipe below)
Blanch string beans in boiling salted water until just tender – al dente – you want a bit of a crunch
Rinse in cold water and dry (you can also use a paper towel to soak up any water)
Place string beans on serving plate, top with peanut sauce, bean sprouts and sliced eggs,
Add chopped peanuts (optional)
Other flavorful garnish options include dried mini shrimp, crispy fried shallots, or crumbled fish crackers.
Peanut Sauce Recipe – Click HERE
I made this sauce for a Chicken Satay – its sooo good, so if you have left overs, try chicken or beef satay as your next fabulous meal.