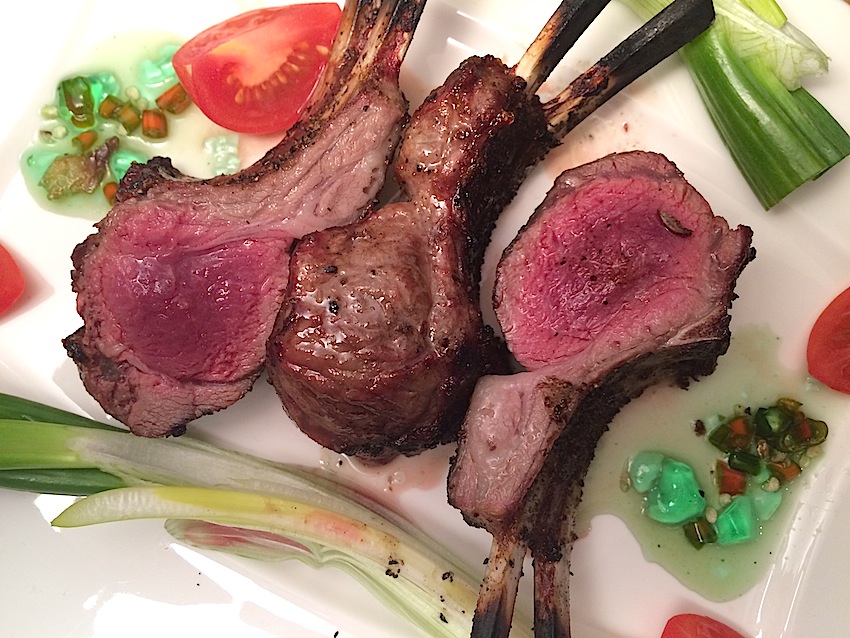 When you have a hankering for grilled lamb chops – always try to get New Zealand chops. Known for a milder flavor than our domestic cuts, New Zealand baby lamb chops are the best. The sheep are naturally raised in open pastures on a diet of fresh grass as opposed to American raised sheep that are mostly bulked up on grain, and they tend to be older which nets a gamier taste.
Lamb chops are super easy to cook. You can simply salt, pepper and grill to get the full flavor of this tasty meat; or you can add a marinade of garlic, olive oil, mustard and crushed rosemary which works beautifully with lamb. Lamb chops should have a good char on the outside, cooked to medium-rare, with a juicy pink center. I like to serve them as double rib chops.
Mint sauce pairs wonderfully with lamb. You can buy mint sauce or mint jelly from your local grocery store and then spice things up by adding any or all of these ingredients: minced serrano chili pepper, finely chopped cilantro, fresh lime juice, and/or chopped scallions.
Sooo, see the lamb chop in the middle, that is mine – medium rare. The two on the outside – well, that's how my man likes them ; )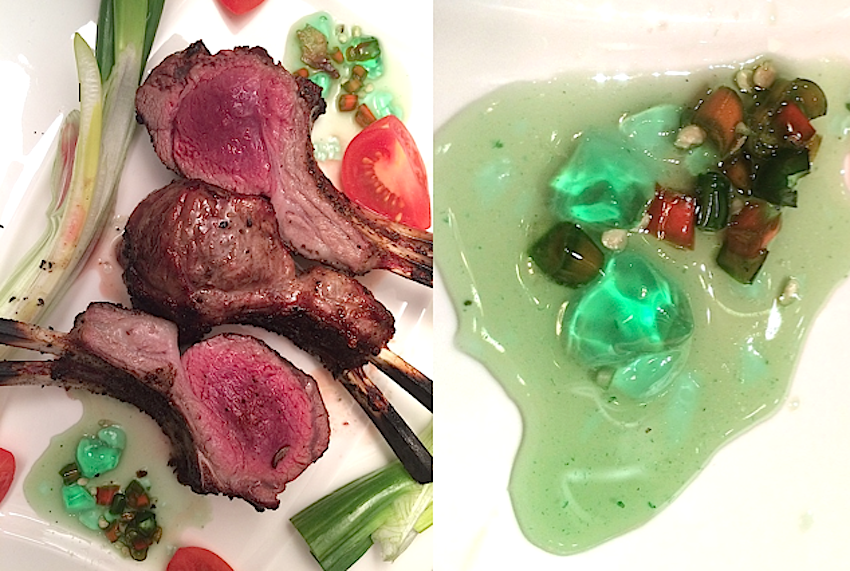 Grilled New Zealand Baby Lamb Chops (4 servings)
16 New Zealand baby rib lamb chops, Frenched
2 large garlic cloves, chopped
2 tablespoons olive oil
2 tablespoons fresh finely chopped rosemary
Salt & Pepper to taste
Directions
Brush and oil the grill grate.
Prepare a hot fire in a grill with medium-high heat (If possible turn on the front two burners only)
Pat the chops dry and salt and pepper each side, let stand at room temperature for 15 – 20 minutes
Mix together olive oil, garlic and rosemary and rub the mixture all over the lamb chops
Lower the grill to medium
Place lamb on grill and sear bone-side down over direct medium heat with the lid closed, for 3 to 4 minutes, turning once
Move the meat over towards the middle/ back two burners for indirect medium heat, and cook, meat side down, with the lid closed. Cook for 7-10 minutes per side for medium rare, turning once. The cooking time will be determined by the thickness of the meat. Be attentive to ensure your chops are medium rare.
Transfer the chops to a platter and let rest for about 5 minutes. Serve
Tips: You can also broil the chops in a broiler about 4 inches from the heat