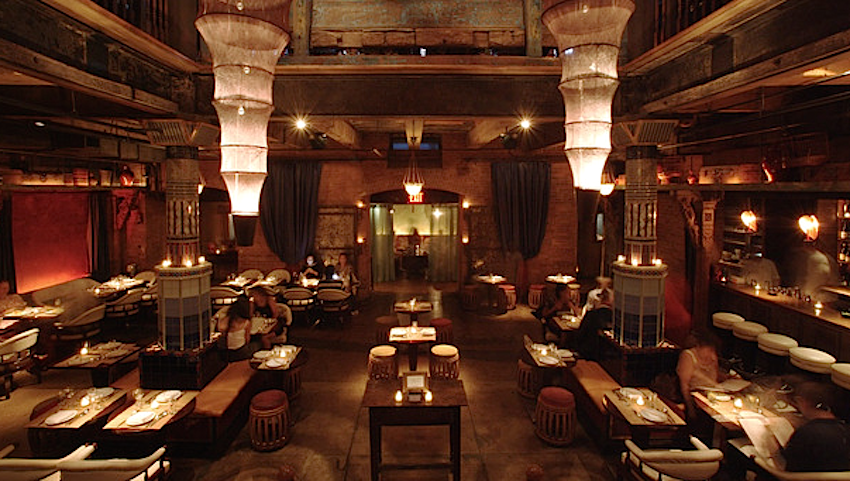 Tonight is girls night out. It's a hopping Saturday night in the meat packing district. We descend on Spice Market with smiles and "dressed" for a fun evening. When I called to make reservations the earliest I could get was 10:15 PM. Late. But we arrived early and pulled up at the bar. We checked in with the hostess and gently let her know that if we could be seated earlier we would be open to it.  What strikes you first is the loud music. And then it's the uncanny coincidence that everyone is thin and very good looking. That didn't matter to the girls and I because we were feeling and looking pretty good too (if I do say so myself).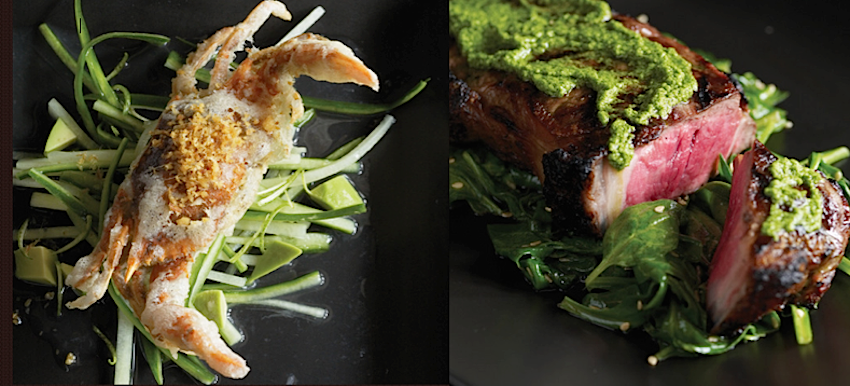 While we waited at the bar we ordered a few of the specialty drinks. I would recommend The Smash because it is just that. It's a smash! A vodka based drink, that's a little sweet but very complex.  As we drink we catch up on the latest episode of the Kardashians and then we are notified that our table is ready – 40 minutes earlier. Nice.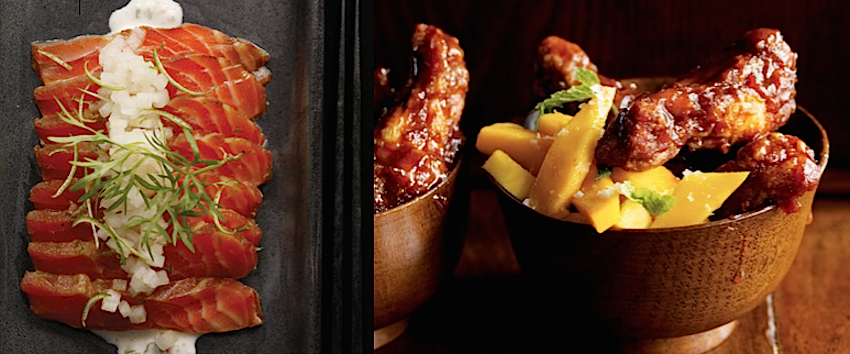 We are seated in a corner booth with a full view of the first floor. The décor is very easy on the eyes. But again the loud music is what continues to ring in my ears. Not sure if they are going for a night club feel or not but when you are seated at a table for 4 and you can't hear the person sitting next to you – that's a problem. By the 3rd sip of my drink I am annoyed.
Our waiter is handsome and clearly physically fit – one could tell because he was "busting" out of his uniform which from the looks of it was designed to be loose. As I try to close my mouth and not stare, I shake my head and try for focus on reading the menu. No specials for the evening but he goes on to recommend several plates and explains how all the dishes are served family style and meant for sharing. Another reason why this would be better for a 4th date. It should be (and I preface it with should be) that by the fourth date you've come to discover that like you the person enough to actually want to share your food.
So our hot waiter recommends the red curried duck as our main course and proceeds to describe a succulent, meaty dish with a hint of heat with a pineapple sambal (which is their fancy way of saying hot sauce) to the point I think violins started to play. The girls and I immediately look at each other said "Yes!" in unison.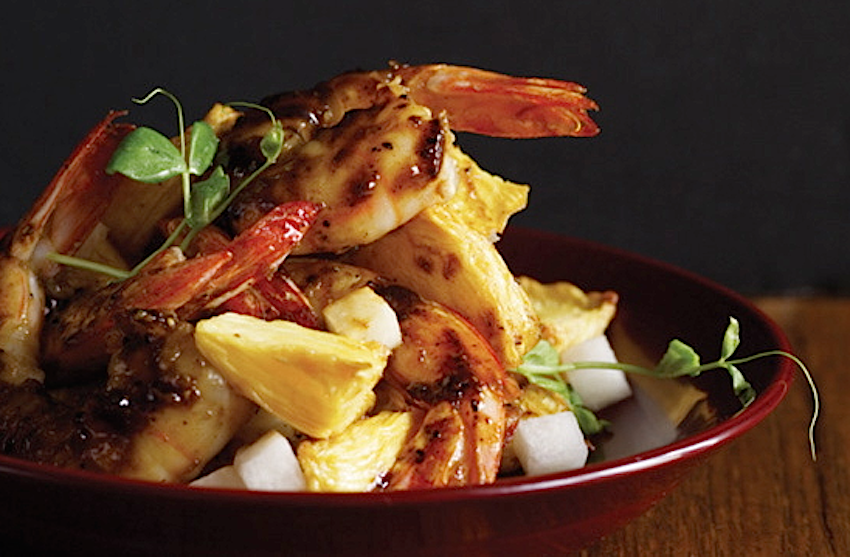 For appetizers we ordered the Vietnamese Spring Rolls made with lobster, shrimp and pork; and the Lobster Summer Rolls made with a citrus-dill gelée with a sriracha emulsion. Both of which were deliciously amazingly fresh, crunchy, crispy and perfectly prepared.
There were plenty of topics for conversation going through my mind but I didn't say much because I didn't want to yell … again the music was just too loud. But all was forgiven whenever there was food in front of you – the magic of chef Jean-Georges Vongerichten; everything was extremely tasty.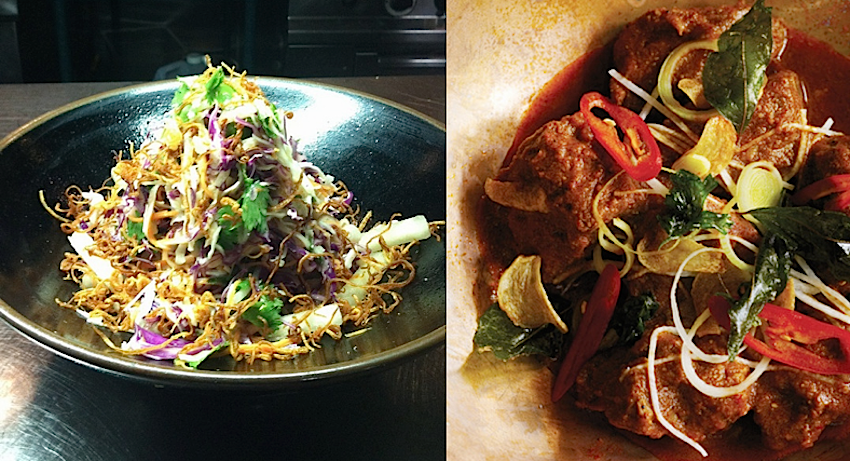 The main course arrives. It's served in a simple yet elegant white bowl. I mention the white bowl because its not the plainness of the bowl that really matters. Its what's in the bowl that really counts – its absolutely delicious, just as promised. The perfect amount of heat followed by a hint of sweetness from the pineapple sambal. The duck was cooked to perfection and the sambal which I also added to the side order of Coconut Jasmine Sticky Rice created the perfect sponge for sopping up the leftover sauce on the plate. Spice Market does provide both chopsticks and silverware. I used the chopsticks but there comes a point where you need a fork to clear off the last bits and morsels off one's plate.
So, here's my recommendation:
Romantic Restaurant for Two? It's a deliciously, impressive place for a date. Trendy. Exotic. A little pricey but perfect for a 4th date. Yes, I'd wait for the 4th date. Spice Market at 403 W 13th Street is a great place to experience together – the food will blow you away – it is that good! But remember, unfortunately, the music will be too loud to have a conversation across from each other, so be sure to request a cozy table for two so you can whisper in each other's ears. Maybe nothing wrong with that right?
In general: A good place for a night out with a group of people, the food is set up for sharing.  Beautifully presented, deliciously prepared you won't be disappointed. For me, it doesn't get the full bells and whistles of a positive review because of the loud music – it really does take away from the wonderful ambiance, décor and the superb food.
Note: As you can see the ambiance is dark and seductively moody so taking photos of our meal didn't quite work out. The photos you see here are from the Spice Market website. I wish I could have shared photos of the Duck dish!
Spice Market
403 West 13th Street, NY, NY
www.spicemarketnewyork.com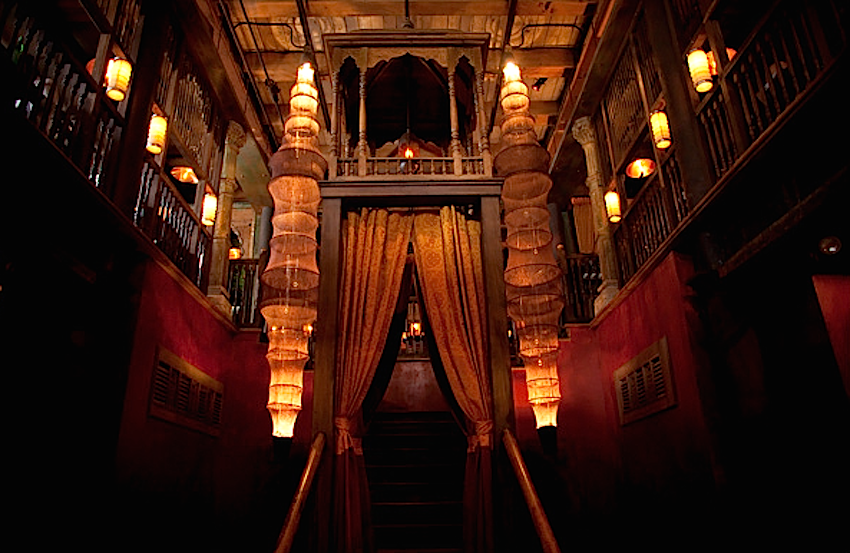 A timeless paean to Southeast Asian sensuality, Spice Market titillates Manhattan's Meatpacking District with Jean-Georges Vongerichten's piquant elevations of the region's street cuisine served in a casual, sexy atmosphere.