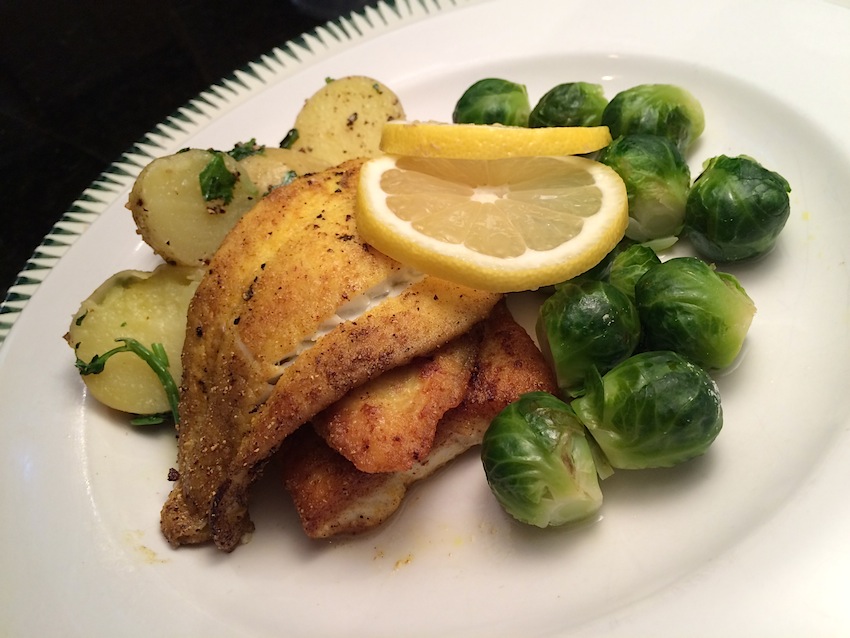 Here is what I call a "quickie"; a no-fuss dish that is fast 'n easy and taste delicious. To make pan-fried fish filet, simply dredged the (skinless) filet in an herb infused flour/corn meal mixture and then fry. You can use any combination of dried herbs you prefer. I like to use a nonstick skillet so the delicate fish does not fall apart which usually happens when it sticks to the pan. Pair this dish with a vegetable side dish  like the steamed baby brussel sprouts below,  and pour a glass of your favorite white wine.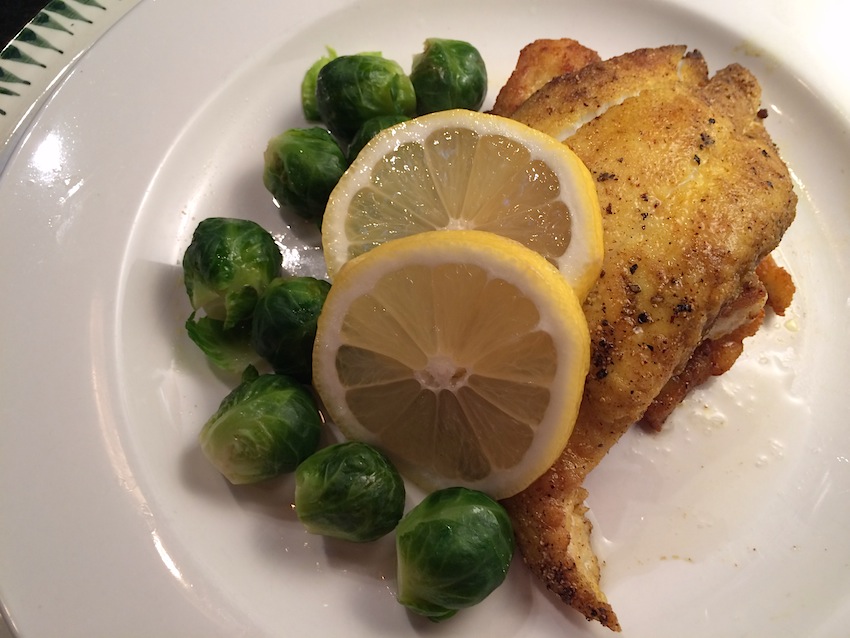 Pan-Fried Fish Filet for Two
1 lb fish filet, no skin
2 Tbsp corn meal
3 Tbsp flour
1 teaspoon turmeric
1 teaspoon dried lemongrass
1 teaspoon powered ginger
Salt and Pepper to Taste
1 tsp butter
1 tsp coconut oil
1 lemon, cut in half
Directions
Rinse fish and pat dry with paper towels
Take a large plate and place the corn meal, flour, dried herbs, and salt and pepper on a plate – mix together
Take the filet and dredge well on all sides
Over medium high heat, add butter and coconut oil to a nonstick skillet large enough to hold the fish filet (Note: You can also cut the fish in half lengthwise if your pan is too small and then layer the fish one on top of the other when you serve)
When the skillet is hot, turn the heat down to medium and cook the fish for about 3-4 minutes on one side, then carefully flip to cook the other side for 3 more minutes until golden brown and fish flakes easily when tested with a fork. (the amount of time will depend on how thick the fish is)
Place 1/2 of the fish on each plate, generously squeeze fresh lemon juice over the fish and serve with your favorite vegetables.