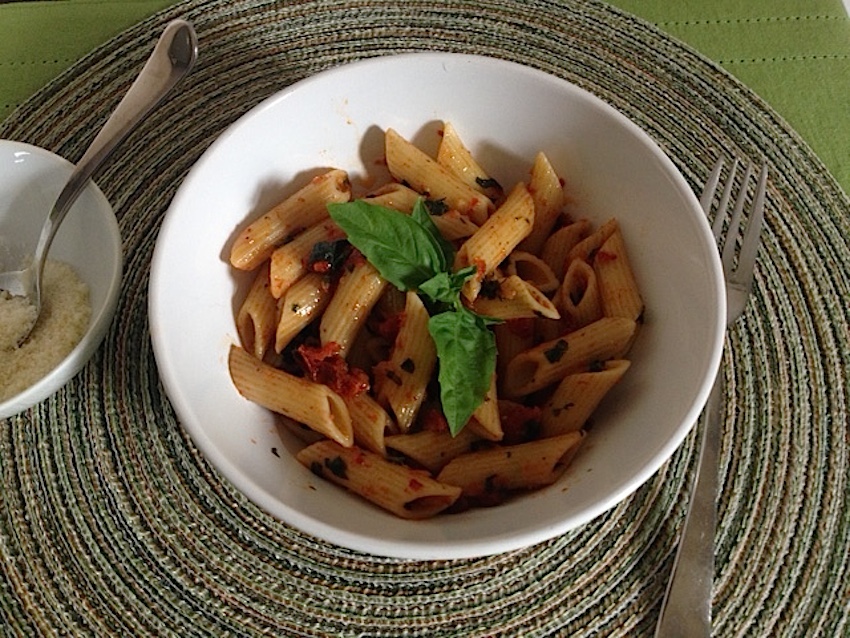 A dear friend of mine emailed this photo to share one of her latest summer "no-cook" pasta sauce discoveries. I look forward to her next dinner invitation!
"I was in the mood for pasta, something different, not any of the ones I always fell back on. Simple fast and in the vein of my summer "no cook" pasta sauces; I gave it a try–it is absolutely delicious! The sweet/tangy taste of sun-dried tomatoes blended with basil – extremely tasty! Oh and the garlic taste lingers afterwards. Days after!"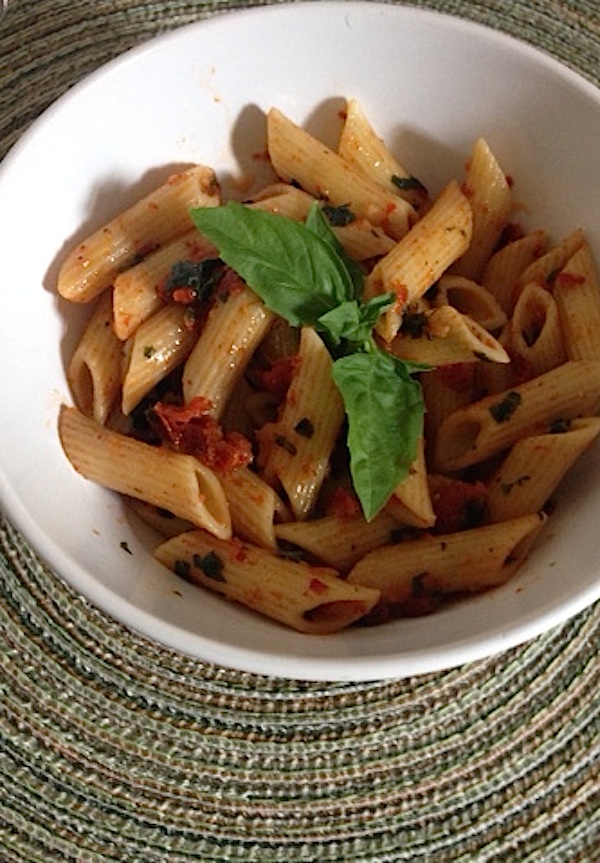 Sun Dried Tomato Pesto Tossed Penne / Recipe by Giada De Laurentis / foodnetwork.com
Ingredients:
12 ounces penne pasta
1 (8.5-ounce) jar sun-dried tomatoes packed in olive oil
2 garlic cloves
Salt and freshly ground black pepper
1 cup (packed) fresh basil leaves
1/2 cup freshly grated Parmesan
Directions:
Cook the pasta in a large pot of boiling salted water until tender but still firm to the bite, stirring occasionally, about 8 minutes. Drain, reserving 1 cup of the cooking liquid.
Meanwhile, blend the sun-dried tomatoes and their oil, garlic, salt and pepper, to taste, and basil in a food processor and blend until the tomatoes are finely chopped.
Transfer the tomato mixture to a large bowl. Stir in the Parmesan.
[For a more intense garlic taste, do not include the garlic when blending in the food processor–instead, crush them in the garlic press and scrape them off the press and add directly when stirring in the parmesan!]
Add the pasta to the pesto and toss to coat, adding enough reserved cooking liquid to moisten. Season the pasta, to taste, with salt and pepper and serve.