With a handful of freshly picked garlic scapes and ten gorgeous black tiger shrimp, I smiled at the thought of making Shrimp Scampi tonight. I tried garlic scapes last year for the first time and really enjoyed them. A much milder taste then your standard garlic bulb, it more like a cross between garlic and scallions.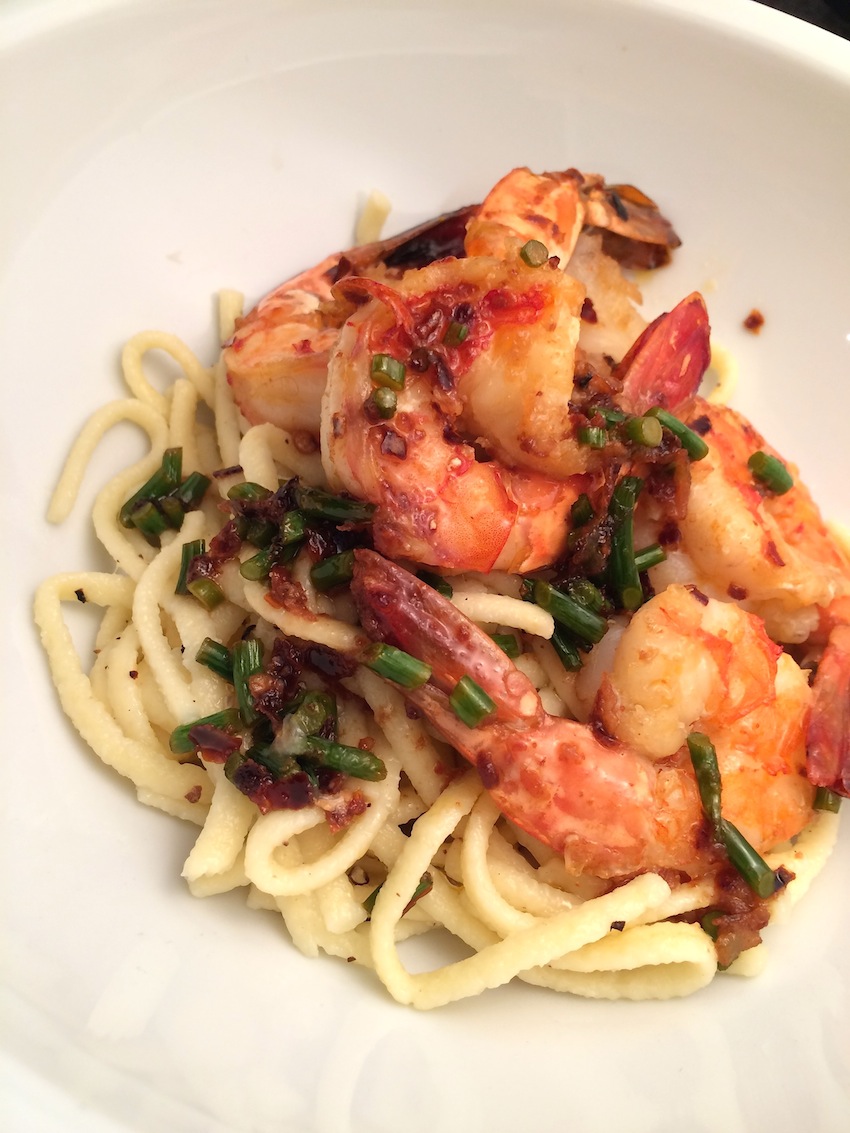 So what exactly is a Garlic Scape? Like a tulip, garlic grows in a bulb. And like the tulip a stem, or scape, with a tight bud grows from the bulb. To grow larger garlic bulbs you don't want the bud to flower, so the stems (or scapes) are cut thereby allowing the plant to focus all its energy on bulb growth. And like tulips, this happens once a year – so it's truly a treat to see garlic scapes growing in your garden, in the fresh vegetable section of your grocers, or at the farmers market. Grab them while you can!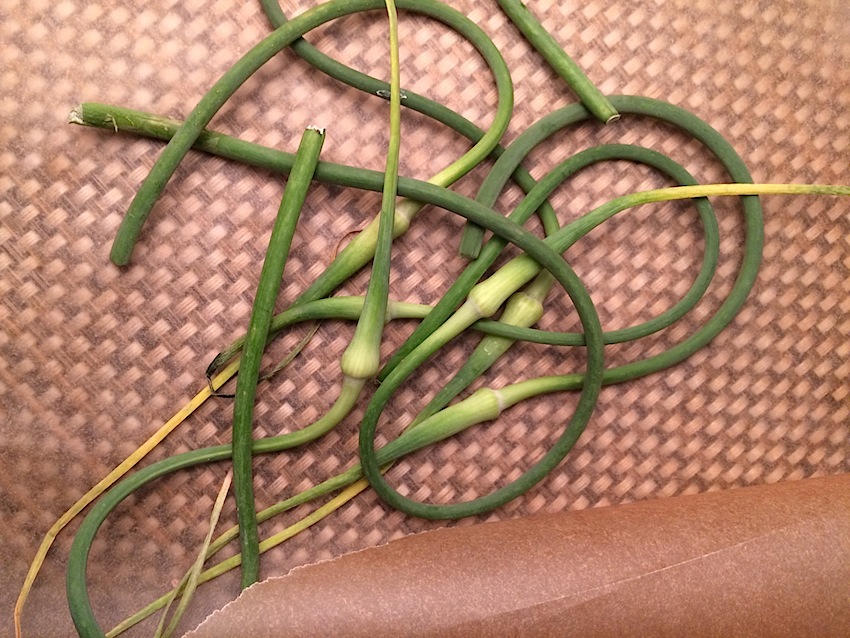 How to Use a Garlic Scape: When cooking garlic scapes, you trim the top (tight bulb) and bottom, which can be tough and stringy, which leaves you with the stems (very similar to a scallion). For this recipe I will chop the stems and then will sprinkle them into the wine/lemon sauce. For those that love garlic but find it too strong, you'll love the sublime flavor of a scape.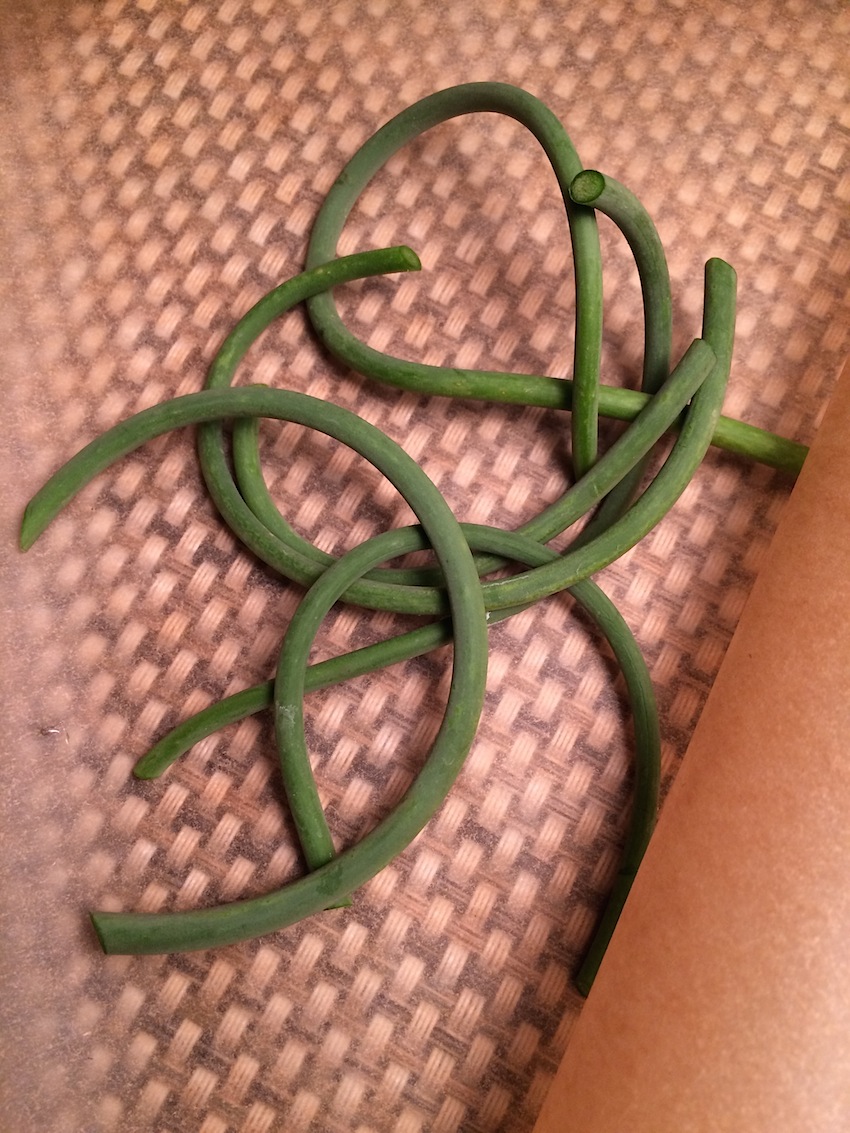 Garlic Scape Shrimp Scampi for Two
Servings: 2
Ingredients:
2 tablespoon olive oil
1 tablespoon butter
1/8 tsp red chili pepper flakes (optional)
10 jumbo shrimp, shelled and deveined, leave tails on
1 tablespoon butter
8 medium garlic scapes, finely chopped
1/2 cup white wine
1/2 fresh squeezed lemon juice
Fresh parsley, roughly chopped (option)
Sea Salt to taste
Directions:
Peel, de-vein, and rinse shrimp. Dry off excess water.
In a large saute pan over high heat, add oil and butter.
When butter has melted, turn to heat to medium and add the red chili pepper flake, stir to incorporate into oil for 1-2 minutes
Add the shrimp and saute until they turn pink and start to brown, about 3 minutes per side, remove from pan placing the shrimp on a plate and set aside
Add the butter into the pan and scrape all bits together, when melted add the garlic scapes
and sauté for 2 minutes
Add wine and lemon juice and sautee for 4-5 minutes, the liquid will reduce some and get a bit creamier
Put the shrimp back in the pan, and toss everything together.
Add salt to taste and add more olive oil if needed.
Sprinkle with fresh parsley and serve
*You can serve the Shrimp Scampi over linguine, spaghetti or as an appetizer over toasted baguette slices. Be sure to use all the spicy olive oil, its delicious to soak up with french bread!