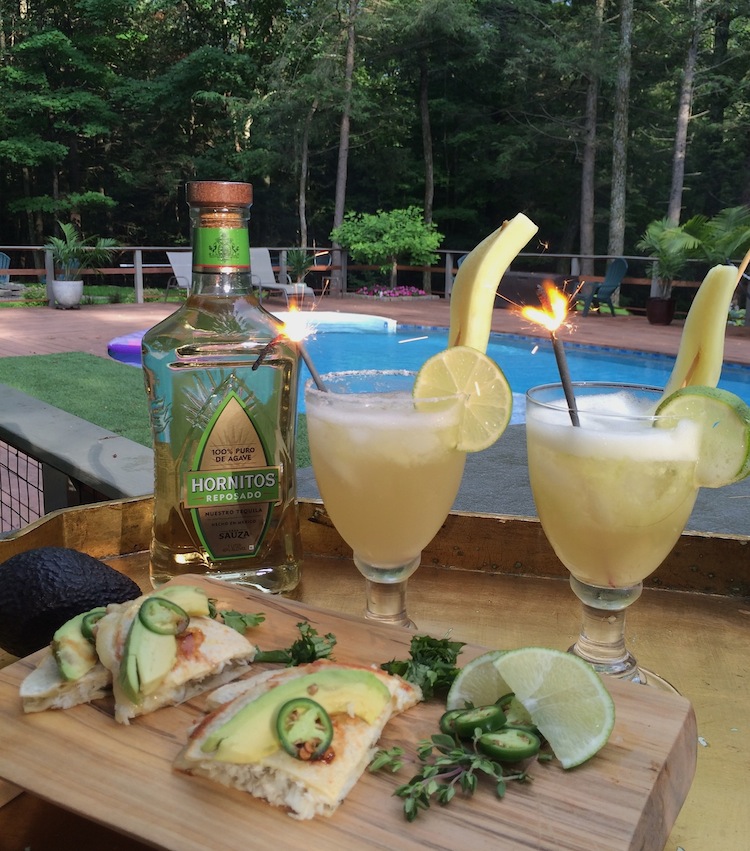 Getting ready for a special July 4th get together? Elevate your celebration with a super refreshing Cucumber Margarita paired with luscious, cheesy crab quesadillas – soooo good! As you can see, this is not a frozen margarita, rather it's blended in a bullet or blender for about 5 seconds. If you like things spicy, you can always add / blend in a few thinly sliced jalapeno peppers to add a bit of heat (or as I refer to it – "happiness") to your margarita. And of course you can add some chipotle pepper to the quesadillas as well.  Happy July 4th Weekend!
Refreshing Cucumber Margarita
Ingredients:
1 English cucumber (it has less seeds) for garnish
3-4 ice cubes
4 ounces Hornitos® Tequila
2 ounces fresh lime juice
2 ounces homemade simple syrup (or you can use Agave nectar)
1/2 cup cucumber, chopped
salt, for rimming glasses (optional)
Cucumber Sliced Garnish
Peel Cucumber and cut in half lengthwise
Using a mandolin, cut a thin slice of cucumber and thread this with a wooden skewer.
You can leave it skewered as a tall strip as in this photo or you can squish it down to create more of an accordion look
Note: I didn't have a mandolin on hand so the cucumbers are a bit thick. I prefer to thinly slice as I love the accordion look.
here's what that looks like: Cute right!?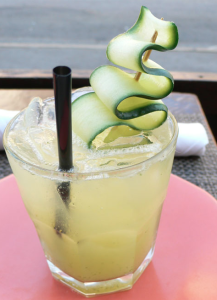 Cucumber Margarita
Combined the tequila, lime, ice, simple syrup and cucumber into a blender or Bullet. Blend for 3-5 seconds.
Pour liquid into glass (if using salt: rim glass with salt)
Slip in the skewered cucumber garnish
Enjoy!
Crab Quesadilla
Ingredients: Per Quesadilla 
2 Corn Tortillas
1/2 cup of pepper jack cheese, shredded
3 heaping tablespoons of (canned) crab meat – be sure to pick out all shells
1 teaspoon of fresh thyme leaves (optional)
1 Jalapeno pepper, thinly sliced rounds for garnish
Thinly sliced avocados for garnish
Chipotle Pepper Sauce
Cilantro, chopped
Directions
Heat a non-stick skillet over medium-high heat
When nice and hot, add a corn tortilla, place cheese and crab on top of tortilla
Place the second tortilla over the cheese/crab mixture, pressing down to secure mixture. Be careful not to push too hard, you do not want cheese to ooze into the pan, it will burn.
After 3 minutes, press down with a spatula and then turn the tortilla to cook on the other side
Cook for about 3 minutes. Tortillas should be slightly browned, and cheese melted.
Serve on a serving dish. Top with Avocado, Jalapeno rings, and a bit of chipotle pepper sauce.  Garnish with Cilantro leaves