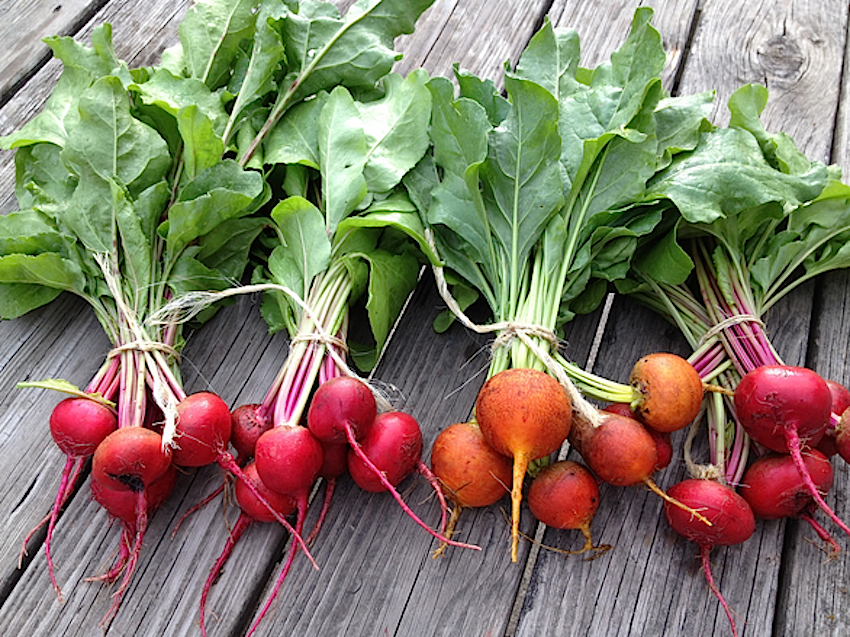 Ruby Rocket Beets
The taste of fresh picked produce is just the best and if you love the sweetness, the texture, and the taste of beets – you have to go out of your way to make them at home.
Its amazing to me the number of people I know that love beets but have never cooked them at home. They order them in restaurants and they happily do take out – but they fear the red beet juice getting all over the place or think its hard to prepare. Far from the truth. Here is a recipe to show you how easy it is!
All you have to do is scrub them all over with a brush, rub a touch of olive oil over them, place in aluminum foil, and roast them until a fork easily pierces into each one. I say each one because sometimes you will get varying sizes (small, medium, large) – especially if you're getting them from a farmers market or you're picking them from your garden. It is easier to cook them when they are all one size, so take note, when you follow the recipe below and prepare them in the aluminum foil – package them in matching sizes. So if you have 3 medium and 1 large – make two packets. And fear not! After you take the beets out of the oven and they have cooled down, its so easy to peel them with your hands – its like the skin just peels off. So brush, bake and peel away. Its that easy! And so good!
Roasted Beets
4-5 beets ideally about the same size, scrubbed, leaved trimmed
olive oil
Preheat oven to 475
Keep beets whole, place on a sheet of aluminum foil. Add a touch of olive oil and rub with hands to lightly coat. If beets are large you may want to create 1-2 pouches.
Seal all around so beets will steam in their pouches
Bake for 45 – 60+ minutes. They are done when a fork easily pierced through each beet.
Remove from oven and let stand for 10 minutes to cool down.
Peel each beat with your hands, and slice in rounds or quarters
For a side dish of hot beets, just add unsalted butter and dash of sea salt – really, that is all you need. Or you can try this delicious Beet, Bib and Goat Cheese Salad