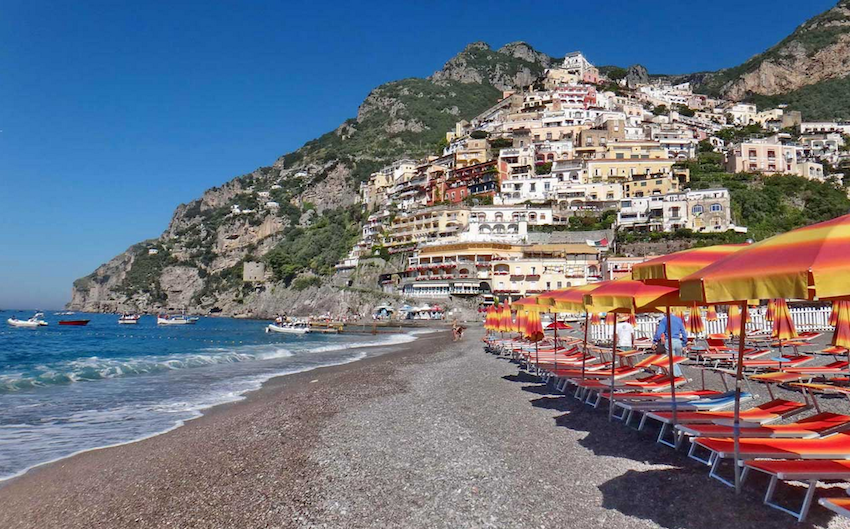 So here I am, traveling in Italy and entering Buca di Bacco for dinner. Situated right on the beach in Positano, the restaurant is open and quaintly decorated and exceptionally clean. I was greeted with smiles and buonasera all around before being quickly seated upstairs on the terrace.  The views are breathtaking; from the beach-goers down below to the city nestled between mountains and the expansive ocean ahead. Just a beautiful sight to see.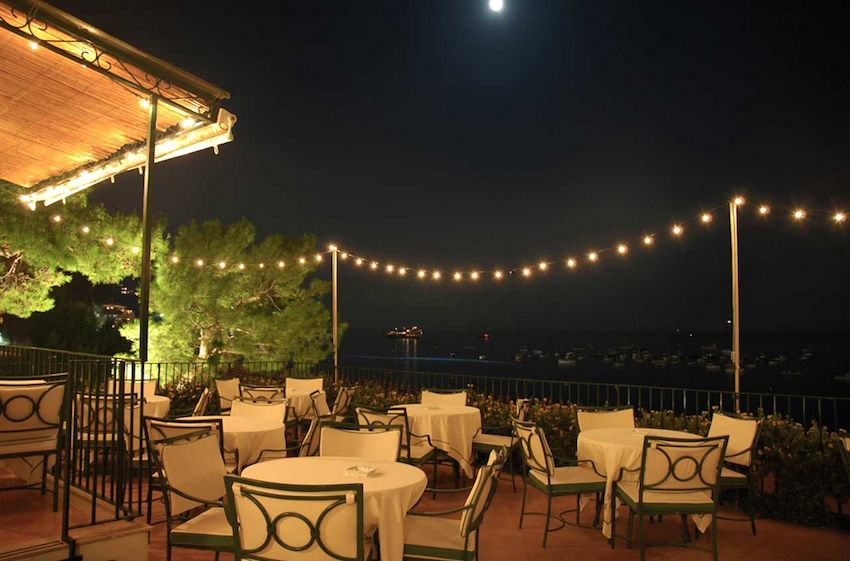 There was much to choose from on the menu from zucchini blossoms stuffed with mozzarella to grilled octopus on burrata cheese to gurnard fish in "crazy water." I hadn't heard of gurnard fish before so I googled it. Apparently it's an ugly looking bottom dweller and a bland tasting fish at that. Not the greatest description but I was feeling daring as the gurnard dish was noted as one of their specialties. They also had a trofie pasta in a pesto sauce that caught my eye so I was torn as to what to order. I immediately made a decision – since I'm on vacation I could have both.  So, I started with a half order of the trofie pasta as a starter and the gurnard in crazy water as my main course. So, about this "crazy water." It's the literal translation for "Acqua Pazza". Big in this region of Italy, it refers to a fish dish that is poached in lightly herbed broth with tomatoes and garlic. This is going to be delicious…crazy water and all.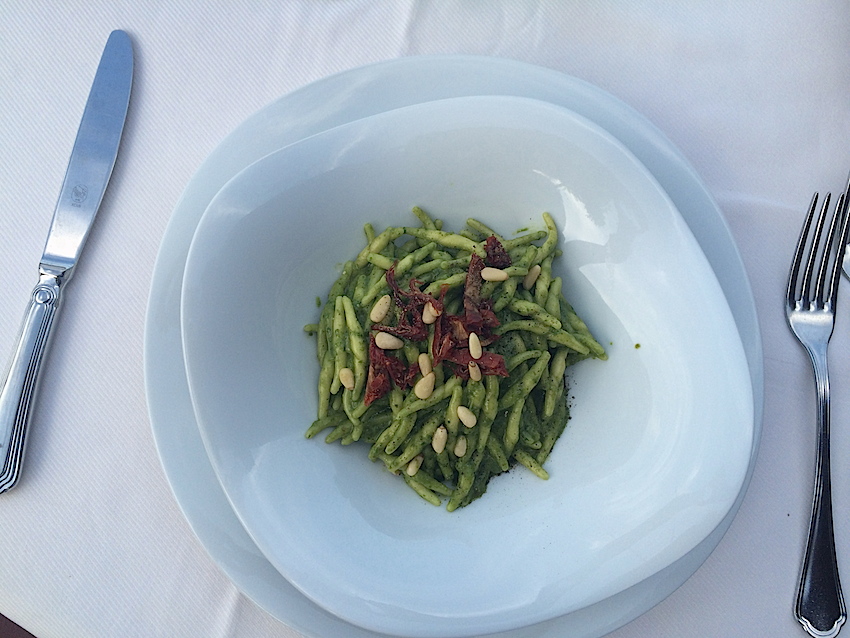 The pasta arrives and not only is it perfectly plated, it smells so outstanding that my senses to dance. I dig in. The homemade pasta is cooked perfectly, or should I say al dente. The pesto is bright and fresh, and the dish is topped with sun dried tomatoes and pine nuts. I take note of the sun dried tomatoes because they added the perfect amount of saltiness, crunch and complexity.  I find out that these are not "pre-packaged" sun dried tomatoes soaked in olive oil. No, not in Italy! Rather, they are fresh and made by the restaurant – literally sun-dried tomatoes. Pesto is one of the simplest but most flavorful sauces – if done right. And this one is. Fresh basil and not too much cheese. I taste two cheese flavors, a pecorino and parmesan, both of which play off one another and add just the right amount of bite to the dish. Needless to say I polished it off.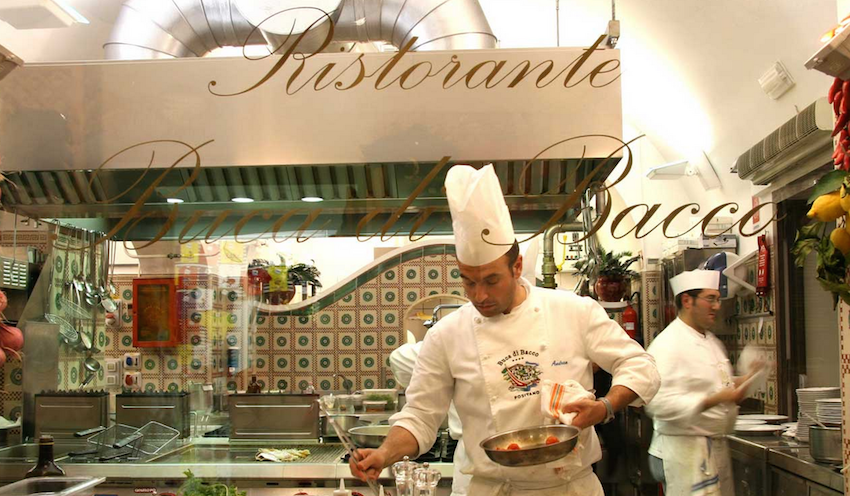 For wine I ordered a half bottle of the Fidelis 2011 which is made from the Aglianico grape, native to the Amalfi region. Full bodied and resembles a good cabernet without all of the hefty tannins.
The gurnard dish comes out and it looks good. Really good. There are large chunks of gurnard surrounded by wedges of potatoes and a diaspora of shell fish ranging from mussels to cherrystone clams. The dish is plate licking delicious. Seriously…. the crazy water sauce had me tempted to pick up the dish, put it to my mouth and slurp out the remaining sauce.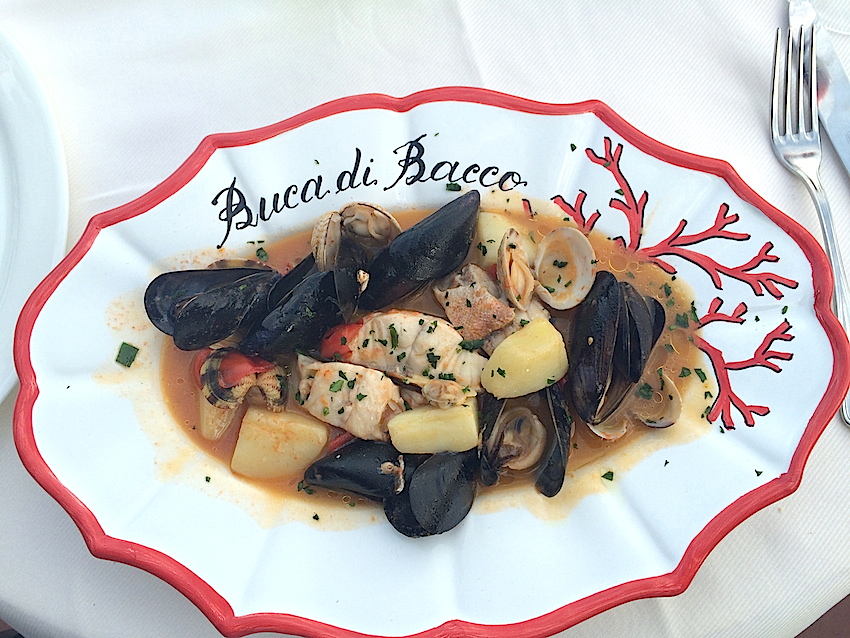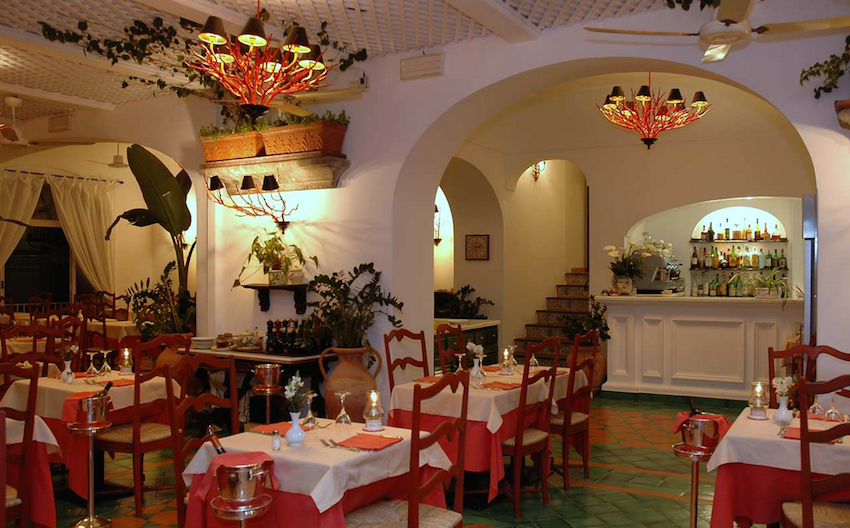 Do I recommend Hotel Buca di Bacco? Absolutely. If you happen to find yourself in Positano, its great for groups, solo travelers and the perfect spot for a romantic dinner because the views are that outstanding.
Hotel Buca di Bacco / http://www.bucadibacco.it/
Via Rampateglia, 4, 84017 Positano SA