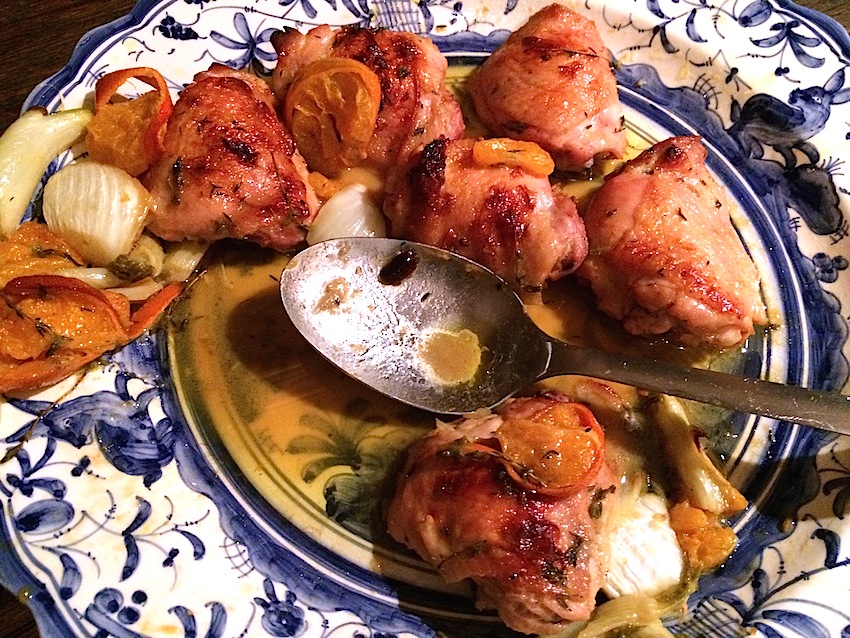 I had a deliciously fabulous dinner at a friend's house this past weekend – a true Seduction Meal, perfect for a romantic meal for two or a group of friends. This special dinner included fattoush salad, jeweled rice, and roasted chicken with clementines and arak. The salad and chicken recipes came for Yotam Ottolenghi's fabulous cookbook Jerusalem, which I just ordered from Amazon the minute I got home. I want to cook every recipe in this book, no kidding! And if you are a foodie – you too will want to add this to your cookbook collection.
In upcoming posts I'll share each of the recipes that made up my friend's Seduction Meal; but first let me introduce the main course – Ottolenghi's Roasted Chicken with Clementines & Arak. In the preface to the recipe he says it all:
"All the intense flavors lavished on the poor chicken – arak, mustard, fennel, clementines with their skins, brown sugar – somehow manage to come together in a sweetly comforting dish you will always want to come back to".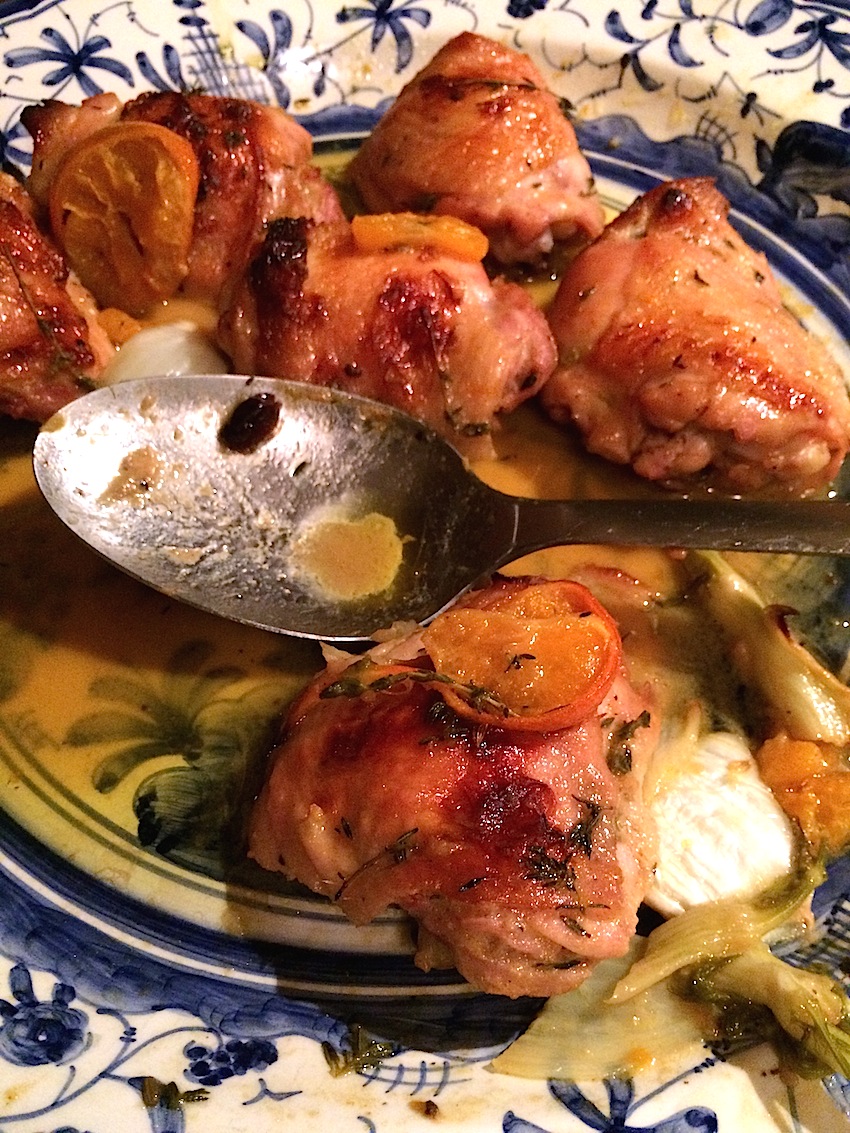 It's pure comfort food and so easy to make.  You start with an amazing marinade and let the chicken soak up the flavors for six hours or more, even better – overnight. After that – just bake and serve. I didn't know what Arak was so I looked it up and found this on wikipedia: Arak or araq is a clear, unsweetened anise-flavored distilled alcoholic drink. If you have difficulty finding Arak – use Pernod or Ouzo instead.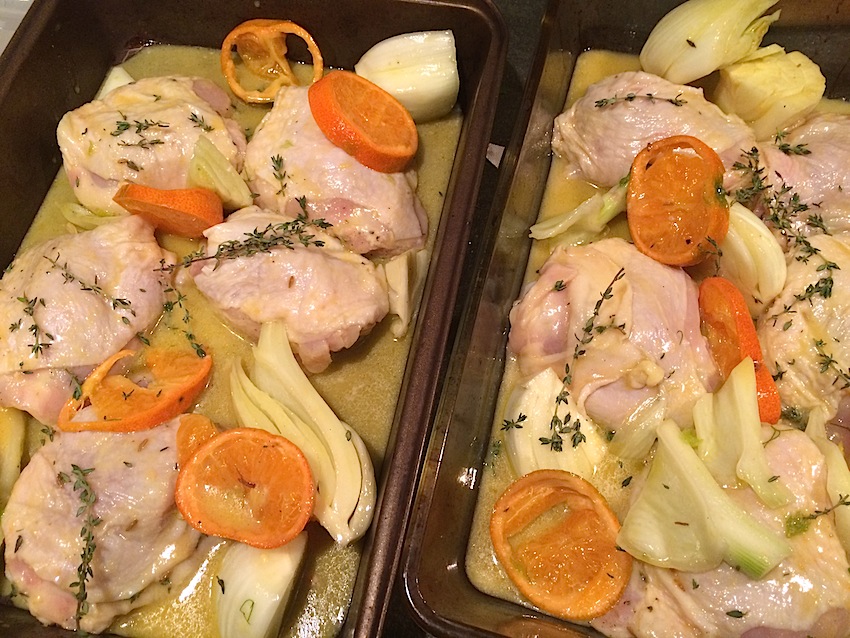 I can't wait to prepare this dish. After enjoying this meal at my friend Katrina's, I know this will become one of my go-to recipes when a group of people come over for dinner. Thank you for introducing me to this delightful dish Kat!
Roasted Chicken with Clementines & Arak
Jerusalem Cookbook: Gotta Have it! Click Here to Order
Ingredients
6 1/2 tbsp Arak, Ouzo or Pernod
4 tbsp olive oil
3 tbsp freshly squeezed orange juice
3 tbsp freshly squeezed lemon juice
2 tbsp grain mustard
3 tbsp light brown sugar
2 medium fennel bulbs
One 2 3/4 lb organic free-range chicken, divided into 8 pieces
(you can also get 2 3/4 lbs chicken thighs, bone in, skin on)
4 clementines, unpeeled, cut horizontally into 1/4 inch slices
1 tbsp thyme leaves
2 1/2 tsp fennel seeds, lightly crushed
salt and freshly ground black pepper
Garnish: chopped flat leaf parsley
Directions
Prepare the marinade ahead of time: Whisk together the first six ingredients in a large mixing bowl with 2 1/2 teaspoons salt and 1 1/2 teaspoons black pepper.Set aside.
Halve the fennel lengthwise and cut each half into 4 wedges. Add the fennel, chicken, clementines, thyme and fennel seeds to the bowl. Stir well with your hands, then cover with plastic wrap and refrigerate for 2 hours or overnight. (It's fine to skip the marinating if you're pressed for time.)
Preheat the oven to 475°. Transfer the chicken, fennel, clementines and marinade to a roasting pan large enough to accommodate everything in a single layer; the chicken skin should be facing up. Don't overcrowd the chicken, use two roasting pans if need be.
Roast the chicken for 35 to 45 minutes or until it is browned and cooked through. Remove from the oven and transfer the chicken, fennel and clementines to a serving platter; cover with foil to keep warm.
Pour the cooking liquid into a small saucepan set over medium-high heat. Bring the mixture to a boil, then simmer until the sauce is reduced to 1 cup, about 8 minutes.
Pour the sauce over the chicken, garnish with parsley and serve immediately.
Tip: Remove the orange slices that were not submerged in the liquid while cooking -they will be crispy and impart a bitter taste, but the slices that were in the broth will be deliciously sweet. Try placing some of the oranges under and on top of the chicken.
More information about Jerusalem – Gotta Have it! Click Here to Order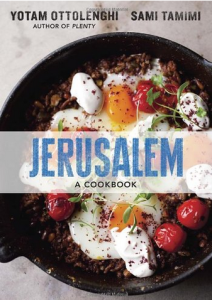 In Jerusalem, Yotam Ottolenghi and Sami Tamimi explore  the vibrant cuisine of their home city—with its diverse Muslim, Jewish, and Christian communities. Both men were born in Jerusalem in the same year—Tamimi on the Arab east side and Ottolenghi in the Jewish west. This stunning cookbook offers 120 recipes from their unique cross-cultural perspective, from inventive vegetable dishes to sweet, rich desserts. With five bustling restaurants in London and two stellar cookbooks, Ottolenghi is one of the most respected chefs in the world; in Jerusalem, he and Tamimi have collaborated to produce their most personal cookbook yet.
Here is a review found on Amazon: The true definition of a melting pot, it seems, can be found through foods, or so Ottolenghi and Tamimi contend. As former residents of Jerusalem and now well-acclaimed London restaurateurs, they have compiled a luscious, photographic collection of 120 recipes with origins encompassing various religions, countries, and, occasionally, continents. The history of the city and of foods found there are sprinkled throughout the text, as are visuals not only of recipes but also of the people who inhabit Jerusalem and beyond. Expect discourses on the humble aubergine (eggplant); za'atar, a native herb; hummus wars; and even Georgian cuisine. The book's leisurely pace picks up with the introduction of dishes, some familiar but many not, that include fattoush, latkes, mejadra, clear chicken soup with knaidlach, pan-fried mackerel with golden beetroot and orange salsa, and helbeh (fenugreek cake). Measurements are computed in grams, and, unfortunately, the more exotic ingredients, such as arak and zhoug, might prove elusive to all but the most avid chefs. Yet the passion and skill evident in this collection of Mediterranean cuisine are contagious. –Barbara Jacobs