If you walk too fast and are not paying attention you will miss this wonderful, little wine bar called Le Pif. Le Pif, which means "the nose" in French is a welcomed addition to the Upper Westside. It was a beautiful summer day in NYC – not too humid and not too hot. I found myself out of the office a little before 5 PM on a Friday night. As I headed out of the subway station I decided to walk along the Broadway side of the street. As this is not my usual route home I was looking up, not watching where I was going and I stumbled, more like I tripped over a crack in the sidewalk. After composing myself I look up and find myself standing in front of a glass door that reads "Authentic Le Pif." Hmm, I think to myself. Le Pif. I walk closer to the front door and I discover a wooden plank bar and a wall filled from floor to ceiling with wine bottles. Definitely my kinda place.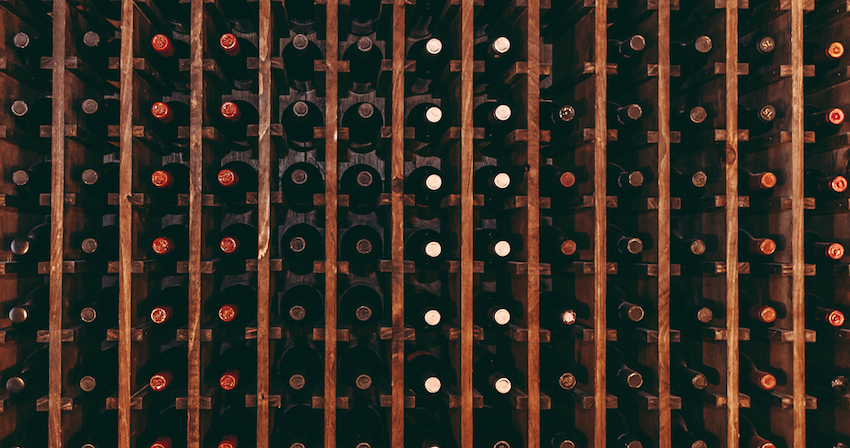 I walk in and immediately I think "quaint."  Old fashioned lights hang from the copper tiled ceiling. Wood bar stools stand at attention at the wood L shaped bar. There's also a window bar with 4 high chairs for those who want to sip wine while Broadway people watching. I have my choice of open seats at the bar and cozy up to a seat in the corner. I am immediately greeted by one of the bar staff and presented with a menu displayed on a piece of plywood held by a binder clip. Rustic. He proceeds to explain the menu options and has a hint of a French accent. Nice. First things are in order, a glass of wine. I quickly see that they have a Sancerre 2014 from the Loire Valley which happens to be my favorite white wine and I order it.  To my surprise he brings 2 glasses. I immediately think to myself he's going to pour himself a glass. And then he proceeds to explain that there is a rose Sancerre and that I should taste that just in case I wanted to order that instead.  Well, I am not going to turn down a taste of wine. I try the rose. It's nice.  He proceeds to pour the white version of the Sancerre. I swirl it in my glass. I raise the tip of the glass to my nose and I take in the aroma, a lightly honeyed, fruity floral garden – and it's cold. The crispness got me and the white beat the rose. I let him know and he pours me a full glass.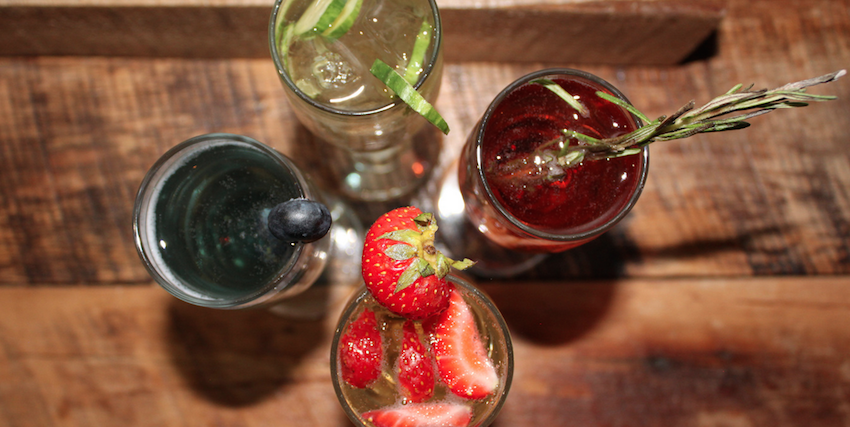 The food selection is on the light side, think small plates, not surprising given it's a wine bar.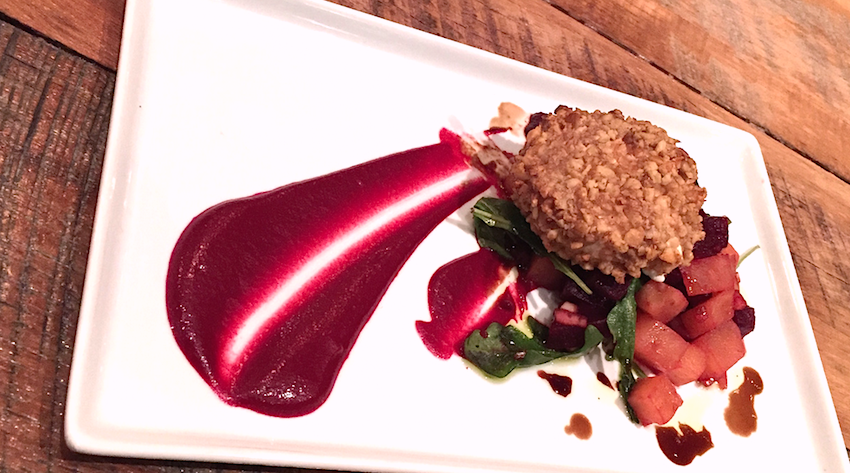 However, I learned they have a wicked brunch special on Saturday and Sunday where you can choose from French Toast to Soft Boiled Eggs & Mouilettes Maison, Quiche Lorraine, French Onion Soup, Ratatouille, Escargot Beurre a L'Ail to name a few. The special? You can select two choices from the breakfast list for $19.99. I'll be back.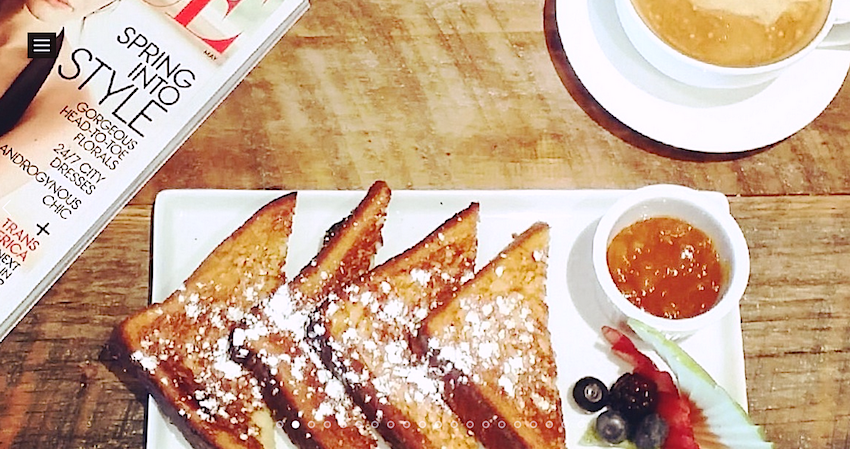 Back to the menu to decide what I am going to order. They have an enticing selection of cheese and charcuterie which you can mix and match. There's salads and cold soup. And there's authentic French cuisine ranging from a Parisian Croque Monsieur to Grilled Cheese Brie, Truffle and Honey.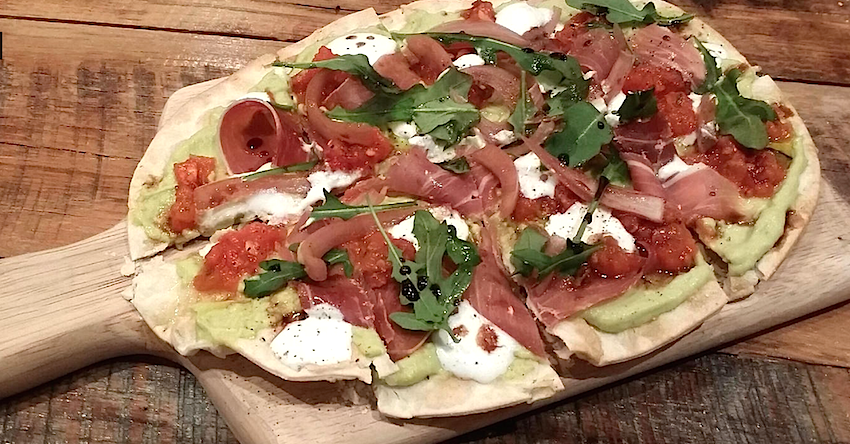 Their highlighted specials are their "French Pizzas"; seven to select from. Naturally I choose the Parisienne which is a flatbread pizza with béchamel, Jambon de Paris topped with Gruyere.
I savor my Sancerre while I wait for my French Pizza to arrive. As I take in the atmosphere the quainter, cuter and more unique my new discovery becomes; like a wine barrel that doubles as a table with 3 stools around it and a chalkboard with "Je' suis Charlie" written on it. My French Pizza arrives – it looks delicious. The cheese melted on top is so inviting. The pizza is served on a small cheese board affixed with a handle. Nice touch. The cheese that was so inviting when the pizza arrived was just as good with the fist bite taken. The jambon (ham) added just the right amount of saltiness, the flatbread crust the right amount of crunch, and the béchamel sauce brought it all together. All in all it was very, very good.
There is more to the menu outside of the small plates, pizzas and wine. They also have dessert – which I was promptly offered after I polished off my pizza. And, would a wine bar be without a Happy Hour? Le Pif's happy hour is more than most. 4-7 PM Monday-Friday and 11 AM – 7 PM Saturday and Sunday. How about that for a happy hour?
My Recommendation?
I have to say, practically falling down on a NYC sidewalk was worth it. Le Pif is a find. Head to Le Pif for a romantic outing or for drinks with the girls before a night on the town, or just going solo for a glass of wine and good conversation. Bonne Pif!
Le Pif
UPPER WEST SIDE
2058 Broadway
New York, NY 10023
http://www.lepifnyc.com/
Coming Soon
Le Pif
CHELSEA
465 W 23rd Street
New York, NY 10011