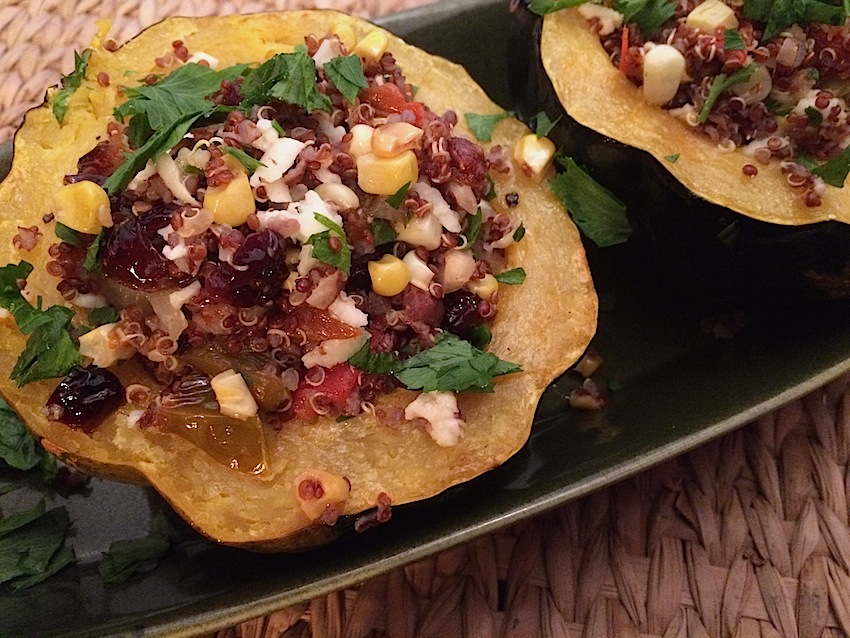 Just in time for Fall! Fresh from the garden, I had an acorn squash and always wanted to try roasted squash stuffed with quinoa. Pulling out random ingredients from my refrigerator I whipped up this super easy dish for dinner.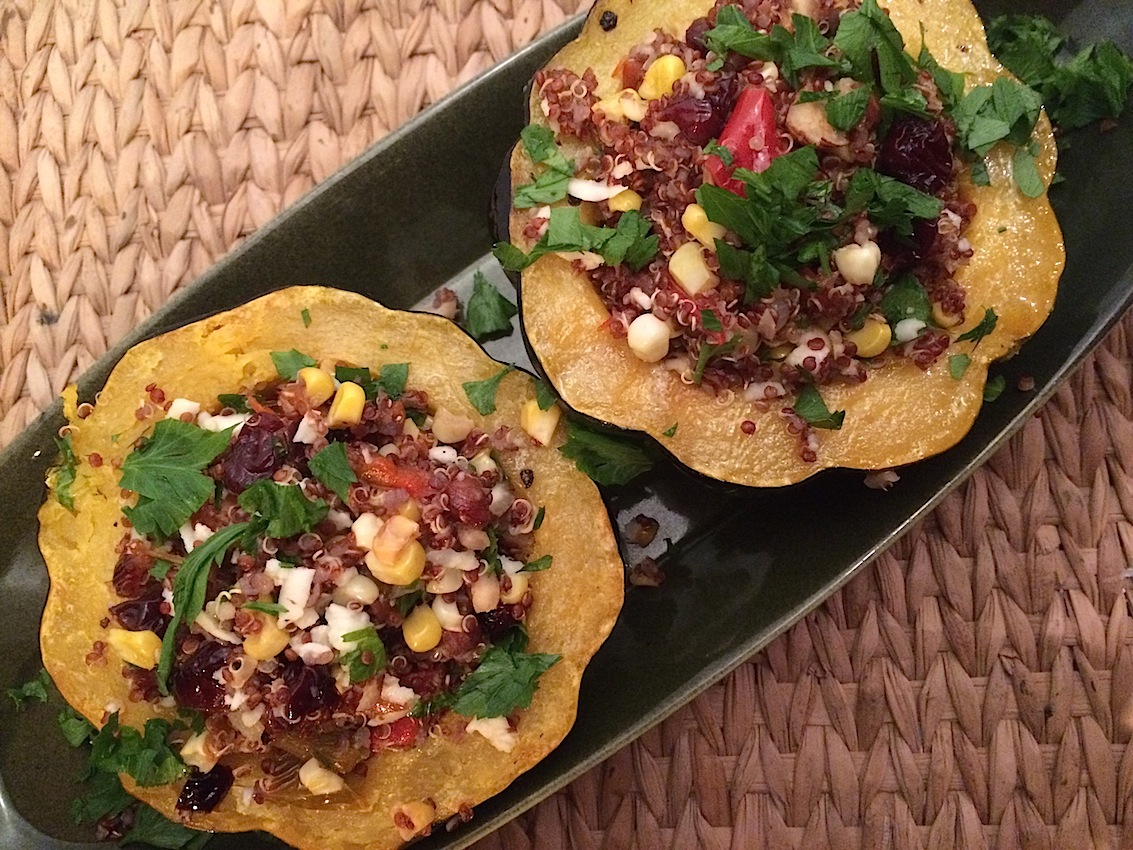 Begin by roasting the squash in the oven and then preparing the quinoa as per the directions on the box. In a skillet I sauteed onions, chopped roasted peppers I made the night before, the kernels of one ear of corn, minced garlic, chopped hazelnuts, dried black cherries, grated cotija cheese and flat leaf parsley. I raised a glass of wine bidding adieu to summer and welcomed the harvest of fall!
Roasted Acorn Squash Stuffed with Vegetable Quinoa
Ingredients
1 acorn squash, halved, scoop out and discard middle and seeds
1 tablespoons extra virgin olive oil
salt and pepper to taste
1 cup dry quinoa (I used Ancient Harvest Inca Red pre washed)
2 cups water
2 tbsp olive oil
1 tbsp butter
2 garlic cloves, crushed
2 tablespoons onions, diced
1/8 cup roasted red peppers, diced
1 ear of corn, kernels only
1/8 cup dried cherries or craisins
1/8 cup of hazelnuts, roughly chopped
1/8 cup flat leaf parsley, chopped
1/4 cup cojita cheese (or feta)
1 tbsp olive oil
1/2 lemon, juiced
salt and pepper to taste
Directions:
Preheat oven to 425 degrees.
Place squash on a baking sheet, drizzle each half with olive oil, and season with salt and pepper.
Roast the squash cut-side down on a baking sheet until tender when pierced with a fork about 20-25 minutes depending on size of squash.
While the squash is cooking, prepare the quinoa: bring the 1 cup of quinoa and 2 cups water to a boil in a small sauce pan. When the quinoa comes to a boil stir, cover it and reduce the heat to simmer. Cook the quinoa until all the water is absorbed, about 10-15 minutes. The quinoa is done when its tender and you can see the little quinoa curlicues. When done, fluff with a fork and set aside, covered.
While the quinoa and squash are cooking, in a small skillet heat 2 tbsp of olive oil and butter, when hot, lower heat to medium/low, in this order one on top of the other add add onions, corn, roasted peppers, hazelnuts and garlic. Saute for ten minutes. Add cheese and 1/2 flat leaf parsley, mixing all ingredients together.
In a large bowl, combine 1 1/2 cups of the quinoa and the vegetable mixture. Add the olive oil, lemon juice, salt and pepper to taste. Add more olive oil and/or lemon to taste.
Place the squash halves on a serving plate. Fill each one with 1/2 of the quinoa vegetable mixture.
Garnish with the remaining parsley and serve immediately.