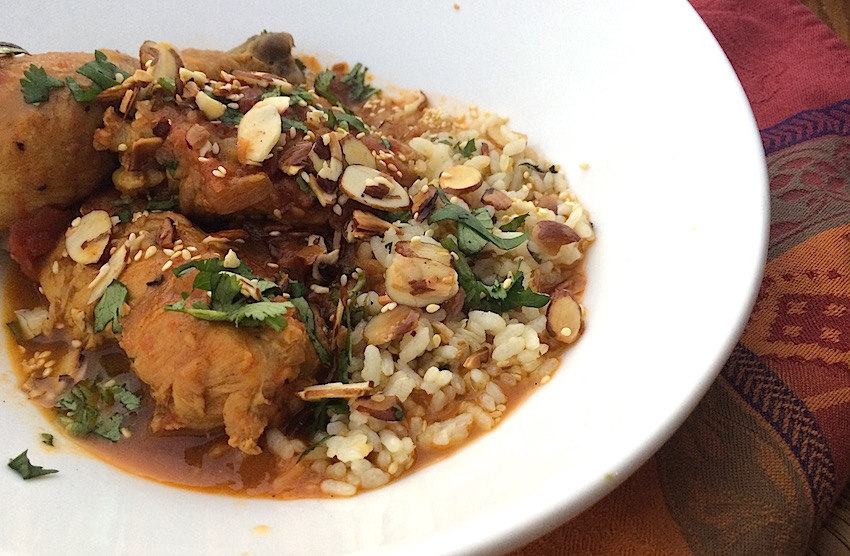 This is one tasty dish – definitely worthy of a romantic meal for two, especially in the colder winter months ahead. This recipe caught my eye while perusing the latest and greatest on Pinterest. It's from a British magazine called Delicious -and this dish truly is.  A North African chicken stew made with garlic, ginger, lemon, and cinnamon finished with a kiss of honey and saffron – needless to say, the aroma in your kitchen will be quite seductive. And, the couscous (or rice)  is pretty fab and full of flavor on its own. From Delicious magazine: "..This dish needs a fruity, off-dry white wine. Chenin blanc, such as Vouvray from France, or New Zealand riesling".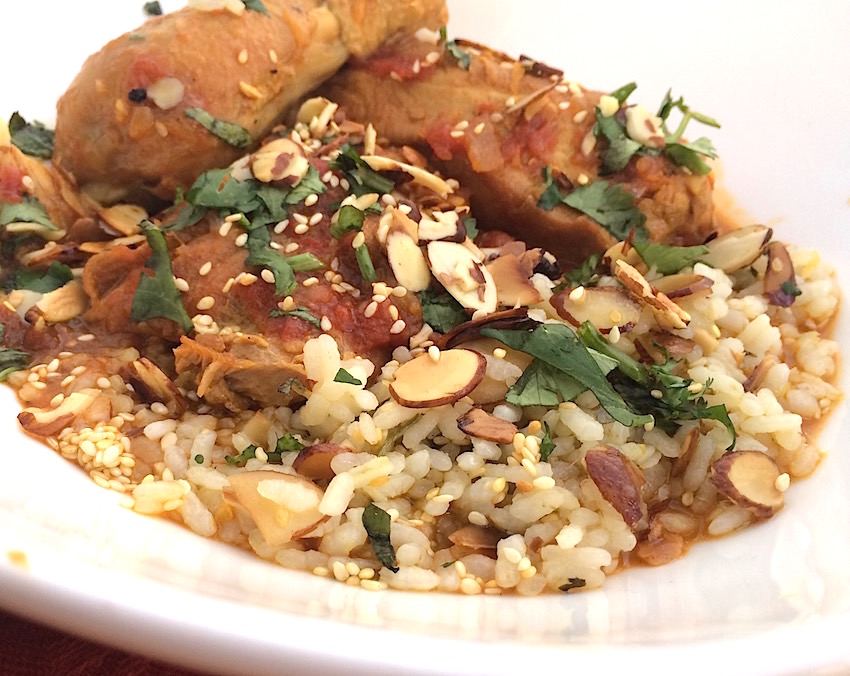 North African Chicken Stew with Honey and Saffron  / Delicious Magazine (original recipe)
For the Chicken:
3 – 4 lb free-range chicken, jointed into 8 pieces
3 tbsp olive oil
1 large onion, chopped
3 garlic cloves, crushed
2 inches fresh ginger, finely grated
2 x 2 inch cinnamon stick pieces
1 tsp ground ginger
1 28-oz skinned and chopped tomatoes, fresh or tinned
1 tsp harissa paste, rose if you can get it
10 oz chicken stock (see Debbie's tip)
1/2 tsp saffron strands
2 tbsp clear honey
1 tbsp lemon juice
1 tsp orange blossom water (see tip below)
For the lemon and mint couscous (or as in this case, rice)
1 oz butter, plus 1 oz melted butter
1/4 cup slivered or sliced almonds
3 tbsp white sesame seeds
1 cup organic couscous or rice (I used Bomba rice)
1/2 tsp salt
2-3 tbsp extra-virgin olive oil
Finely grated zest of 1 small lemon and 1-2 tbsp juice
4 small preserved lemons, pulp discarded, skin finely chopped
Small bunch of fresh coriander, coarsely chopped
Small bunch of fresh mint, leaves finely chopped
Directions
Skin the chicken pieces, then season all over.
Heat 2 tbsp of the oil in a sauté pan or shallow flameproof casserole. Add the chicken and fry, turning, until browned all over. Lift onto a plate and keep warm.
Add the rest of the oil and the onion to the pan, then cook over a medium- high heat, stirring, for 6-7 minutes until soft and golden.
Add the garlic, fresh ginger and cinnamon, then cook for 2-3 minutes more. Add the ground ginger and cook for 1 minute.
Stir in the tomatoes and harissa and cook gently for 5 minutes.
Stir in the chicken stock, saffron and some seasoning to taste, then bring to the boil. Return the chicken to the pan, cover and simmer for 25 minutes.
When the chicken is cooked, lift the pieces onto a plate and cover with cling film to keep moist. Turn up the heat and bubble the sauce briskly for about 10 minutes until reduced by about half.
Add the honey, simmer for 2 minutes more, then stir in the lemon juice and orange blossom water. Taste and season.
Meanwhile, for the couscous, melt the 1 tsp butter in a small frying pan, add the almonds and fry gently, stirring all the time, until golden. Tip onto kitchen paper and leave to cool.
Toast the sesame seeds in a clean dry pan over a medium-high heat, shaking now and then, until golden. Tip onto a saucer to cool.
Return the chicken to the pan, coat the pieces in the sauce, then cover and simmer for 5 minutes until heated through.
Cook the rice or couscous per directions (I used Bomba rice)
Uncover and fluff with a fork, then stir in the remaining 1 tsp melted butter, olive oil, lemon zest, lemon juice to taste, preserved lemon skin, three quarters of the fried almonds, 2 tbsp of the sesame seeds and three quarters of the herbs. Taste and season.
Scatter the chicken with the rest of the almonds, sesame seeds and herbs. Serve with the couscous.
TIPS:
The orange blossom water adds fragrance and flavor. It's in most supermarkets, but if you can't find any, use the finely grated zest of 1 orange instead.
To make stock from the leftover carcass, wing tips and drumstick knuckles: put the bones in a pan with 1 small sliced leek, 1 sliced onion, 1 sliced carrot, 2 bay leaves, a fresh thyme sprig and a few black peppercorns. Cover with cold water, bring to the boil, part cover with a lid and simmer very gently for 1 hour, then strain.