I was recently invited to join my friend Liz for dinner at Pam Brown's – I fondly recalled a wonderful gourmet vegan meal I enjoyed at her former restaurant, The Garden Cafe in Woodstock NY, and happily said YES!
Her organic, innovative menu at The Garden Cafe intrigued vegans and regular diners alike with stand out dishes like: Pan seared tofu with pear chutney, roasted mashed butternut squash, caramelized onions, and sautéed greens; Curried fresh green pea fritter with toasted coconut sauce, Afghani Lentil and Vegetable Boulanee with Cilantro Yogurt Glaze; and Moroccan Carrot Salad with Pistachios and Dates, Butternut Squash Risotto Cakes with Sage and Pine Nut Sauce.
As soon as the front door opened, the aromas swirled around the kitchen, seductively luring you in. As one would expect from a chef –  there was a neatly printed menu laid out on the table. This is one organized lady – and I understand why. Each dish was meticulously prepared, perfectly timed and fabulously flavored. Dinner was as memorable a meal as my first encounter with Pam's considerable culinary talent, only better because it was home-cooked and served with love in Pam's home. Thank you Pam and Liz – and double thanks to Pam for sharing her recipe for the Spiced Middle Eastern Chickpea Pasty.
The Menu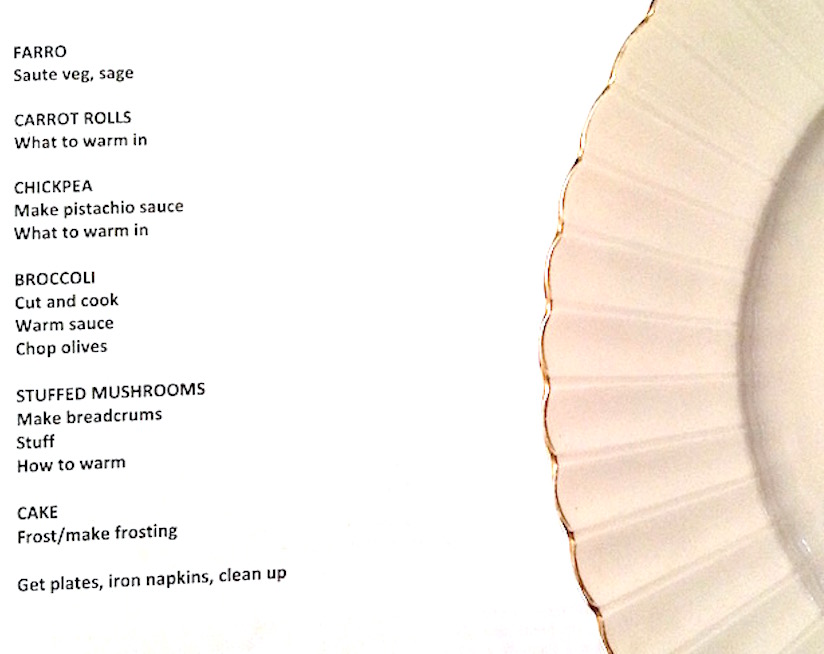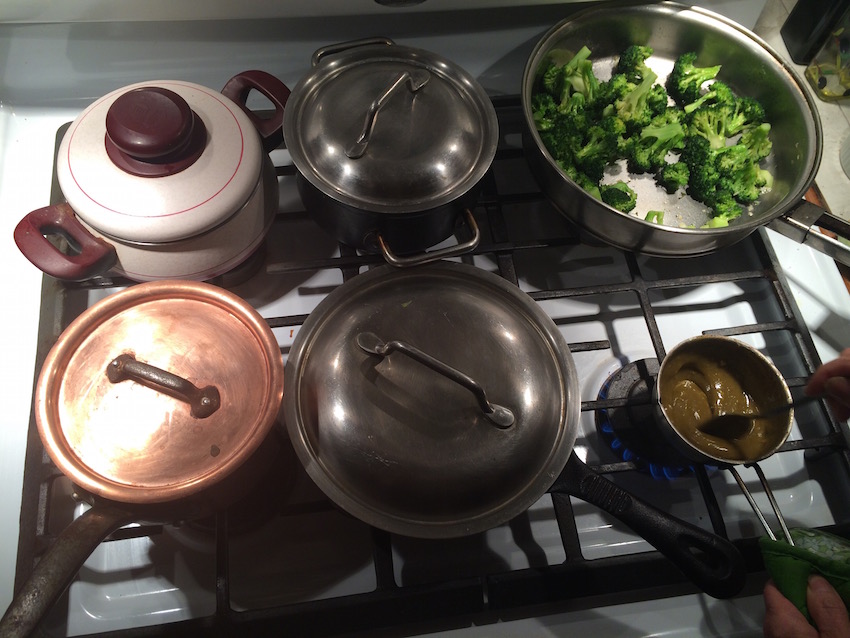 The Kitchen: An extraordinary Sense of Order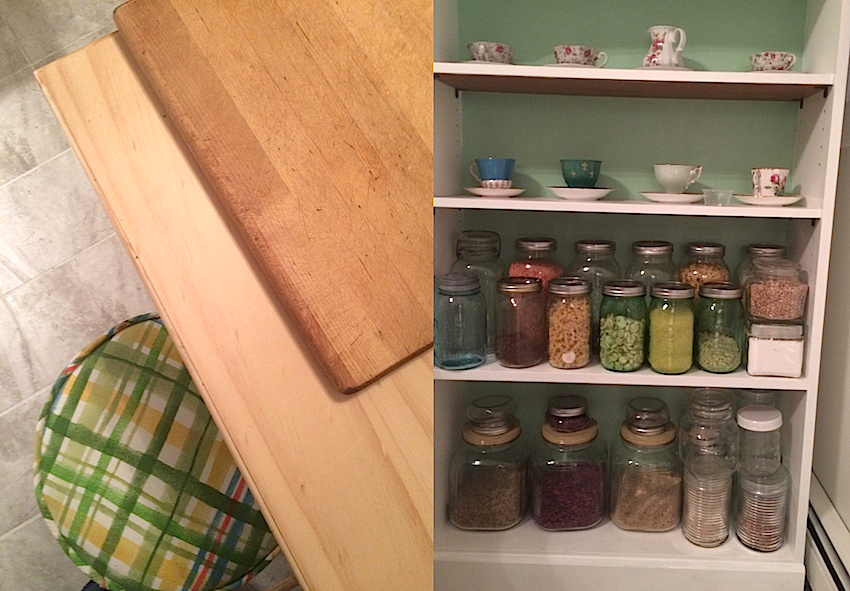 Middle EasternSpiced Chickpea Pastry wih Pistachio Sauce in the Making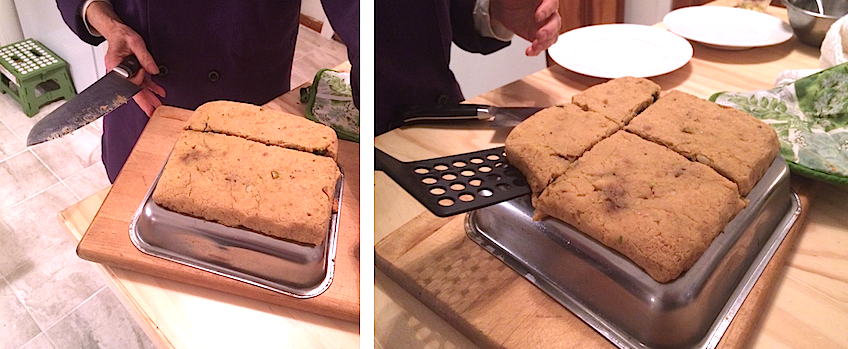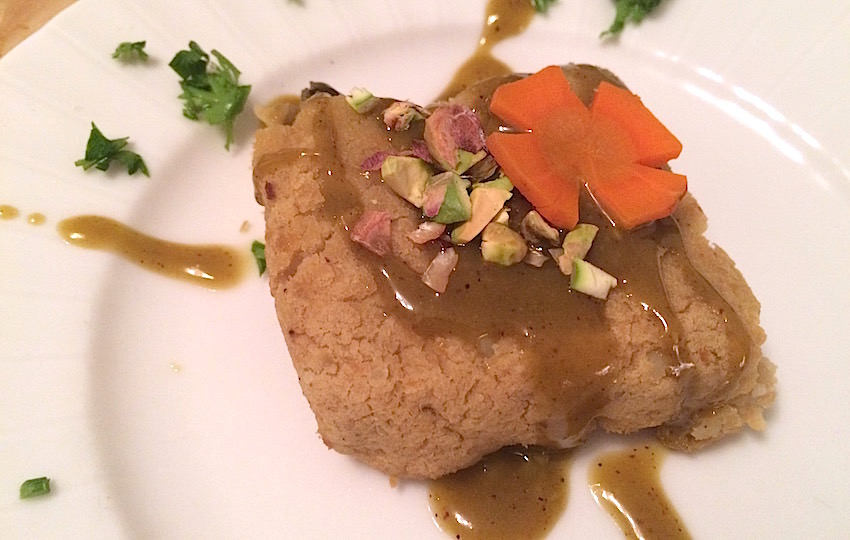 Middle Eastern Spiced Chickpea Pasty
Recipe Courtesy of Pam Brown
Ingredients:
½ teaspoon cumin
1 teaspoon tamari
½ teaspoon salt
1 Tablespoon olive oil
1 medium potato, peeled, chopped
15 oz. can chickpeas
Rinse and drain the chickpeas.  Mash the chickpeas or pulse in the food processor being careful not to turn the chickpeas into a puree. Boil the potato until tender, drain well and mash as if you are making mashed potatoes. Mix the potato and chickpeas together combining thoroughly.  Add the rest of the ingredients and mix well.  Roll into a ball and chill.
2 Tablespoons olive oil
1 medium onion, finely chopped
2 cloves garlic, minced
1/2 cup finely chopped nuts (pistachios, almonds, cashews, pine nuts –any of these would be good)
¼ cup currants or raisins
2 teaspoons sugar
1 teaspoon ground cinnamon
1/2 teaspoon allspice
1/2 teaspoon cumin
1/2 teaspoon paprika
1/4 teaspoon cayenne
1/2 teaspoon salt
1/2 teaspoon ground pepper
2 Tablespoons tahini
Directions:
Warm oil in a saute pan on medium high heat, add the onions and garlic. Cook until softened. Stir in the rest of the ingredients except for the tahini. Cover, turn heat to low and simmer for about 8 minutes. Remove lid, taste for seasoning and stir in the tahini combining well with all of the ingredients.
On a piece of parchment paper or plastic wrap, roll the chickpea dough into a 12X10 rectangle. Spread the filling on the lower half of the rectangle. Using the parchment paper, lift the top half to fold over the bottom half covering the filling.  If it does not fold over perfectly, don't worry!! Patch it together using your rolling pin. Seal the edges. Chill.
When you are ready to serve, spray a small baking dish with oil. Slice the dough into 6 or 8 pieces. Using a metal spatula, carefully lift the square onto the baking dish and warm for about 10 minutes. I usually sprinkle with a little more finely chopped nuts.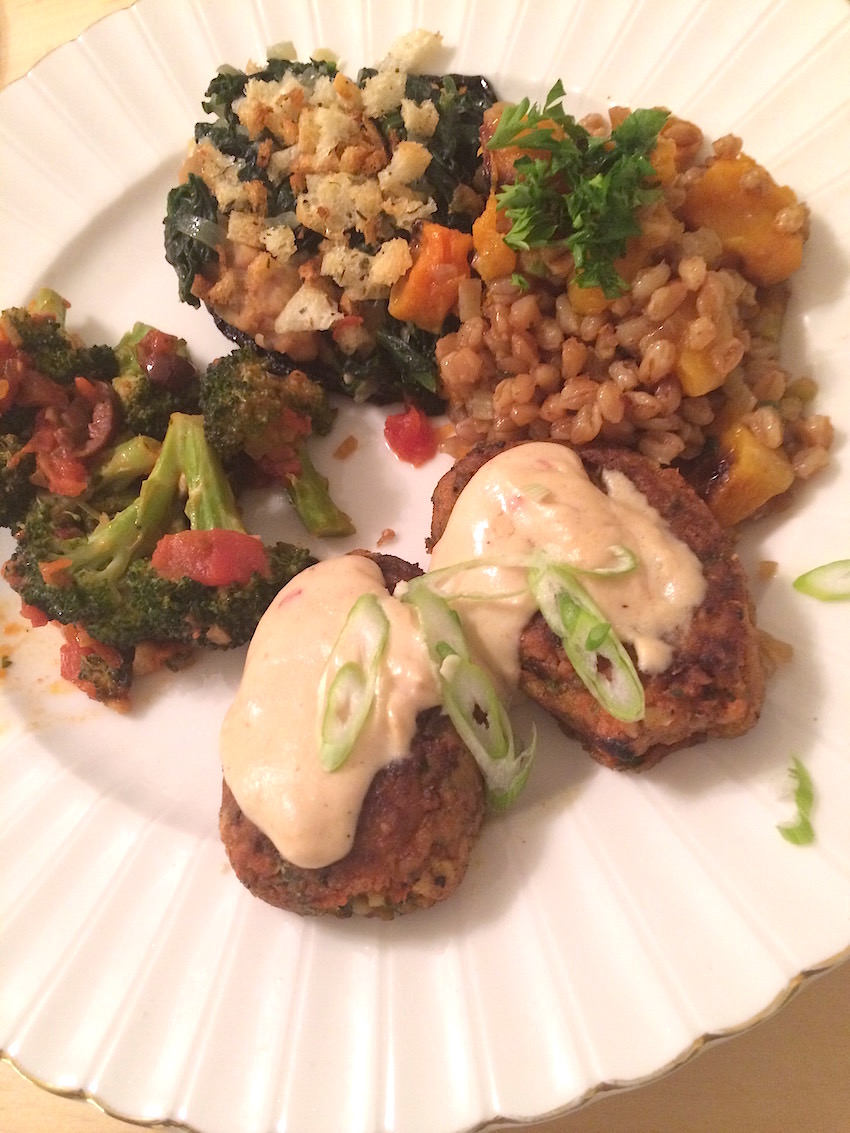 And the full meal – packed with an array of flavors and so tasty!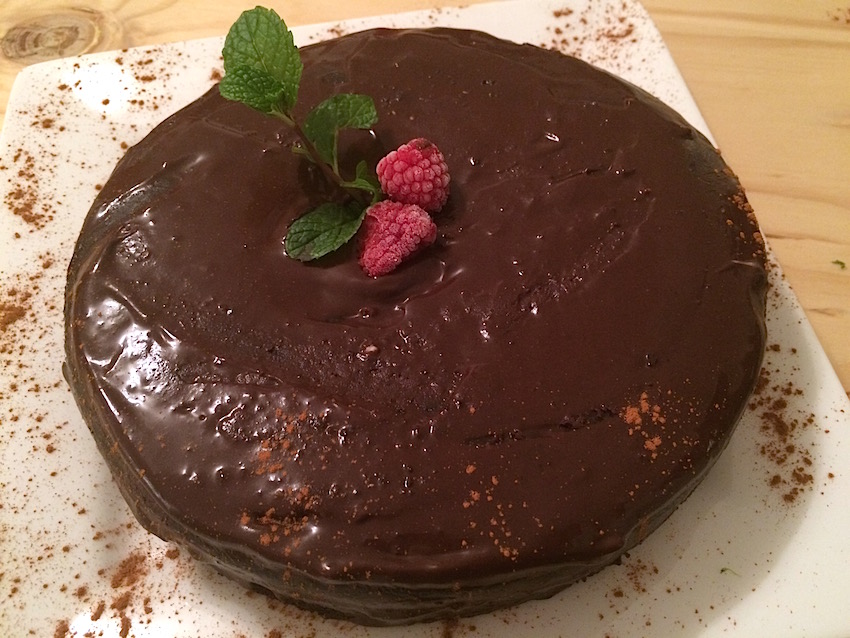 Chef Pam Brown has been teaching about the health benefits of a plant based diet since 1967. Drawing from global cuisines for her inspiration, she has created recipes that will alter the perception of a vegan diet. Pam has been a guest teacher at the Culinary Institute of America and has made various TV and radio appearances. Former creator and owner of the successful Garden Cafe on the Green located in Woodstock New York, she now devotes her time to recipe development, cooking classes and meal preparation for clients, friends and family. She continues to share her passion and knowledge about the positive effects of a plant based diet and how it can help us individually as well the planet.  Be sure to follow her on Facebook: Good Planet Kitchen for more information on her cooking classes and more.