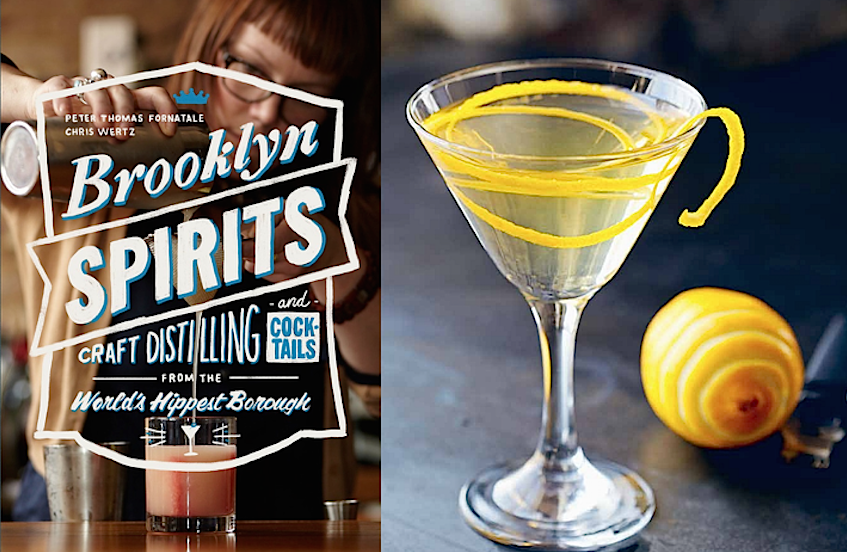 "Dry Martini," (Bond) said. "One. In a deep Champagne goblet."

"Oui, monsieur."

"Just a moment. Three measures of Gordon's, one of vodka, half a measure of Kina Lillet. Shake it very well until it's ice-cold, then add a large thin slice of lemon peel. Got it?"

"Certainly, monsieur." The barman seemed pleased with the idea.

"Gosh, that's certainly a drink," said Leiter.

Bond laughed. "When I'm… er … concentrating," he explained, "I never have more than one drink before dinner. But I do like that one to be large and very strong and very cold and very well-made. I hate small portions of anything, particularly when they taste bad. This drink's my own invention. I'm going to patent it when I can think of a good name."

– Casino Royale by Ian Fleming.
This drink later came to be known as the Vesper, after the book's heroine, Vesper Lynd. Today we share a twist on this Bond-inspired cocktail called The Brooklyn Vesper. This recipe along with a collection of expertly crafted drinks can be found in an exciting new book called: Brooklyn Spirits – Craft Distilling and Cocktails from the World's Hippest Borough.
In 2002, craft distilling was made legal in New York State for the first time since Prohibition. Many Brooklyn-based producers such as Greenhook Ginsmiths, Cacao Prieto, Industry City Distilling, Brueckelen, and others have taken advantage of this opportunity.  Today we have group of passionate, innovative Brooklyn distillers, restaurateurs, bartenders, and cocktail aficionados who have changed the way we drink. By bringing back old techniques and recipes form back in the day, and creating new ones that focus on small-batch distilling and fresh, local ingredients, we can thank our lucky stars for an inspiring mix of recipes and profiles coming out of this bourgeoning borough. Drinking has never been so fun or tasty.
Brooklyn Spirits is organized into chapters focused on these distilleries, each chapter takes an in-depth look at the distillery's story and the spirits they offer, and will present half-a-dozen cocktail recipes.
So here's one for all my Brooklyn friends, family and a toast to the Brooklyn neighborhood I grew up in.
The Brooklyn Vesper
2 oz Industry Standard Vodka
1 oz Dorothy Parker Gin
1/2 oz Kina L'Avion D'Or
Put all ingredients in a mixing glass. Stir (apologies to Mr. Fleming), and strain into a 60's-style cocktail glass — unless you happen to have a deep Champagne goblet lying around.
To order this book just click here: Brooklyn Spirits – Craft Distilling and Cocktails from the World's Hippest Borough
About the Authors
Chris Wertz has been involved in the booze business most of his life, and for the last 16 years, he has been a part of the New York restaurant industry, working as a bartender in Williamsburg and a General Manager in DUMBO. Before coming to New York City, Chris traveled throughout Europe sampling regional drinks for the sake of science—from homemade grappa in the hills of Tokaj, Hungary; to Becherovka at the source in Karlovy Vary, Czech Republic; and pastis in Provence,
France. In 2005, he opened his first bar, Professor Thom's, named in homage of famed 19th-century NYC cocktail creator Professor Jerry Thomas.
Bestselling author Peter Thomas Fornatale has spent a good part of the last two decades drinking in Brooklyn. He's also been a publishing professional in that time frame at Simon and Schuster and Random House. He took cocktail classes from legendary New York bartender (and author) Dale DeGroff and spent a summer supporting a horseracing habit by bartending at the acclaimed Chez Sophie in Saratoga Springs. Cocktails are literally in his blood: his grandfather, John T. Flynn, was a brand manager at Seagram's for many decades. He is also a site coordinator at The Park Slope CSA, putting him in close touch with the best local ingredients (and the people who buy them).