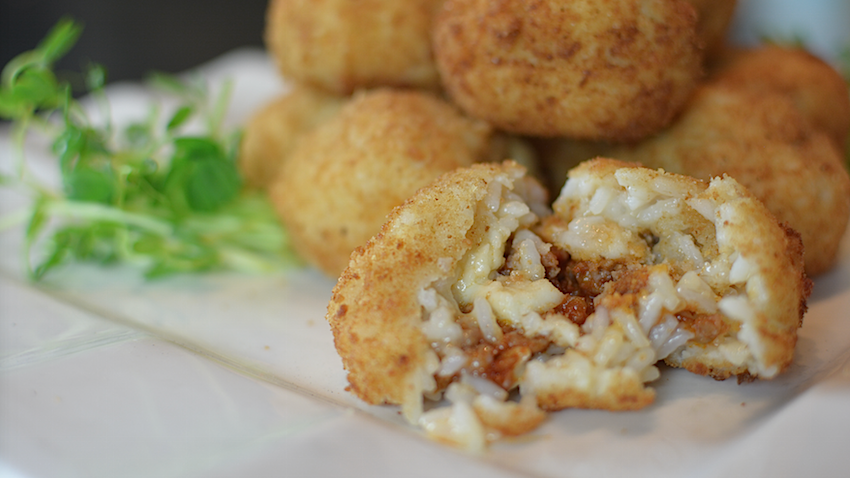 I was introduced to the wonderful flavors of these Italian sweet and savory rice balls by friend and food blogger, Annette of KitchAnnette.com. This is one of her family's coveted recipes. We cooked them together and I am thrilled she allowed me to share the goodness with you.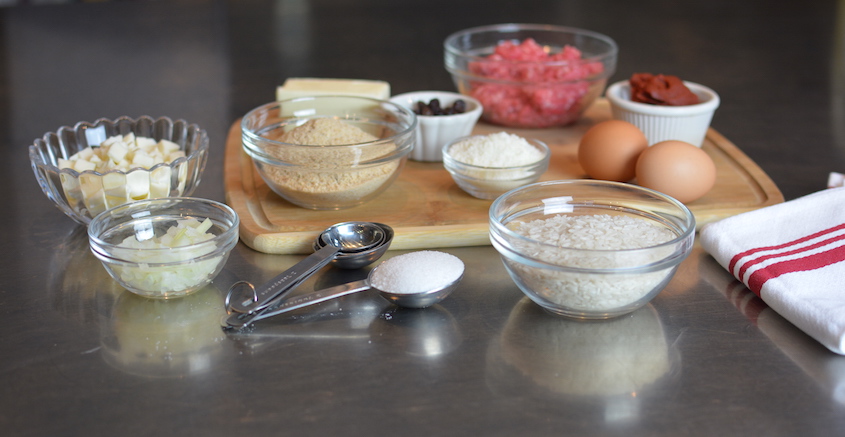 Unlike most rice balls, this recipe yields a fried rice ball that is slightly crispy on the outside with a moist filling and an amazing burst of flavor on the inside. The rice ball is stuffed with a combo of mozzarella cheese and a sweet and savory meat filling made of chopped pork, raisins, and tomato paste. I bet you can't just eat one – and they are even better the next day. Just heat them up in the oven and serve.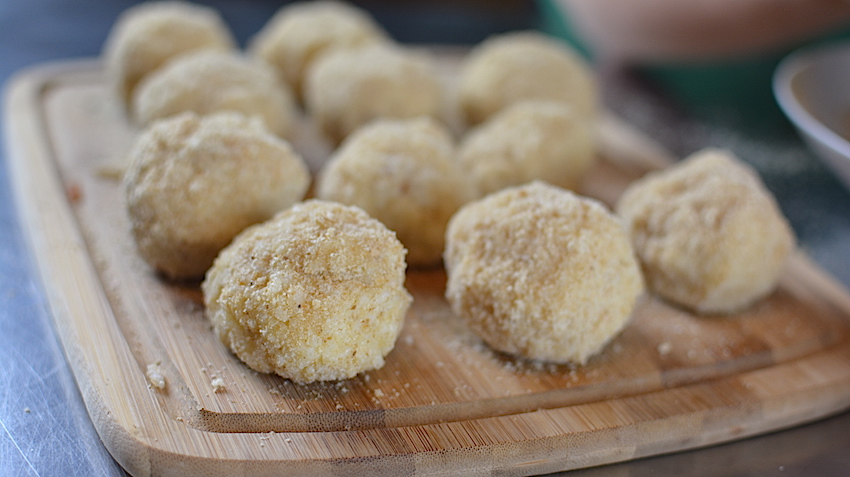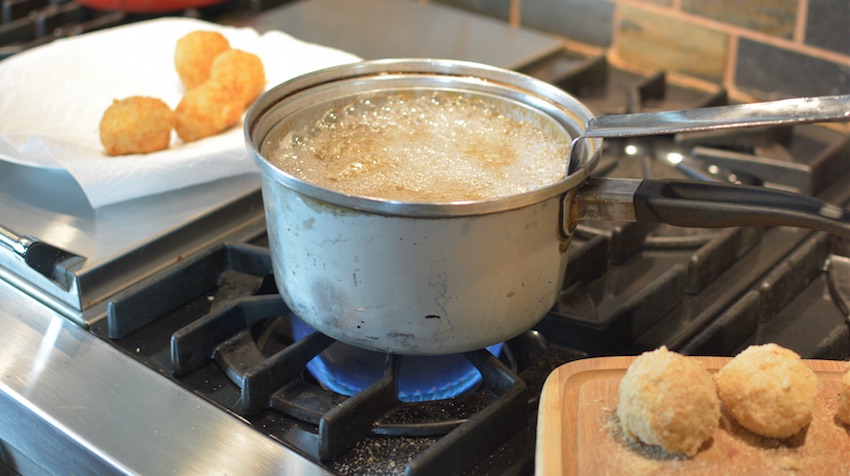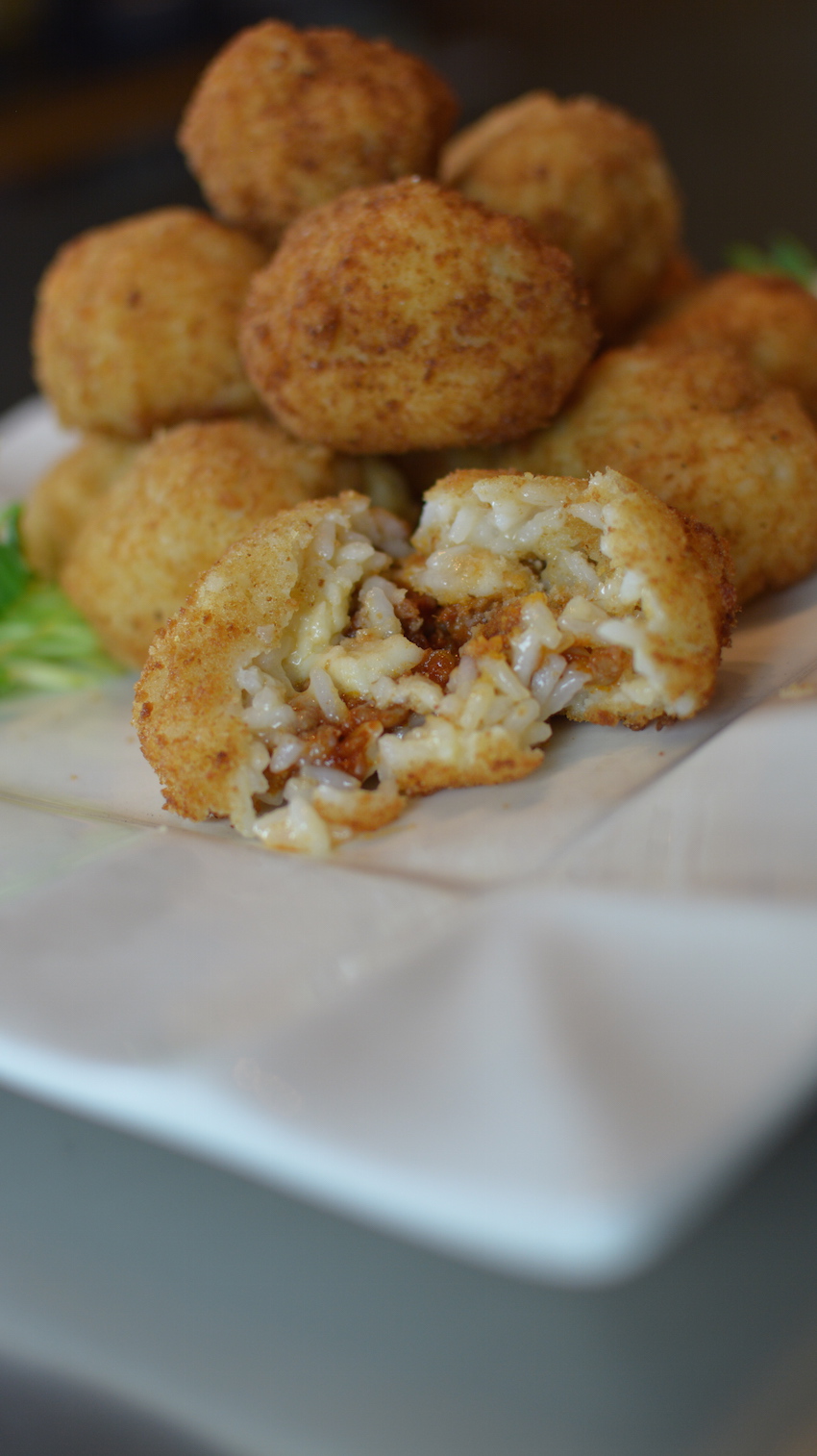 You can serve Arancini's as is or with tomato sauce. Arancini can be served as an appetizer or as a side dish. Thank you Annette – this is now a coveted recipe in my family!
Arancini (Sweet & Savory Stuffed Rice Balls) Recipe
Ingredients: 
1 cup Carolina white rice
6 tbsp butter
2 tbsp grated Romano or Parmigiano cheese
2 tbsp onion, chopped
1/2 lb ground chopped pork
3 oz tomato paste
1 oz raisins
2 tbsp sugar
3 oz mozzarella, diced into small cubes
2 large eggs, beaten
2 cups plain bread crumbs
2 cups vegetable oil
Directions:
Prepare the Rice:
Make one cup of white rice according to package direction, using a tiny bit more water – you want the rice thick. Drain any remaining water.
Blend in 4 tbsp butter and grated cheese. Let sit until room temperature, then fold eggs into the rice and mix well. Set aside.
For the filling:
Chop mozzarella into small pieces. Set aside.
Melt 2 tbsp. butter in a skillet. Add onions, cook until translucent.
Add the ground pork and brown.
Mix in tomato paste, sugar, and raisins. Set aside.
Preparing the Rice Balls:
Create an "assembly line": rice, bread crumbs, meat filling, and mozzarella and a plate dish for the prepared rice balls.
Sprinkle one hand with bread crumbs, then spread rice in the palm of your hand. You want to create a 2" rice ball.
Spoon about 1/2 tsp meat filling, then a couple bits of mozzarella to the center of the rice and close to create a ball, add more rice if necessary.
Roll the balls in bread crumbs to coat and place on your prep-plate. It usually takes a few times to get the hang of it. Keep going until you're out of rice.
In a large heavy-bottomed saucepan, pour in enough oil to fill the pan about 1/3 of the way. Heat over medium heat until the oil is hot (about 350 degrees F.)
Use a small basket or slotted spoon and carefully place the rice balls into the oil. Don't over crowd the pot, you want to leave enough room to scoop them out. Fry for 3-5 minutes or until a golden brown. Note: Vegetable oil gets hot pretty fast so be sure to stay with the pot to fry to perfection.
Place on paper towel to absorb excess oil and serve while they are hot