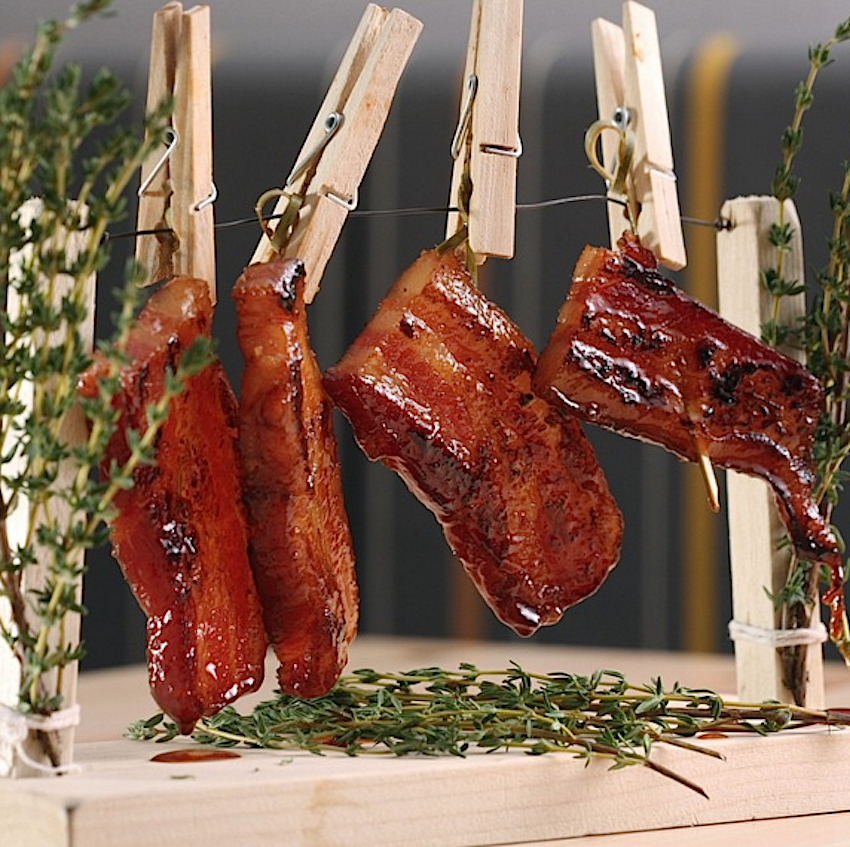 Bloomingdales is known for having everything – every designer you can think of, a plethora of makeup counters that can boggle the mind, shoes…..and I do love shoes, and more. But today my friend and I aren't coming to shop and get lost in racks of clothing we are here to have brunch at a quaint cafe nestled on the southwest side of the Bloomingdale's building. Do not let the idea of a cafe into a shopping store fool you in thinking this is going to be "run of the mill fare" with mediocre service. Not by a long shot. I mean take a look at the thick cut double glazed maple bacon! More about that to come…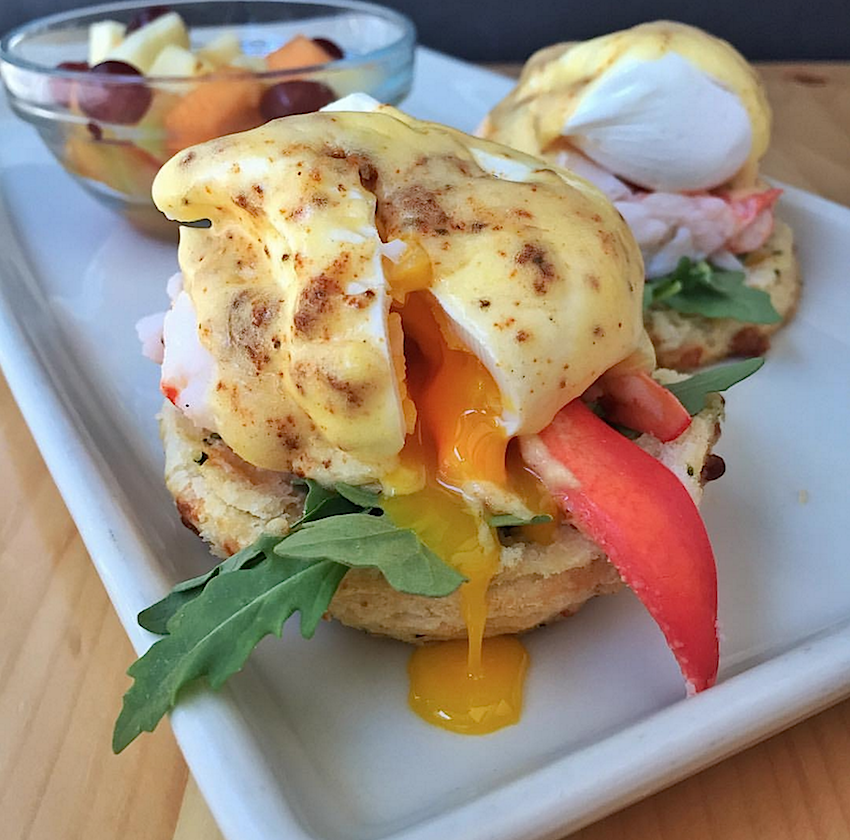 My friend and I make our way around the busy corner of 59th street and what strikes me first are the sidewalk to rooftop windows that welcome you towards the cafe. It's mesmerizing – reminiscent of a month being attracted to a flame. Muted silver grey luxurious curtains drape the windows; I immediately wanted to go inside. Just from the exterior alone I felt welcomed and drawn to come in. We enter the cafe and are quickly greeted by a bubbly hostess with a warm smile. Not to sound cliche but she really made us feel welcomed. The interior is quaint with silver grey driving the color palette with grey striped accents throughout. The hostess gave us a choice of sitting at the bar, sweetheart tables in front of the floor to ceiling windows with front-row people watching views looking onto 59th street, or tables in the back. Not one for wanting to be the "one in the window" we opted to sit at the bar which was relatively empty. Here's the thing, sitting at the bar has it's perks. First, when the bar is empty you have the sole attention of the bartender which means your drinks come fast, and second, some of the best girlfriend conversations I've had included dining and chatting with NYC bartenders. This of course was no different and going to be fun.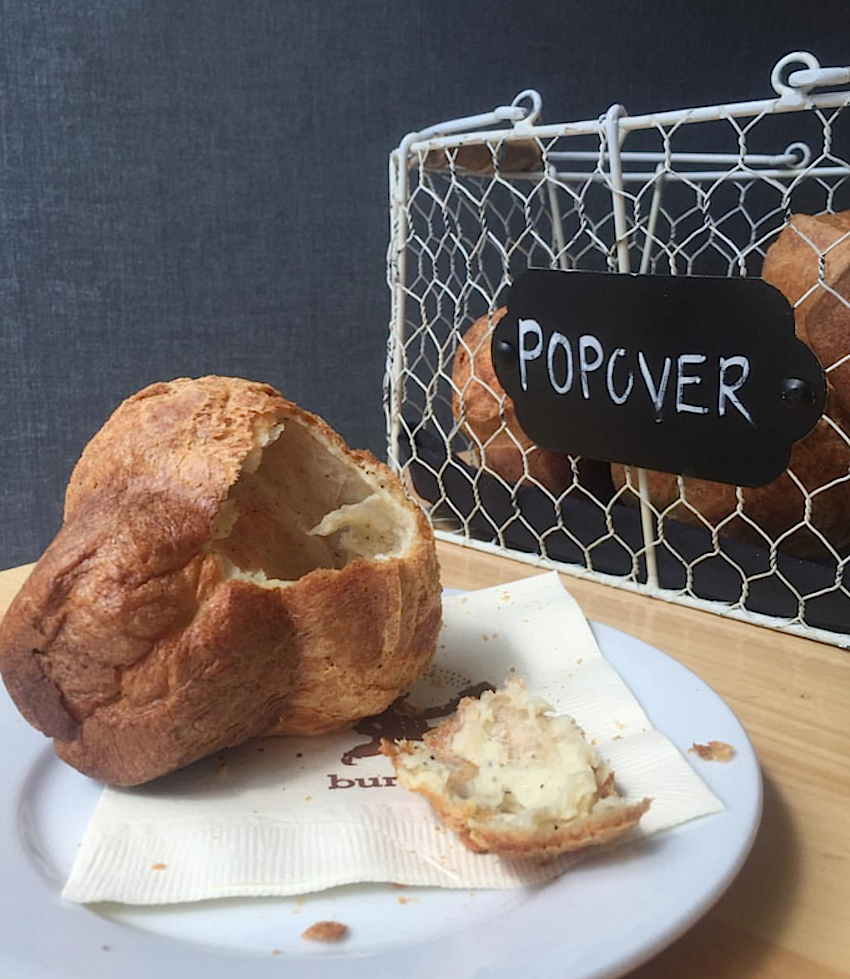 We stroll past a few tables. Some surrounded by shopping bags – a sign of successful shopping sprees, a few people who clearly looked like tourists with their maps and "things to see in NYC" books, and a large group from France who were quite loud. Having taken notice of the crowd, we make it to our prime location – smack in the middle on the bar. We sit and immediately are greeted by the bartender with a mega-watt smile and matching personality. Fallon and I look at one another and giggle because we know we're in for a good time. In unison we both say, "we'll start with Mimosas." The bartender smiled and said, "you girls look like you're going to keep me busy back here." We all laugh. The bar-back immediately pours us water and hands us the menus to peruse. I did some reconnaissance before coming to the cafe and knew that the Maple Bacon Burger was voted one of the best burgers in NYC and they have truffle fries to boot. So, I knew exactly what I was ordering.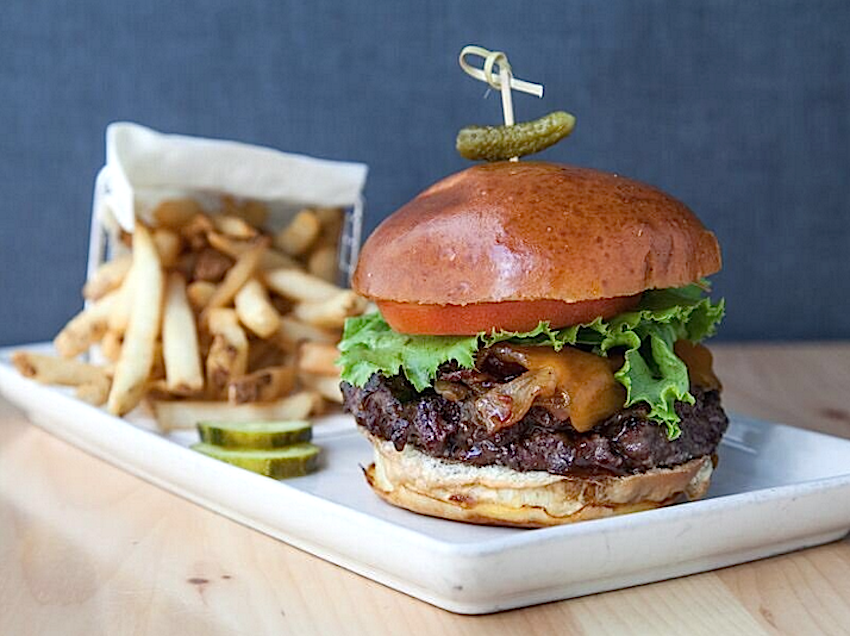 Our mimosas are served and we toast to friendship and finding yet another cool spot in NYC. As I begin to take a sip of my mimosa, the bubbles from the champagne tickle my nose and I immediately know the ratio between OJ and bubbly was spot on. I take a sip and smile. The bartender asks, "is it good?" and I respond, "girl, you outdid yourself with this one."
Since I already knew what I was ordering Fallon studies the menu and says, "everything sounds so good, I don't know what to order." Overall the menu is more than brunch with eggs, salads, flatbreads, roast chicken, chili and other in the middle between brunch and dinner type fare. This is not your average diner or gastropub fare. It's classy. And its from chef extraordinaire – David Burke. We summon the bartender and ask for suggestions. She suggests either the maple bacon burger (good choice!) or the seared tuna. Fallon goes for the seared tuna (sorry we don't have a photo for this).
With our orders placed we sit back and chat about life, work and the world in general. The bartender makes her way over and chimes in. I think to myself what a way to spend a Sunday afternoon? Chitchat, great mimosas, a warm inviting cafe. The wait time between placing our orders and their arrival was not long, well to be honest I couldn't tell because we were having such a great time talking. Time seemed to stand still for awhile. What I do recall is that we were on our second round of mimosas and our food order arrived – in style. The waiter placed down napkins before he "presents" our dishes. It wasn't over the top but it was done in such a way you had to take notice.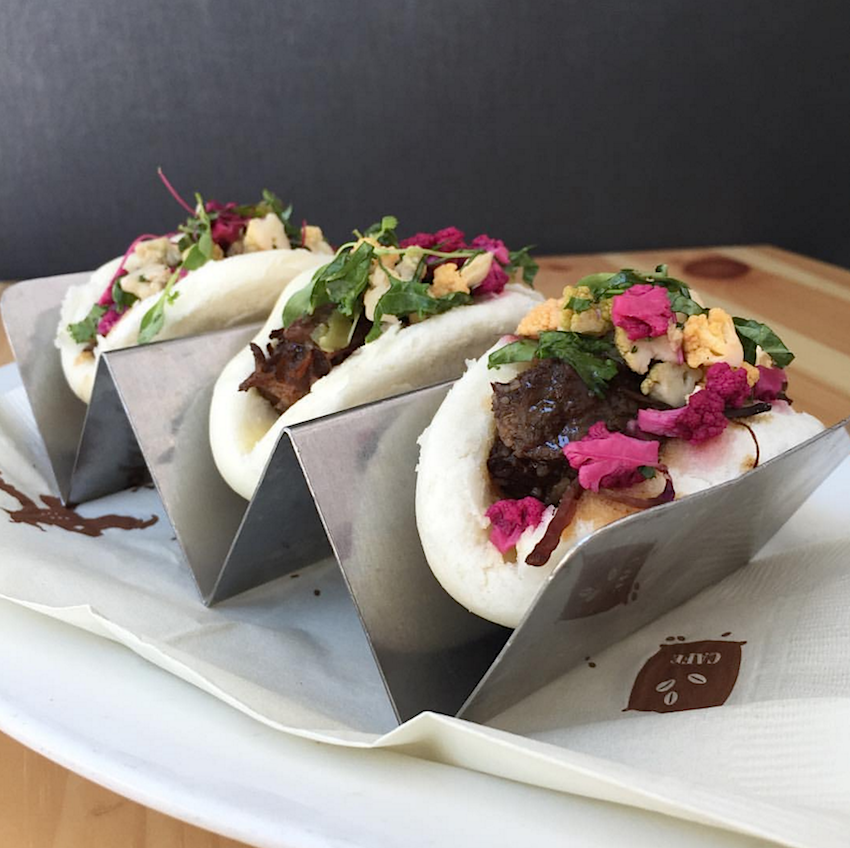 The burger. It's tall. How could it not be? It was stacked high with lettuce, red onion, tomato, caramelized onions, maple bacon and of course, the meat patty. There is no way I could pick this up and eat it like a sandwich so I reverted to fork and knife. The bucket of truffle fries that accompanied it was even taller and was brimming over with hot crispy fries and just the right hint of truffle.
I cut into the burger and it's perfectly cooked. After my first bite I understand why its named one of the best burgers in the city. The meat was flavorful but the combination of all of the ingredients is what takes it over the top. I'm not going to say that I am a burger expert, but trust me, if you are going to order a burger – order this one. It's delicious.  Fallon raved about her tuna and thanked the bartender for the recommendation.  We cleared our plates…..I did however leave a lone truffle fry behind.
With our plates bare except for the lone fry, the waitstaff quickly removes them. The bartender asks "ladies do you have room for dessert?"  Fallon shakes her head no and I pout and say "they have a 10 layer chocolate cake." Fallon says, "order it, but I have to say I'm stuffed". Of course I order it; the bartender says "great choice." As we sip our 3rd round of mimosas, I realize that this is a perfect place for a first date. Not too pricey, you wouldn't be trying too hard to impress and you'd share great food. Lots in my thoughts I happen to glance over at Fallon – her eyes are wide like she's seen an ghost. I turn around and it's the waiter with the largest slice of cake I've seen in my lifetime. It's tall, of course because it's a 10 layer cake, but it's WIDE. I knew I wasn't going to be able to finish this one. It was HUGE. Ginormous. Gargantuan.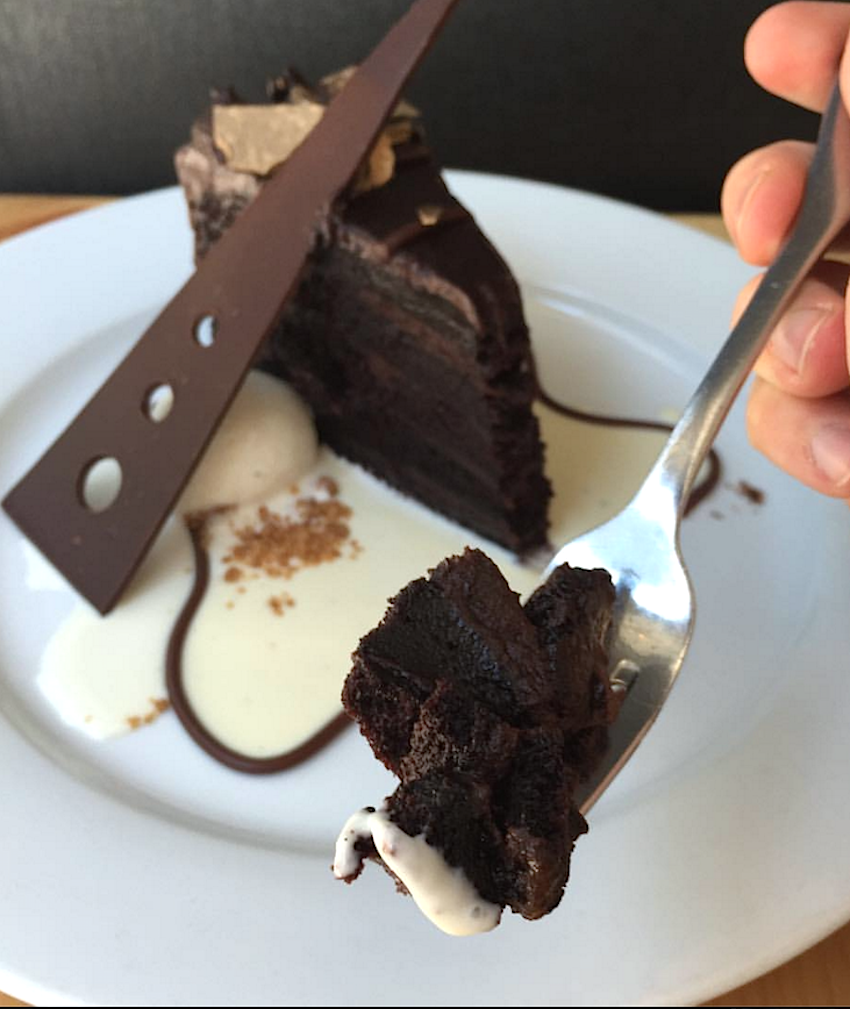 The waiter sets the most beautiful piece of artwork in front of me. It's truly a wonder to marvel. You can easily see each layer of cake. I want to say it stood proudly in front of me daring me to eat it.  I happily picked up my fork and Fallon says, "girl, that's all on you."  I gingerly take a piece from the side and slowly bite into it. What happens next is pure heaven. I am overwhelmed with the taste of chocolate but in a good way. I say "ummmmmm" and the bartender comes over and smiles and says, "you are going to love it." I go in for a second bite and Fallon picks up her fork. I look at her as if she has three heads and ask "and what are you about to do?" She says, "that looks too good not to try a bite." For a split second I had to control myself because I was torn between my friendship with her and this glorious piece of cake. I didn't want to stab her with my fork but the thought crossed my mind – quickly. Fallon digs in. For someone who didn't want to share this with me she did take a sizable piece. Her lips close in on her "large" bite and her eyes sparkle and a smile immediately comes across her face. She says, "OMG this is so freaking good." I just look at her with the hopes that she doesn't come back for a second helping. We make it a third of a way through the cake when a chocolate daze settles in and we couldn't indulge in another bite.
So, do I recommend the David Burke Cafe? Absolutely. It's perfect for a first date, a girls only brunch or as a go-to spot after shopping on the Upper Eastside. Great food, some of the best mimosas in the city, impeccable service and outstanding desserts.