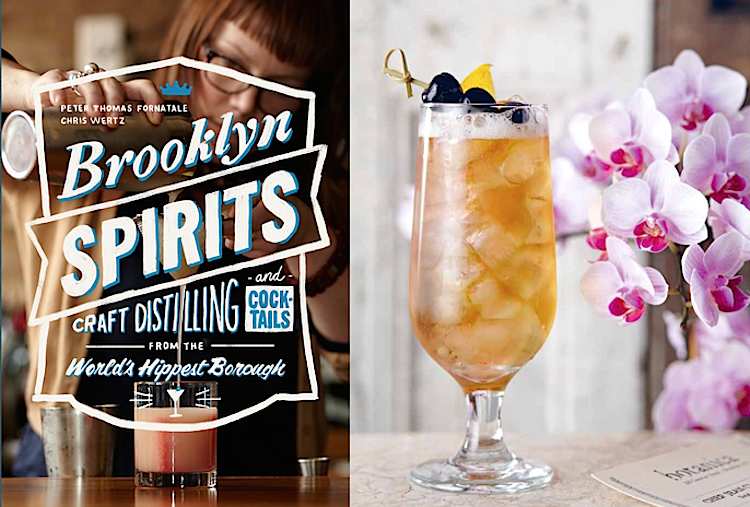 Flipping through the book: Brooklyn Spirits – Craft Distilling and Cocktails from the World's Hippest Borough, I came across this lovely libation, The Wedding Slinger, accompanied by a short story. After reading about how this drink came to be, I realized, just like learning the back story of your favorite song, learning about how a drink enters the world is just as fascinating; even better if you could sip the cocktail while listening to the tale be told. Here's the endearing story about The Wedding Slinger:
The Wedding Slinger was born out of conflicting needs: the need for numbness and the need for temperance. Chris was employed as a bartender at The Blind Tiger Ale house in downtown Manhattan on September 11, 2001. His clientele that week included the first responders and soot-covered camera crews. He attended a wedding on the coast of Maine on September 14, 2001. The long, slow drive up the coast of New England was peaceful, but left him too much time to think. The first thing Chris reached for when he got to the wedding venue was an old favorite: A Manhattan Cocktail. The first one went down like a shot. Second one, same thing. He decided a wedding was no place to have a booze-fueled breakdown, so Chris asked the bartender to top off his third Manhattan with some ginger ale. Yummy. He asked for another, this time with less whiskey and a little more ginger ale. Even yummier.
When he got back to the Blind Tiger laster that week, he fooled around with the recipe, replacing sweet bourbon from the wedding with a drier rye whiskey. The drink developed laboriously through the thoughtful trial of his fair patrons. What they wouldn't do for a free drink.
The Wedding Slinger
1 1/4 oz 77 Local Rye and Corn
1/2 oz Carpano Antica Formula Sweet Vermouth
2 dashes orange bitters
ginger ale
Garnish with at least one good quality or homemade cocktail cherry
Place all ingredients besides the garnish in a shaker mostly filled with ice. Shake and strain into a collins glass filled with ice and top with ginger ale (preferably from syrup made by Pickett Brothers or Brooklyn's Morris Kitchen).
To order this book just click here: Brooklyn Spirits – Craft Distilling and Cocktails from the World's Hippest Borough
About the Authors
Chris Wertz has been involved in the booze business most of his life, and for the last 16 years, he has been a part of the New York restaurant industry, working as a bartender in Williamsburg and a General Manager in DUMBO. Before coming to New York City, Chris traveled throughout Europe sampling regional drinks for the sake of science—from homemade grappa in the hills of Tokaj, Hungary; to Becherovka at the source in Karlovy Vary, Czech Republic; and pastis in Provence,
France. In 2005, he opened his first bar, Professor Thom's, named in homage of famed 19th-century NYC cocktail creator Professor Jerry Thomas.
Bestselling author Peter Thomas Fornatale has spent a good part of the last two decades drinking in Brooklyn. He's also been a publishing professional in that time frame at Simon and Schuster and Random House. He took cocktail classes from legendary New York bartender (and author) Dale DeGroff and spent a summer supporting a horseracing habit by bartending at the acclaimed Chez Sophie in Saratoga Springs. Cocktails are literally in his blood: his grandfather, John T. Flynn, was a brand manager at Seagram's for many decades. He is also a site coordinator at The Park Slope CSA, putting him in close touch with the best local ingredients (and the people who buy them).