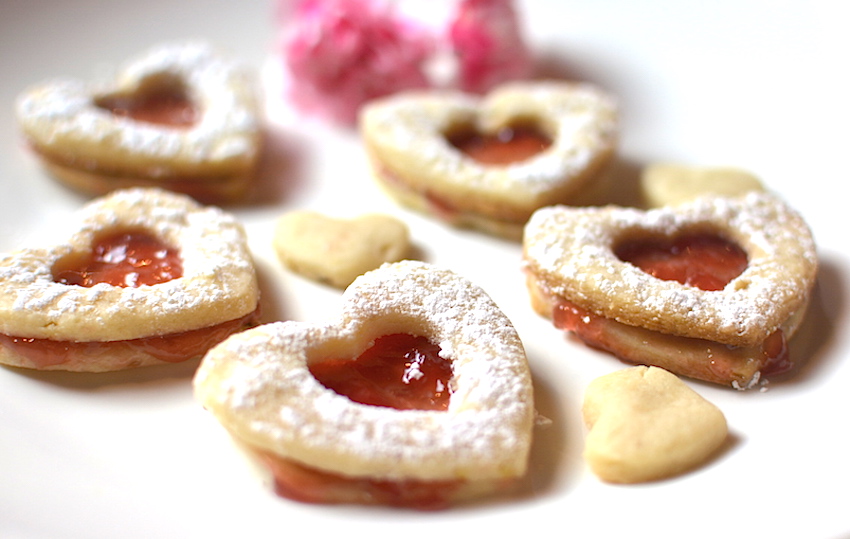 Follow a few easy steps and you too can make these lovely linzer tarts. Pretty, buttery, and simple these cookies taste even better in the next day or two – should you be so lucky to have them still around!   The key to this tart is too not overdo the amount of preserves added. You can use any (seedless) filling you prefer- raspberry, strawberry, apricot preserves or jam and you can make any shape you like – all you need is two diff size cut outs. We loved the heart-shaped tarts for Valentine's Day. Take a look at this video to see how easy it is to prepare.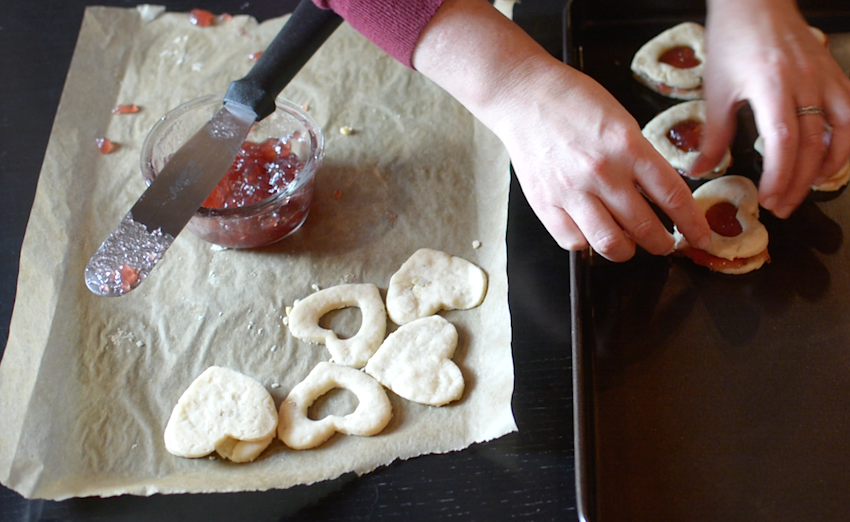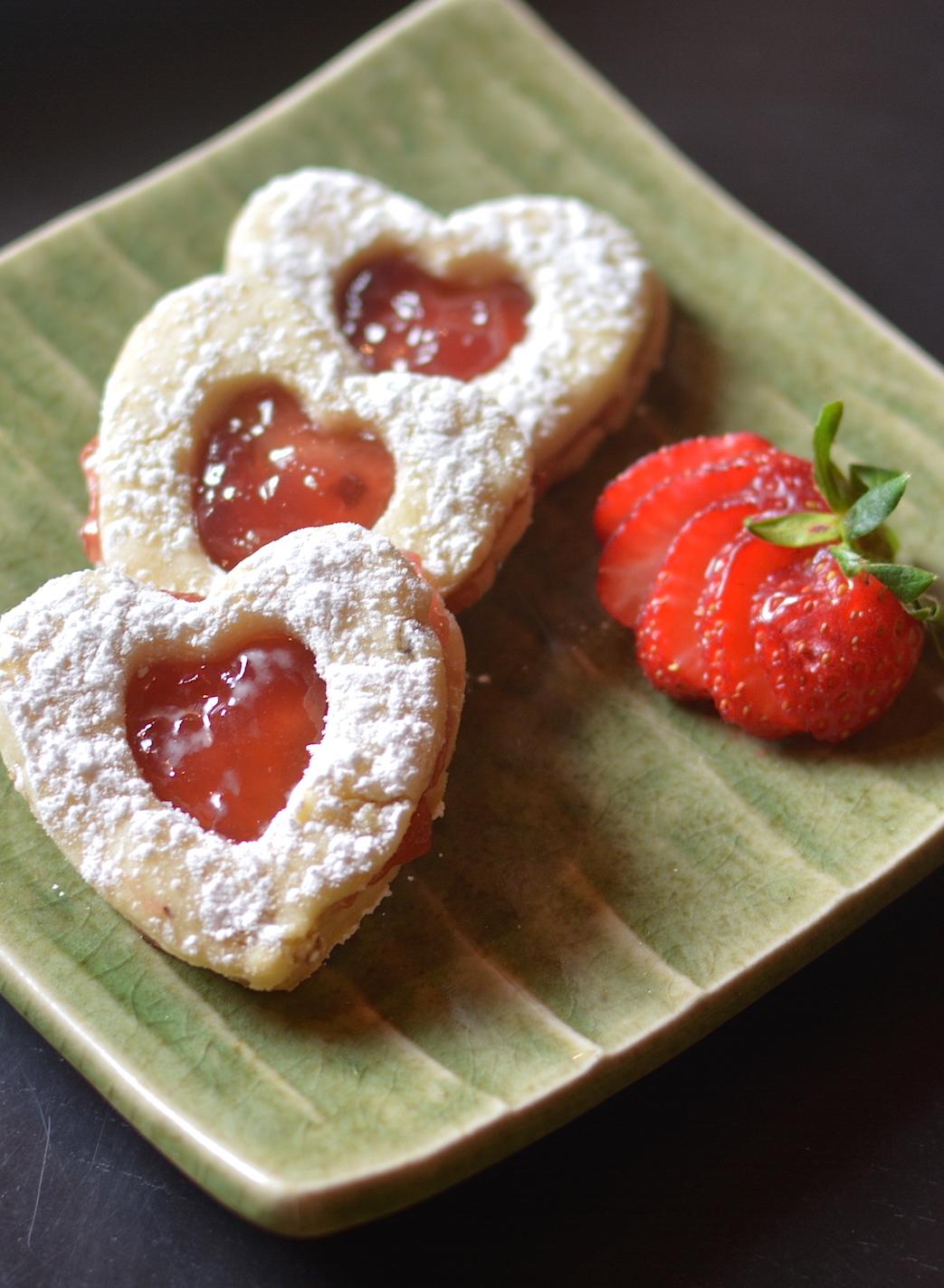 Linzer Tart Recipe
Ingredients
1 cup butter
1/2 cup sugar
1 teaspoon vanilla extract
2 1/4 cups sifted all-purpose flour
1/2 cup finely chopped walnuts
jar of  seedless jam or preserves (we used raspberry)
confectioners sugar
Directions
In a large bowl, cream butter, sugar and vanilla extract together until well blended
Gradually blend in flour to make a stiff dough
Mix in chopped walnuts
Preheat oven to 350 degrees
On a floured, flat surface roll out dough – a little less than 1/4″ think
Using two different size cookie cutters of the shape, we used heart shapes – cut out shapes using your larger cookie cutter.
Take half of the hearts (or whatever shape you are using) and cut out a smaller shape from the middle. Using a knife or spoon lift out the centers and bake as is (for extra sugar cookies) or discard.
Place all shapes on a lightly greased cookie sheet
Bake cookies for 10 – 12 minutes. Remove from oven and let cool
When cool – spread 1/2 teaspoon of jam or preserves on each large, solid shape
Top each of these with the same shape with the center cut out so the preserves show in the cutout
Spread generously with confectioners sugar and serve
Enjoy! Oh and did I mention how much better they are in the next day or two –  soooo good!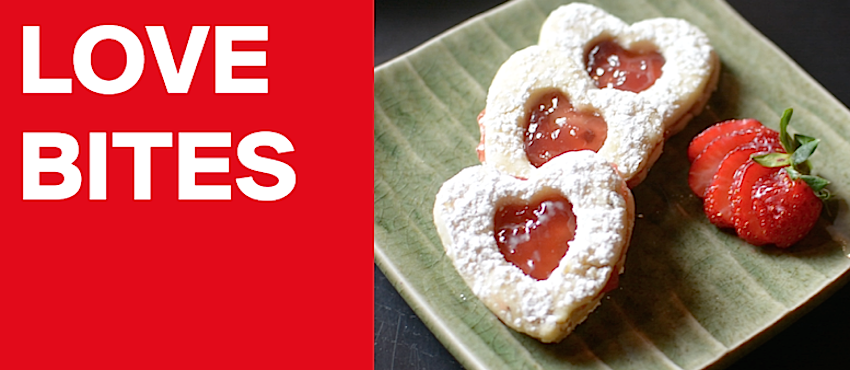 Terry Dagrosa, founder and publisher of SeductionMeals.com. As President of Digital Marketing Collective and Tara del Mar Productions, she has extensive experience in sales, design, digital marketing and social media. "Truly great friends are hard to find, difficult to leave, and impossible to forget, so we're thrilled to introduce our very special and highly-talented contributors and friends.  They'll share their mouth-watering recipes, cheeky anecdotes and delightfully creative perspectives with all of us. Be sure to check out their websites and follow them, too – we promise you'll learn to love and cherish them as much as we do!" xoxo
About Seduction Meals
Seduction Meals is about Food + Romance, and everything in-between. . . a sumptuous menu, alluring presentation, sensuous music, luscious cocktails and the right ambiance. Like a precious gift, preparing a romantic meal for two is about making that certain someone feel extra special. With just the right combination of ambience and culinary delights, you too can create a memorable, delicious experience for your loved one. Seduction Meals. Everyone has one - what's YOURS?
FEATURED VIDEO
Archives