Here's an easy to prepare romantic dinner for two. Once you have the ingredients, its a breeze to put together. Grilled Lamb Chops, smashed potatoes and a mixed green salad with a pomegranate dressing that is, well, simply delicious.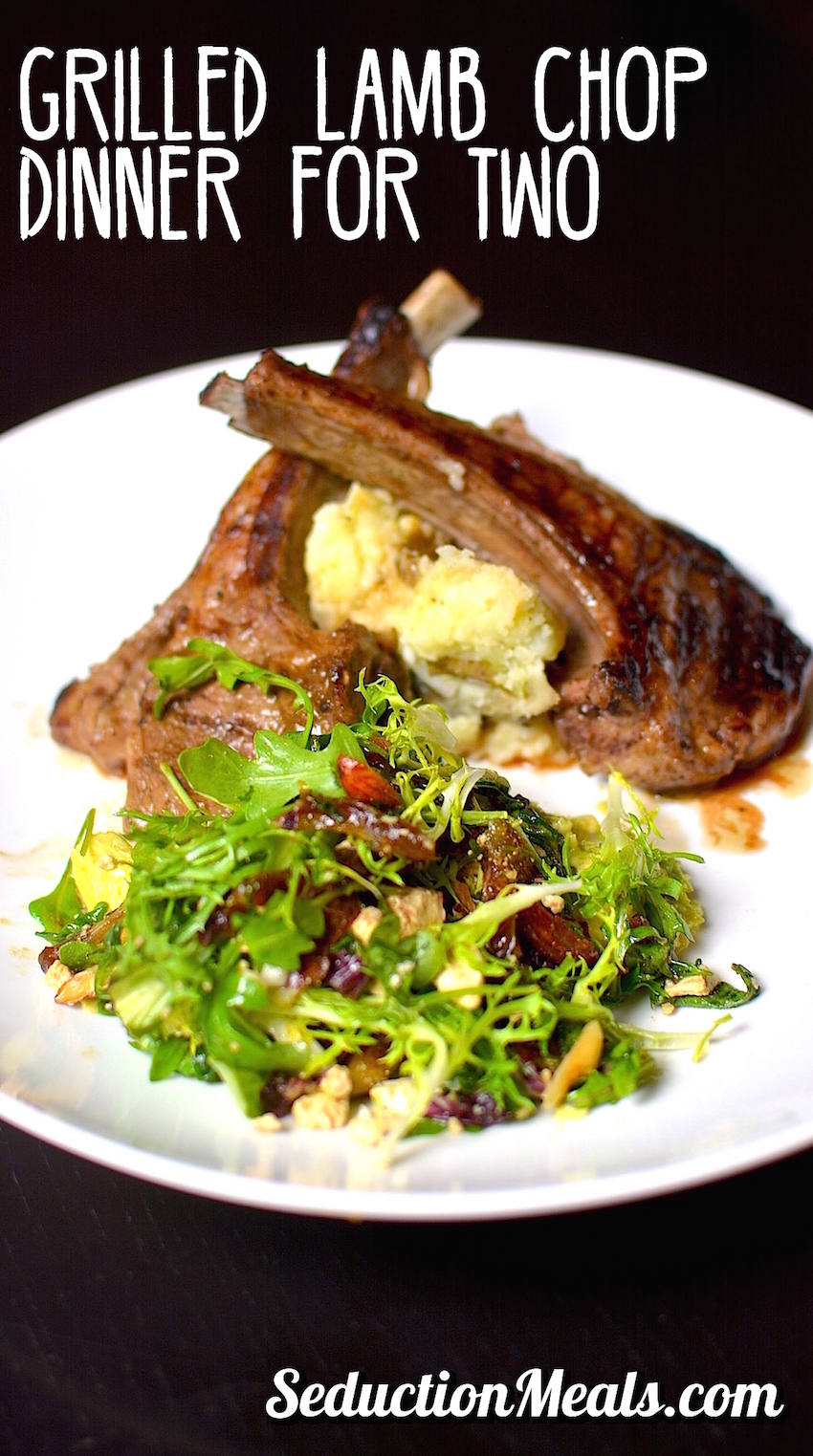 Here's the order of preparation so it all comes together at the same time:
Prepare the marinade for the lamb chops and let chops marinate for at least 20 minutes.
About 20 minutes before serving dinner, prepare the salad – add all greens and ingredients to your salad bowl, and prepare the dressing – set aside. Pour the dressing over salad just before serving – toss and mix and serve. This is one of my favorite salads which was inspired by the Date and Turkish Sheep Salad in the Plenty Cookbook– a must have cookbook!
15 minutes before serving: prepare the potatoes and set aside when they are done in a covered pot.
Last: Grill the chops which will only take 4-5 minutes per side. I prefer medium rare chops so I tend to lean toward the 4 minutes per side.
Place potatoes in the middle of a plate, lean 2-3 lamb chops over potatoes and serve with salad
Serve with your favorite bottle of red wine and viola – a no-fuss, tasty romantic meal for two.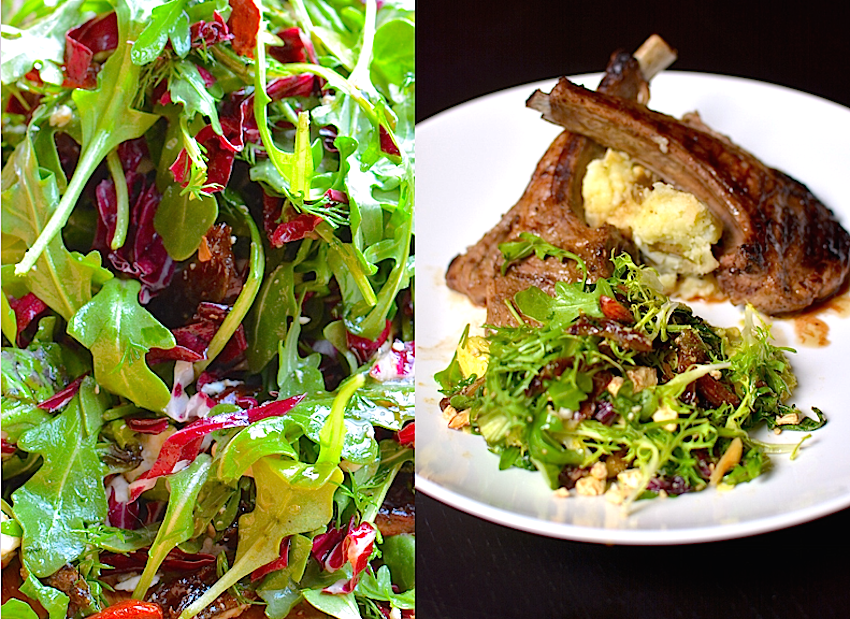 Grilled Lamb Chops
Ingredients
4 – 6 baby lamb chops
3 tablespoons olive oil
1 tablespoon balsamic vinegar or balsamic glaze
1 teaspoon dijon mustard
salt and fresh cracked pepper
Directions
In a small bowl, whisk together the olive oil, balsamic vinegar or glaze and the mustard.
Place lamb chops in a dish and sprinkle with salt and pepper on both sides.
Pour marinade over the chops, coating on all sides. Cover and set aside for 30 – 60 minutes
Heat your BBQ grill or the grill in your oven – when hot, grill for 4 minutes per side and remove from grill and let rest for a couple of minutes
Mixed Greens with Pomegranate Dressing
Ingredients
1 1/2 cup of mixed greens or arugula
1/4 cup of sliced radicchio, cut in long strips
2 tablespoons of chopped walnuts or curry cashews (which I used)
1/8 cup of fresh dill leaves
6 Medjool Dates, pit removed and sliced very thin lengthwise
1/4 cup of crumbled goat cheese or hard ricotta cheese
2 Tablespoons Olive Oil
1 Tablespoon Pomegranate molasses
Directions
Place all ingredients in a large salad bowl – except olive oil and pomegranate molasses
Whisk together the olive oil and pomegranate molasses
Pour dressing over salad, add salt and pepper to taste, toss and serve
Smashed Potatoes
Ingredients
3 large potatoes cut in quarters
salted water for boiling potatoes
2 tablespoons butter
1 tablespoon of half and half
salt and fresh cracked pepper to taste
Directions
Boil potatoes in a pot of water with salt – cooking until easily pierced with a fork, about 12-15 minutes.
Drain and put them back in the pot, adding butter and cream.
Using a potato masher, smash the potatoes until they reach your favorite consistency – slightly smashed or more smooth.
You can also add more butter or cream as needed.
salt and pepper to taste