In celebration of Valentine's Day we have put together two weeks of amazing recipes, cocktails, and tips to make your romantic rendezvous the best it can be. We also have a great Valentine's Day $1000  Giveaway. Feeling lucky? Let's Go!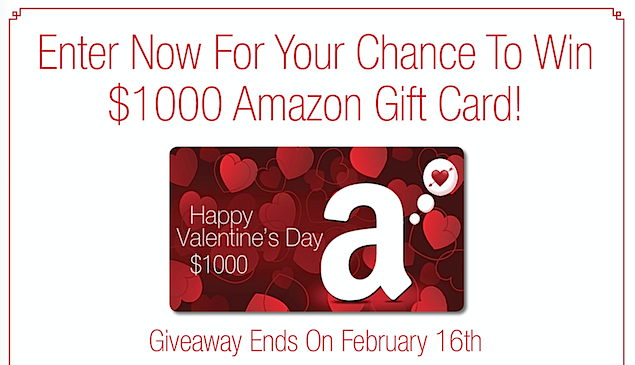 We've teamed up with twelve amazing bloggers for a Valentine's Day Group Giveaway where you can enter for a chance to win a $1000 Gift Card from Amazon.  One thousand dollars! That's some happy shopping and who doesn't LOVE to shop – especially when someone hand's you $1000 and says "have fun"! Here's how to Enter:
Enter As Many Times As You Like
Click on any of the arrows in the chart below to "visit, comment, follow or join" a blogger and you'll be entered in the give away – its that easy! The more entries you make the more chances you have to win – so make as many entries as you can. For example – if you follow any of the bloggers below on their (1) Instagram, (2) Facebook, (3) Twitter, (4) Pinterest and (5) subscribe to their email list … your name will be entered into the contest 5 times. Follow all of the bloggers below and you'll have 65 entries. Good Luck my friends!
Give-Away Rules: The Valentine's Day $1000 Amazon Giveaway runs from February 2, 2016 – February 16, 2016. You must be 18 to win and a resident of the US.  A Winner will be randomly chosen using Rafflecopter. Rafflecopter partners with Random.org to choose the winning entrant. No purchase necessary to enter or win. Void where prohibited by law.