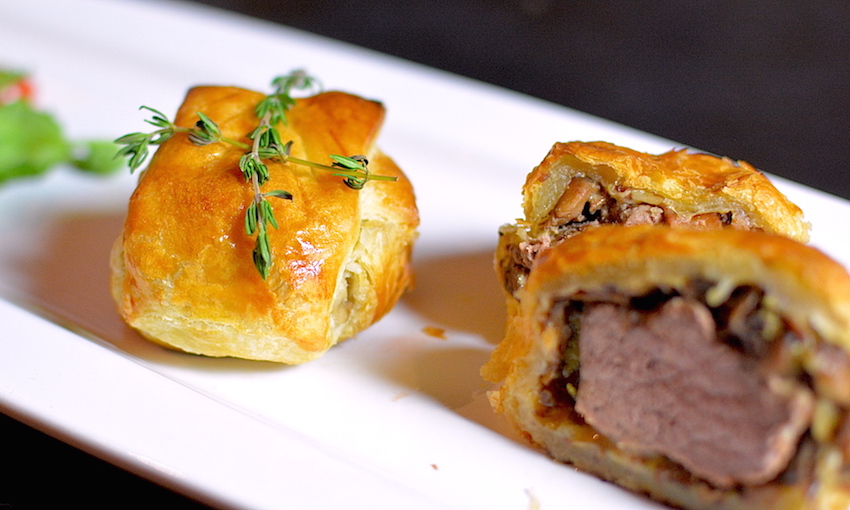 Beef Wellington is a quintessential romantic dish for steak lovers around the world – and one that is often found on many a Valentine Day menu. We just love the idea of these mini Love Bites. Best of all – you can prepare this dish days in advance – leaving you more time with your loved one and less time in the kitchen.
I've always loved the combination of steak and mushrooms so this dish was sure to please.The mushrooms are known as Mushroom Duxelles – finely chopped mushrooms (and some recipes call for onions, shallots, and herbs) sautéed in butter and reduced to a paste. With layers of mushroom, proscuitto and puff pastry wrapped around a tender piece of filet mignon with a mustard coating  – you'll create a LOVE BITE that will fill the room with "ooohs and aaahs"- its that good!
Truth be told, I ran out of prosciutto, which is used to neatly wrap and hold the mustard/mushroom mix in place before putting the puff pastry around the final piece. So you'll see my recipe doesn't include Prosciutto – and boy was it so good! I look forward to making the more standard sized beef wellingtons in the future and I'll use the Prosciutto which is probably needed to neatly hold all ingredients together.
Be sure to ENTER our Valentine's Day $1000 Giveaway! Enter HERE   #HappyShopping!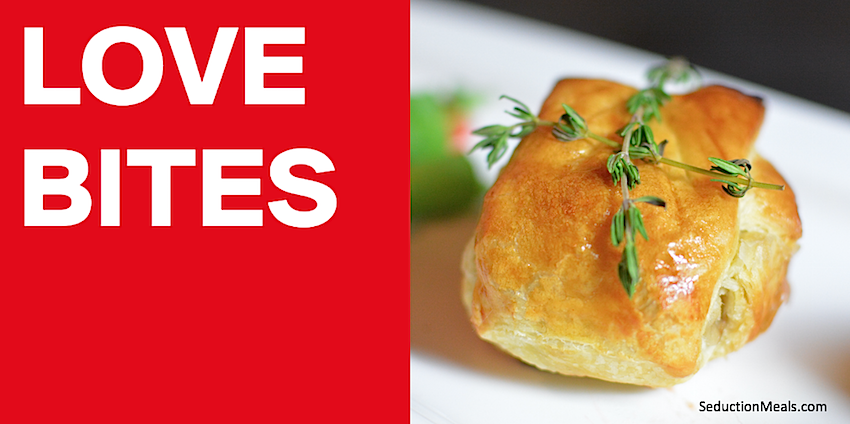 Beef Wellington Love Bites
Ingredients:
1 tablespoon butter
1 tablespoon olive oil
1 lb mushrooms, finely chopped
salt and pepper to taste
1 lb filet mignon cut into 1″ or 2″ cubes
1 tablespoon olive oil
2 tablespoons Tarragon (or Dijon) mustard – but the Tarragon does add a delicious flavor
2 sheets, puff pastry, thawed in the refrigerator
All-purpose flour, for dusting
1 egg yolk, lightly beaten
1 tsp water
Directions
In a large skillet, add olive oil and butter, melt over medium heat. Add mushrooms and cook for about 10 minutes until all the water has evaporated and mushrooms are creamy and almost paste-like. Add salt and pepper to taste. Set aside when done.
While the mushrooms are cooking – pat the beef dry and sprinkle with salt and pepper on all sides
Add olive oil in a large frying pan over high heat – when very hot, add beef pieces and sear for about 1 minute on all sides. Remove from pan and set aside
Take out 1 sheet of one of the puff pastry and roll it out very very thin – we'll need about 12 pieces (the width of your filet mignons (about 1.5 x 1.5 or  2 x 2 inch pieces. Place on a cookie sheet or cutting board with a damp cloth over  it. Place cookie sheet /cutting board in the refrigerator to keep cool
When the mushroom mixture and the beef have cooled down enough to handle, set yourself up with a cutting board, a small bowl with the mustard in and a pastry brush, and small pieces of plastic wrap (about 3″ x 3″) and the mushroom mixture side by side
Place one strip of the puff pastry on your work surface- take a 2nd strip over it to create a cross shape
Take a piece of beef, brush on a generous amount of the mustard all over, roll this in the mushroom mixture, pressing down for the mushrooms to adhere.  Place this in the center of your puff pastry strip. Fold up the ends to cover the beef and pinch all ends together so it closes nicely all around. You can use a tiny bit of water if pastry isn't adhering to itself.
Take a sheet of the plastic and wrap it up tightly. Repeat to all pieces.
Place all the wrapped mini beef wellingtons in the freezer for 15 minutes. (if you are make a day or two ahead, just leave them in the freezer until ready to cook)
Remove beef wellington bites from freezer.
Preheat oven to 400 degrees F.
Place each piece seam side down onto a parchment lined baking sheet. Brush the top of each of the mini Wellingtons with the egg wash.
Bake for 10 minutes. Turn the heat up to 450 and cook for 7 more minutes or until pastry is golden brown. Remove from oven and let rest for a five minutes and serve.