Earlier today we shared the video to show just how easy it is to make these adorable LOVE BITES. Romantic Apple Rose Tarts are perfect for a romantic meal for two. With your first bite you'll discover it taste very much like an apple turner – delicate sweet apples in a rich, flaky pastry with a kiss of sugared cinnamon. So go ahead – dazzle your loved one with a gourmet rose like no other.
Romantic Apple Rose Tart Recipe
Makes 12 mini roses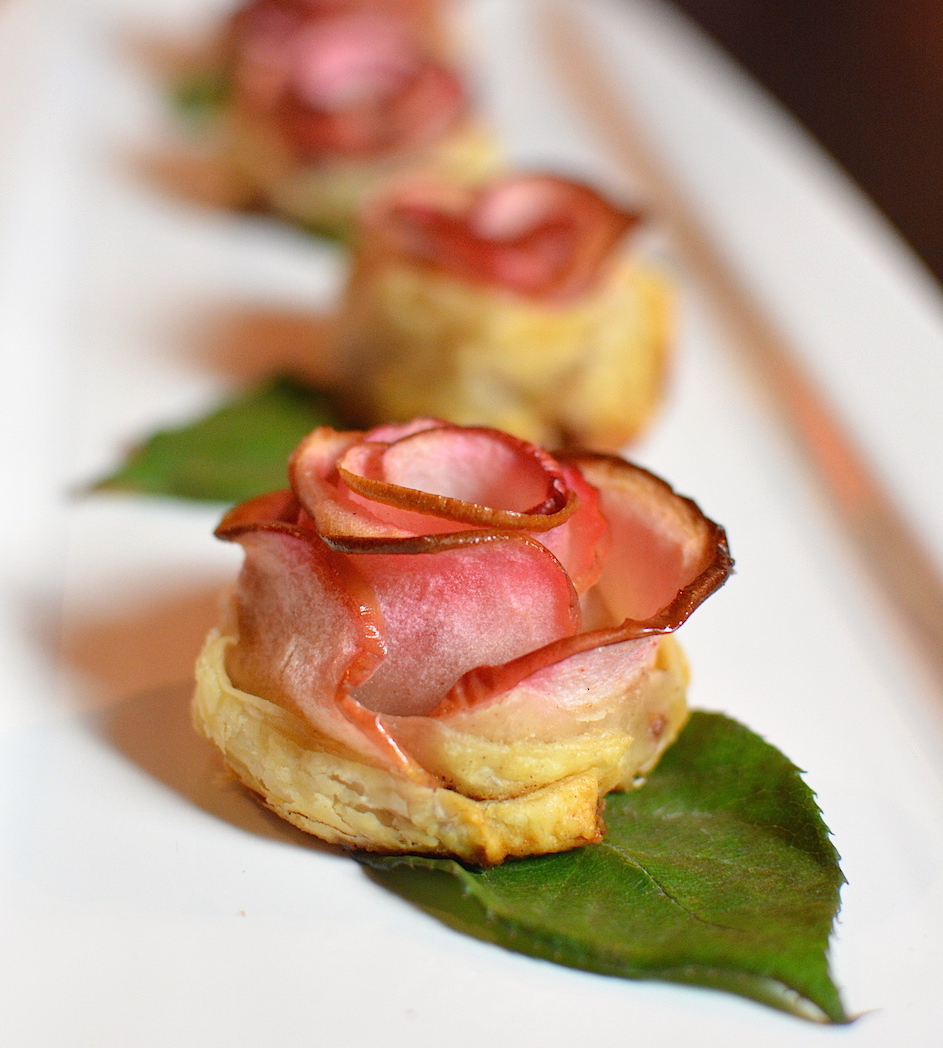 Ingredients:
2 Cortland, Roma or your favorite baking apple
1 sheet of puffed pastry, thawed
2 tbsp sugar
6 tbsp water
1/4 cup sugar
1/4 tsp cinnamon
1/2 stick sweet butter
DIRECTIONS
1. Remove puffed pastries from freezer and thaw according to package. You want to work with chilled pastry puff, so be sure to keep cool.
2. Slice the apples in half from top to bottom, core and thinly slice the apples
3. Place sliced apples in a saucepan, add 2 tbsp sugar and water, cook for 4-5 minutes to soften apples so they will easily roll. Remove the pan from the heat, set aside to cool, leaving the apples in the water.
4. In a small bowl, combine sugar and cinnamon and set aside
5. Melt 1/2 stick of butter
6. Remove thawed puff pastry from the refrigerator, take one sheet and place it on a flat, floured surface.
7. Roll the pastry out with a rolling pin, approximately 1/8" thick and using a pizza cutter, cut into 12 strips –  1" wide and 8-10 inches long
8. Take one strip at a time: lay on flat surface and using a pastry brush paint a strip of melted butter along the middle from left to right
9. Sprinkle with a light touch of the sugar cinnamon mixture left to right
10. Place the bottom of the apple slices along the top 1/3 of the strip, the red skin of the apples should be on the top and slightly above the top of the puff pastry. This is what gives you "red" roses.
11. Fold the puff pastry from bottom towards the top of the puff pastry.
12. Starting on one end, roll the pastry and apples to the other end of the pastry. When you get to the end, press the end of the puff pastry into itself to seal.
13. Place each one in a lightly greased muffin tin.
14. Continue with the other pieces of pastries until you have 12 apple roses.
15. Bake at 400 degrees for 35 to 40 minutes until puff pastry is golden brown.
TIP: I just happened to have roses in the house and took a few rose leaves to garnish this dish.
Check out our latest video to see just how easy this recipe really is: