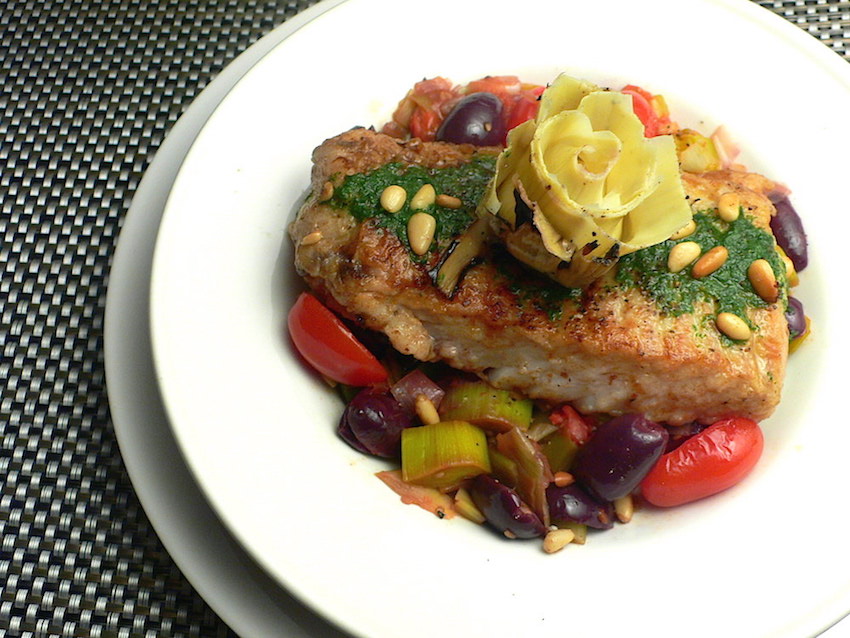 Have you ever made a dish, loved it, and then completely forgot about it? That's what happened with this recipe for Black Cod a la Mediterranean. I made this for the first and last time on Valentine's day 8 years ago and while scrolling through the site I remembered how much we enjoyed this meal and so I decided to make it for dinner this weekend. Wow! Just as good as I remembered and something I will make again soon.
You pan sear the black cod (Black cod is the best cod if you can find it). The fish is then served over a bed of garlic infused tomatoes, Kalamata olives, sauteed leeks, and a lovely rose shaped garnished – a roasted artichoke heart that is fanned out to create an edible flower! Sweet right? The dish is then topped with toasted pine nuts and a cilantro based sauce that paris to well with the mediterranean flavors of this dish. Bon appetit!  Click here for the RECIPE
And don't forget to enter this month's group blogger giveaway. You just might win $500 worth of deliciousness from HelloFresh- a healthy, fresh food home delivery service. Check out the details below. Good luck!
Win $500 Worth of Delicious HelloFresh Meals!

Giveaway Courtesy of HelloFresh and Arousing Appetites