In my last post I shared a fabulous dish I learned how to make in  Holly Shelowitz's cooking class:  Wild Cod with Thai Vegetables in a Coconut Curry Sauce. It's such a wonderful, healthy recipe and definitely worthy of a romantic meal for two. I know I'll be whipping this up for friends and family whenever I can.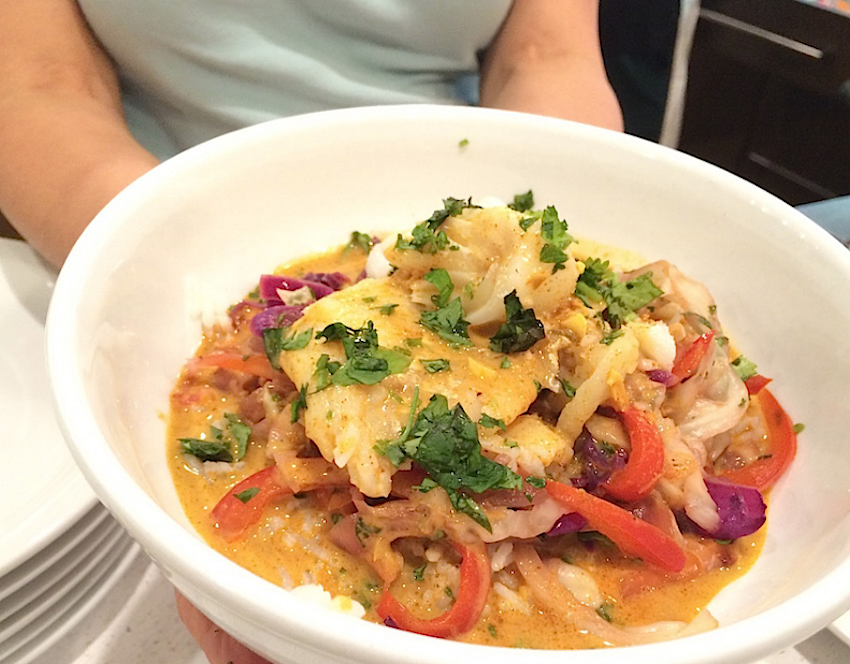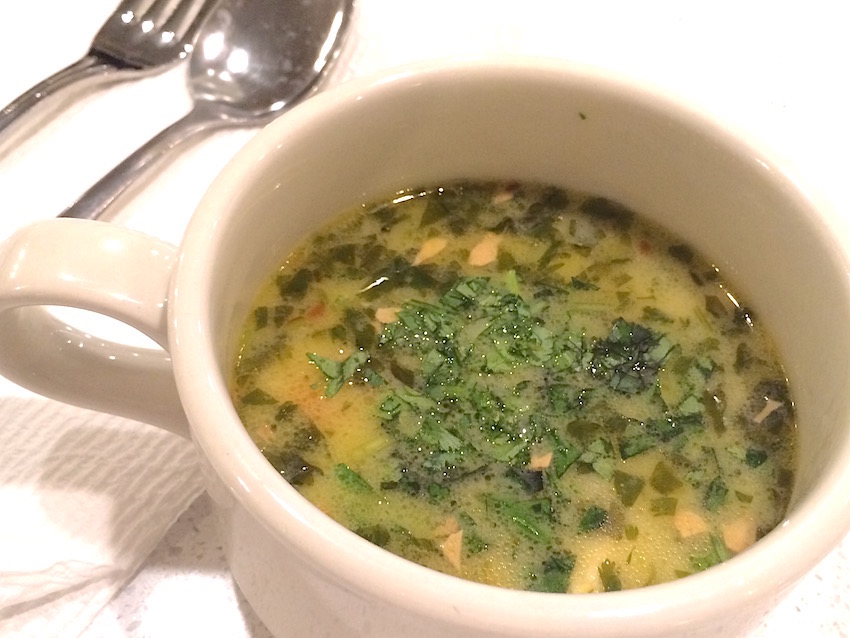 The cooking class was a 3-hour hands-on session called A Journey to Thailand and this recipe for Thai Coconut Soup is also from this class.  It's a wonderfully aromatic dish that fills the air with sensual flavors stemming from an enticing medley of  ginger, coconut, lime, and cilantro (with a little kick of heat from a dash of cayenne pepper). With each swirl of my wooden spoon I couldn't help but stop and breathe in the delightful aromas followed my many Mmmmm's!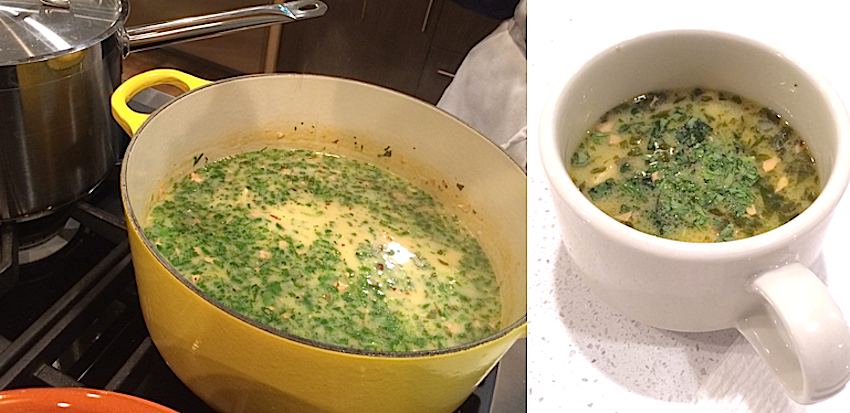 Thai Coconut Soup
Recipe courtesy of  Holly Shelowitz, Culinary Nutrition Educator
Ingredients
2 12 ounce cans of coconut milk
2 Cups chicken, vegetable or fish broth- or water
2 chicken breast, cubed or sliced
3 Tablespoons grated ginger
3 fresh limes, juiced
10 fresh basil leaves- if unavailable, use cilantro
1 zucchini cut into bite size pieces
1 small bunch of cilantro chopped for garnish
dash of cayenne pepper for heat
½ teaspoon sea salt, or fish sauce, more to taste
Method
Place coconut milk, stock, chicken and ginger into your soup pot.
Bring to a boil, then lower to simmer.
Add veggies and basil, bring to a boil again, then lower to simmer 10 minutes
Generously garnish with cilantro, add lime juice, and cayenne pepper, taste and adjust seasoning
Enjoy!
More about Holly Shelowitz and Nourishing Wisdom
Holly Shelowitz is a Culinary Nutrition Counselor and Real Food Educator. Since 1999 through her client sessions, cooking classes and educational events, Holly has been inspiring people to eat their greens and get into their kitchens and cook. S
Holly's newest project is her cooking school. Sponsored by Warren Kitchen and Cutlery and Rhinebeck Kitchen and Bath, the new kitchen is beautiful and stocked with the best kitchen tools you could want. Join her for group hands on cooking classes and demonstrations, or schedule a cooking party or private cooking lesson. Check out the Schedule HERE
Holly has taught nutrition and cooking classes at The Natural Gourmet Institute for Food and Health In Manhattan, The Bronx Botanical Gardens, and at numerous farmers markets, culinary stores, libraries, colleges and schools. She graduated in 2000 from The Institute for Integrative Nutrition's Professional Training Program in Manhattan and has studied herbal healing with Pam Montgomery, Dina Falconi, Deb Soule, Rosemary Gladstar and Susun Weed. And it goes without saying – Holly loves to cook and eat delicious food!
Holly's Facebook page: Nourishing Wisdom Nutrition
Check out her 8 week online class for women called Rise Up about nutrition, cooking, pleasure, self care and learn how to make organic face cream and body oils.