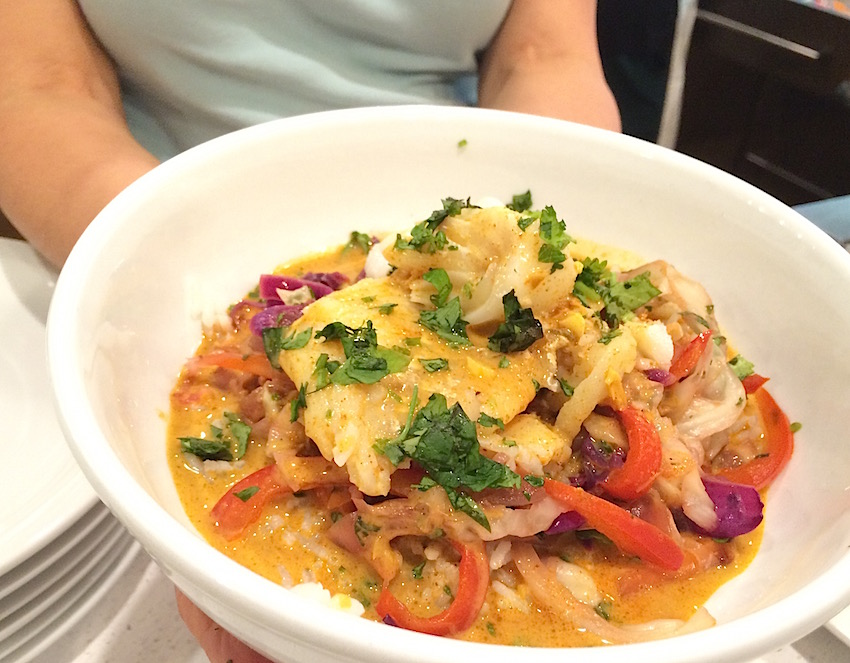 When I travel I love to squeeze in a dinner at a fabulous restaurant or take a cooking class to learn something special and unique about the place I'm visiting. It's wonderful to cook a dish in a gorgeous home or resort, preparing each dish with local ingredients. Think Italy, Provence or Mexico. Of course it's never quite the same when you recreate this dish at home. There's something about local ingredients, especially if they're home grown in the area – that just cannot be recreated elsewhere. On a positive note, that doesn't take away from learning new recipes and local cooking techniques, and to share this culinary adventure with your friends and family at home.
When stumbling upon a cooking class in my neck of the woods, I decided to venture out and go local. I was online reading about a Thai Cooking Class:  Learn about the flavors from around the world to excite your senses and add zing to your table. I scanned the menu for this class:
Thai Coconut Soup with Ginger, Lime and Chicken
Wild Cod with Sizzling Vegetables and Thai Flavors
Basmati rice with Coconut Curry Sauce
Tapioca Coconut Pudding
I was hooked. I wound up booking a series of cooking classes with Holly of  Nourishing Wisdom where she's been inspiring people to eat their greens and get into their kitchens and cook. I found the experience educational, fun and oh so tasty! I will share more information and recipes in upcoming posts. I'll start with one of my favorite new dishes – Wild Cod with Sizzling Vegetables and Thai Flavors (thank you Holly!). See the recipe below.
And be sure to scroll down below to enter for your chance to win an $300 Amazon Gift Card. Hello shopping spree!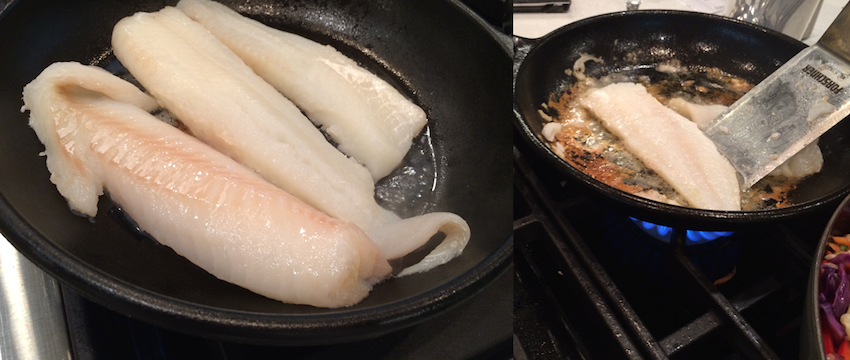 RECIPE:  Wild Cod with Sizzling Vegetables and Thai Flavor
Courtesy of Holly Shelowitz, Culinary Nutrition Educator  – "Assemble all ingredients and equipment for each step separately"
For the Fish and Rice
2 pounds of cod
2 cups jasmine rice
4 cups water
1 thumb sized piece of fresh ginger, sliced
coconut oil
fish sauce
rice vinegar
1/2 teaspoon salt
Coconut Curry Sauce
3 tablespoons grated fresh ginger root
3 tablespoons minced garlic
1 tablespoon olive oil
2 tablespoons ground coriander
1 tablespoon curry powder
3 teaspoons Thai red curry paste
3 teaspoons paprika
juice of 2 limes
2 12-oz cans unsweetened coconut milk
2 tablespoons fish sauce or soy sauce
2 teaspoons honey
For Vegetables
1 tablespoon olive oil
3 cups sliced green cabbage
2 onions sliced into half moons
3 carrots cut into strips
2 red bell peppers sliced
5 tablespoons finely chopped fresh cilantro
5 tablespoons finely chopped fresh mint leaves
5 tablespoons finely chopped fresh basil
1 tablespoon soy sauce
3 tablespoons rice vinegar
3 tablespoons lime juice
Step 1: Make the Rice
In a saucepan, bring rice, water, sliced ginger, and salt to boil. Lower to simmer, covered, until water is absorbed – about 40 minutes. Do not stir. Add coconut oil when the rice is finished cooking, and stir gently to mix and fluff.
Step 2: Make Coconut Curry Sauce
In a heavy saucepan saute ginger and garlic in coconut oil over medium heat, stirring until golden. Add coriander, curry powder, curry paste, paprika, and saute, stirring, about two minutes.  Whisk in coconut milk, soy sauce, lime juice and brown sugar and bring just to a boil. Taste and adjust seasoning.
Step 3: Prepare Vegetables
Saute onions in 1 T olive oil for 5 minutes until fragrant. Add cabbage, carrots, red pepper, zucchini, and stir to mix. Saute together for about 7 minutes. While vegetables are cooking, combine soy sauce and rice vinegar together in a small bowl. Add the basil, cilantro and mint in another bowl. Place vegetables in a large serving bowl, add soy/vinegar, and the fresh herbs and toss to mix completely.
Step 4: Sear The Fish
While vegetables are cooking, get another medium sized pan hot. Add coconut oil and drizzle fish with fish sauce. Place fish skin side down to sizzle 3 minutes, then carefully flip to other side.
Step 5: Plating the Dish
Put some rice on a platter and top with curry sauce, then add vegetables, top with fish and spoon more sauce.
And now for the GIVEAWAY
Good luck!